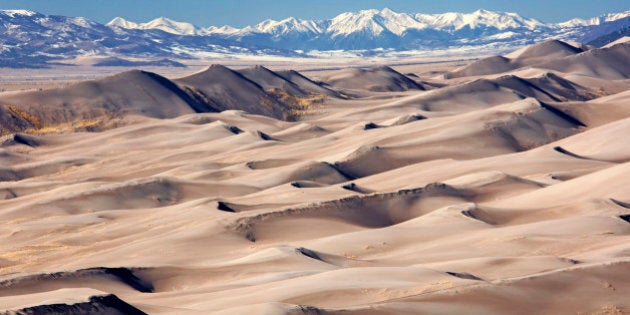 About three years ago I decided to devote a lot of time to writing about the threat of climate change. I felt then -- and feel now -- that the planet is going to be in one hell of a worse mess in a few years unless we take action on a scale never seen before concerning any other threat in history.
After I had published two or three items on various news sites, I was surprised -- actually shocked -- to learn that, compared to other topics I have written about (such as international financial mismanagement and the evils of neo-liberalism) very few people read the climate change articles.
To try to find out why this is the case, I spoke with a few friends. Most said the thought of dramatic changes occurring on earth were too overwhelming to deal with. Worse still, they felt they couldn't have any influence on what will happen.
As it turned out, hardly any of my friends wanted to learn more about the threat or find out how they might help fight climate change.
I don't know the psychological state of my friends, but an Australian psychologist believes she knows why millions of people are reacting emotionally to climate change.
Dr. Susie Burke of the Australian Psychological Society says that, as life on earth becomes more abnormal over time, it can bring on all kinds of feelings in people.
Knowing this, I'd say some of my friends are in what is perhaps an early anxiety stage concerning the threat of climate change. As conditions worsen, their symptoms can be expected to worsen.
"Many people may feel seriously concerned, frightened, angry, pessimistic, distressed, or guilty in response to climate change," she says. "Qualitative research finds evidence of some people being deeply affected by feelings of loss, helplessness, and frustration due to their inability to feel they are making a difference in stopping climate change.
"New terms such as 'eco-anxiety' or 'climate change anxiety' are sometimes used to describe this."
Dr. Burke says that if people experience something like an extreme weather disaster, the impact on them can get worse.
Disasters occurring because of climate change, in addition to destroying our environment, will also affect us psychologically and mentally.
"Depression, PTSD and complicated grief reactions are the most common mental health problems," she says, "and many, many more people who do not end up with a diagnosis of depression or PTSD, nonetheless end up with heightened distress, grief, stress and strain."
The most disastrous impacts are occurring in some developing countries. Recently a city in western India suffered through the country's highest ever recorded temperature - a scorching 51 degrees Celsius (123.8 F). As a result of crops being wiped out by excessive heat, hundreds of depressed farmers across 13 states have killed themselves.
In Karachi, Pakistan, in anticipation of another heat wave this year, officials hired a digger to excavate three elongated trenches big enough for 300 bodies. In Canada, while climate change is not nearly as damaging - at least so far- as in many other countries, it already is having an impact on the mental health of many people.
Worst affected are the northern First Nations and Inuit, peoples who have a close relationship with nature. Melting permafrost is damaging vital ice roads, making them unstable and unsafe.
In the past, roads in Ontario used to import vital goods, were safe about 70 days a year. Now they're passable only about 35 days. The changes have made hunting more unpredictable. Changes in ice flow patterns have made hunting walrus more difficult.
First Nations people despondent
Isadore Day, Ontario's regional chief for the Assembly of First Nations, says that despair over climate change is contributing to mental health and social problems, possibly even record-breaking suicide rates.
Cunsolo Willox, an assistant professor of indigenous studies at Cape Breton University, says the impact of climate change on northern peoples was evident back in 2009, when she did her PhD dissertation in Labrador. She says family stress was elevated. Anxiety and depression seemed to be amplified. More people were turning to drugs and alcohol and having suicide thoughts.
Interestingly, Willox said the people she interviewed weren't talking to each other about their fears - which, I think, is similar to the way some of my friends are responding to the emerging crisis.
Some farmers on the Canadian prairies are also experiencing severe anxiety. Farmers have always been at the mercy of the weather at the best of times.
But Kim Keller, who worked on her family's grain farm about 200 kilometres northeast of Saskatoon, told The Toronto Star that climate change is hitting some farmers hard. The dramatic changes are amplifying mental distress as farmers struggle with floods, unseasonable frosts, and windstorms scientists say are becoming more frequent and severe.
Extreme weather battering farms
Planting crops year to year is becoming a "roll of the dice," said Keller, a third-generation farmer. "The weather we tend to experience lately seems to be at one extreme or the other -- drought or flooding, -40 C or 35 C. These unpredictable and extreme weather patterns add to all the other stressors farmers experience and deal with."
In Alberta, the lives of thousands of people have been upended by the massive Fort McMurray wildfires, caused largely by climate change. It's not hard to predict that many people who will continue to live in the area will suffer anxiety. Meanwhile, the CBC reports that children who experienced the fires are suffering from stress.
On a worldwide scale, it appears that the impact of climate change on human health will be receiving much more attention in the future. A report by the United Nations Human Rights Council released in May says that massive action is needed to protect the human rights - particularly the mental health - of people.
The report warns: "The negative health impacts of climate change will increase exponentially with every incremental increase in warming. Limiting warming to the greatest extent possible and achieving the target of 1.5 C above pre-industrial levels should therefore be the objective of all climate action."
The problems in developing countries the report addresses also apply to native groups living in the Canadian North and prairie farmers: "States should establish, inter alia, early warning systems; utilize community-based monitoring, including traditional knowledge; enhance emergency response capabilities; and improve coordination in addressing climate migration . . . ."
No health-related action in Canada
While many Canadian mental health and some government officials are aware of the impact of climate change on human health, it does not appear that the actions recommended by the UN are being carried out in Canada.
Finally, thinking back to all those people who don't want to deal with climate change: this is a serious problem. If the planet is to be a livable place, the masses of people have to become involved in the fight. Environmental groups must do a lot more on climate change than they're doing - they're failing to educate the public.
Governments must be both criticized and encouraged over what they're doing. If fossil fuel corporations don't embrace technologies favouring carbon reduction, they must be attacked and eliminated.
Follow HuffPost Canada Blogs on Facebook
Popular in the Community