On the night of Sept. 8, 2017, Gabril Angel Mora, 25, was in San Cristobal de Las Casas, Chiapas, speaking on the phone with a friend elsewhere in Mexico. Around 11:45 p.m., her phone signal suddenly went out. So did electricity.
"I knew what was happening," she told me the next morning. "I'm from Mexico City. Earthquakes happen all the time."
Obviously, we had lived different experiences.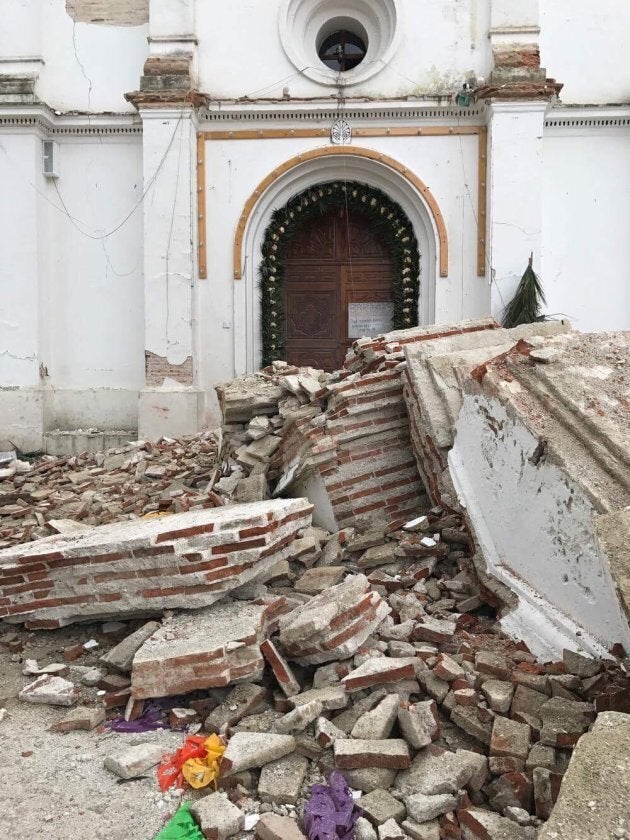 Contrary to Gabril, this was my first rodeo. I'm a 24-year-old from Montreal — natural disasters are not something I commonly experience.
By 10:30 that night I was sound asleep. Little did I know that an hour later, I would wake up, half-crawling onto the ground, thinking aliens were finally taking over Earth.
Within milliseconds, I was on my feet. The ground was shaking heavily, but I managed to reach the closest door frame and crouch under it. First mistake. According to a 2016 Insurance Canada survey, many Quebecers would react just like I did. I later learned that getting down on the ground and hiding under something solid is the smarter, safer thing to do. From my not-so-safe refuge, I could hear objects slide from the walls and break on the floor.
Bright blue lights illuminated the sky. They were bluer than usual lightning, and took the form of large, oval-shaped apparitions. When a red one stroke, the thought of aliens crossed my mind once again.
She didn't seem scared. Instead, her expression reflected a sort of excitement.
At that point, the seism had stopped, but I knew another quake was likely to happen. I looked at the poorly designed house I was standing under and decided not to stay in there.
Outside, street dogs were frightened, barking continuously and running all over town to seek shelter. But that was all.
After a disaster of that magnitude, one would expect babies crying, people screaming over the phone, or even just citizens worrying for their families or preoccupied with the state of their houses. Instead, a few people, surprisingly calm, were standing in the street in small groups. Next to me, Gabril Mora was trying to get a signal.
"Are you OK? " she asked me in Spanish. She didn't seem scared. Instead, her expression reflected a sort of excitement. We started talking. I asked her about the lights. Whereas I couldn't get the apparitions out of my head, she had completely forgotten about them.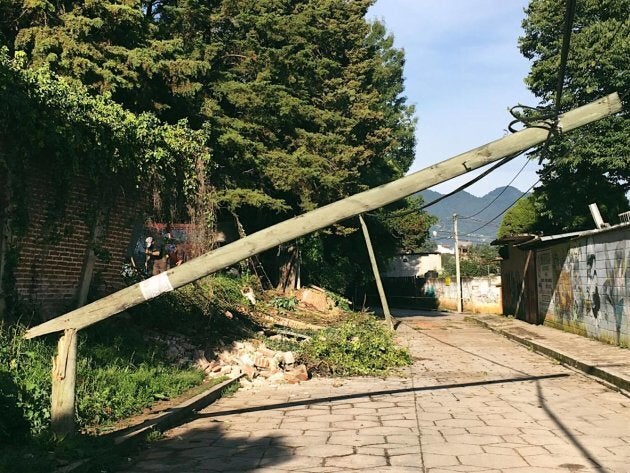 "Maybe some electric poles," she said tranquilly. Although I knew it wasn't probable that electric poles had been the cause of such a phenomenon, Gabril's pragmatic thinking reassured me.
She handed me her phone so I could call my mom. Still obsessing over my "alien" lights, I asked her to search about the phenomenon. According to her sources, the coloured lights are rare occurrences, and are the result of rocks releasing energy because of the moving tectonic plates. My first thought, too.
When I hung up the phone it was past 2 in the morning. You'd think by then the worst part was over, and for most people, it probably was. Indeed, once inside I could overhear laughs coming from the street. People were blowing off some steam.
For days I would get sudden panic attacks, thinking the ground was moving.
Lying down in bed, I kept hallucinating the ground was still shaking under me. Only some of these feelings were really hallucinations: aftershocks earthquakes are a real phenomenon. In the 24 hours following the Sept. 8 quake, over 260 aftershocks were registered.
I finally fell asleep, but for days I would get sudden panic attacks, thinking the ground was moving. I woke up two hours later and quickly left the house.
Further down the street, volunteers were holding shovels, casually smashing debris. A wall of the superb Na Bolom Museum had fallen onto the street, taking electric poles with it. People were passing by. No one seemed to care.
An hour later, I'm in a coffee shop with Gabril. She nonchalantly tells me her friend from Juchitan was less lucky than we were: her house had been severely damaged. Meanwhile, the West Coast was facing tsunami warnings.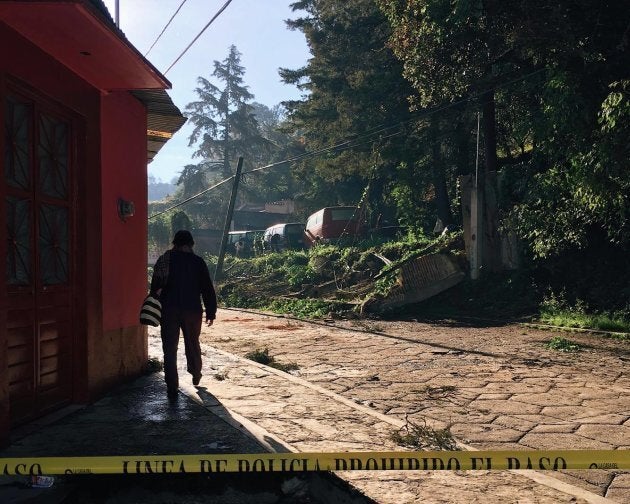 During our conversation, loud sirens would go off in the city. They announced aftershocks, but the locals did not seem to care about them. In fact, every shop in the city was open as usual and the markets were full despite the fact that three people had been reported dead in the very city we were standing in, and over 50 throughout the country.
Later that afternoon, standing in a collectivo bus, I started talking with the driver. Gerardo told me that more than three people actually died during the earthquake. An old lady had a heart attack. His distant neighbour fell on a rock. A child went missing. "But they don't count those ones," he says with a neutral tone.
Your neighbour is dead? A child went missing? Why were people so alright with all of this?
For a second, I had forgotten that for many here, earthquakes, natural disasters and other tragedies are just part of the daily life.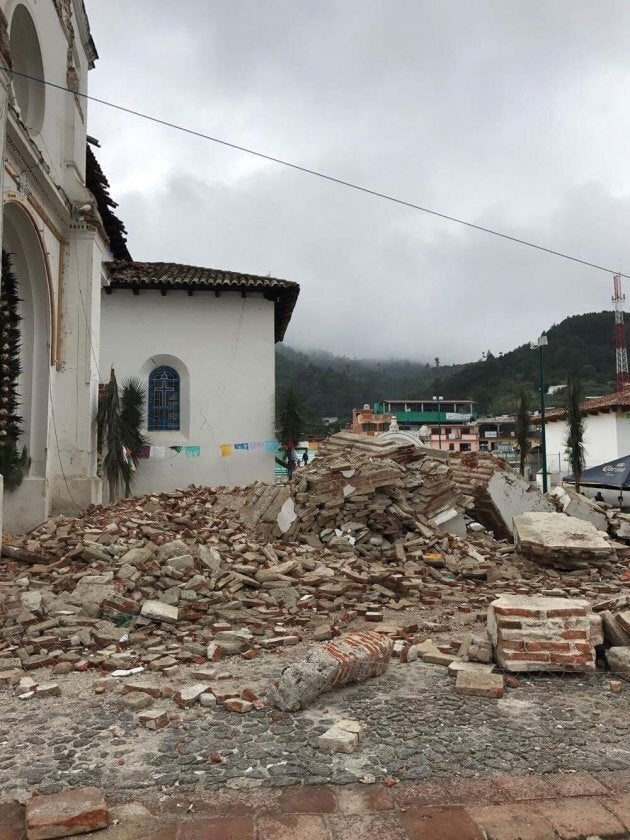 "Earthquakes happen all the time," Gabril had told me. Well, no, they don't. Not everywhere, yet. And I realized: it wasn't people's reactions that were weird. It was me that was unprepared for this.
No one here had ever thought aliens had come, because they were used to such traumatizing events. None of it surprised them anymore. I, on the other hand, had never been prepared to face the eventuality of nature bringing destruction and death around me. All my life, I had taken the stillness of the earth for granted, and now I was paying for it. With anxiety and doubt.
I wasn't prepared, and I should've been. Because assuming many of us don't have to think about natural disasters because we live in Canada, or because nothing like that has ever touched anyone we know, is naïve. After all, Irma is ravaging the East Coast and threatening Canada with floods as I am writing this.
As Canadian insurers are preparing for a future saturated with flood damage, and a statewide fire disaster is declared in British Columbia, maybe we should start getting mentally ready for it all to become part of our reality, too.
Whereas I had always presumed nothing would ever happen to me, Mexicans assume it will; they're just waiting so they can deal with whatever life will bring and get along with their lives. And there's a word for that: resilience.
Follow HuffPost Canada Blogs on Facebook
Popular in the Community