After an initial Instagram post accusing Malik of copying her style in a new music video, the 24-year-old rapper later called out the Pakistani-British singer, a "Punjab," "dirty bitch," "token brown boy" and "hairy curry scented bitch."
A hairy curry scented bitch. If you had called me that 10 years ago, I probably would've believed you and chances are, I probably would've went home and cried.
Smelling like curry was embarrassing, and it wasn't until I was an adult that I didn't let it bother me.
When I was in high school, just like buying pencils and notebooks were important for class, buying body spray to cover up my scent was just as crucial. I remember hiding my jacket in drawers, spraying the crap out of my clothes with drugstore body mists, and fighting with my mom on a weekly basis about cooking curry in the house.
Once in gym class, a white male student in my class had taken my running shoes from underneath a bench and told the whole class it smelled like curry. There was another time my friend didn't want to borrow a dress from me because it had "smelled Indian," oh and how can I forget stuffing my backpack and purses with dryer sheets that smelled like fresh flowers and something dumb like cotton.
Smelling like curry was embarrassing, and it wasn't until I was an adult that I didn't let it bother me. In fact, I even hated wearing Indian clothes, especially outside of my house -- if my skin wasn't enough proof I wasn't white, there was no way I wanted people to think I was super Indian on the weekend.
When I was younger and had no say in what I wore, my mom would only dress me in Indian clothes on school photo days, on my birthday and any fancy occasion. We even fought when I was in grade 12 because she insisted I wore a saree to prom and grad (I didn't).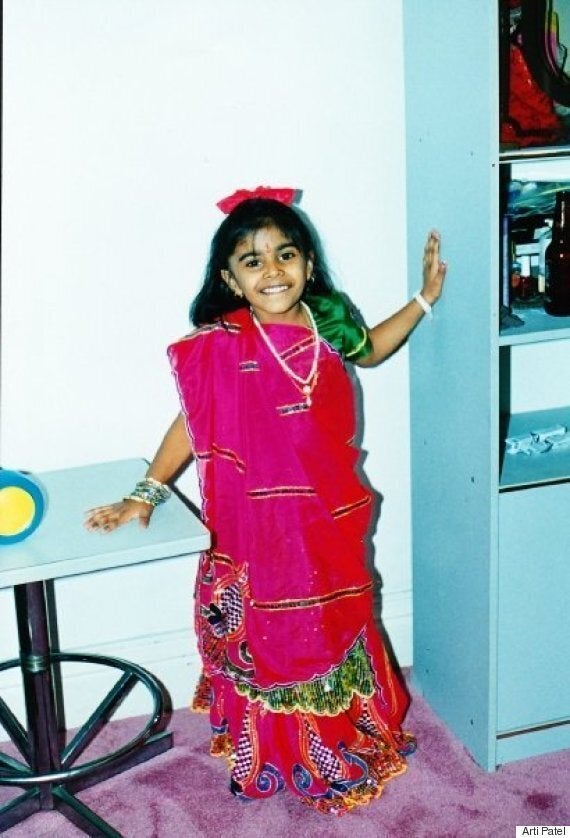 Toronto comedian and YouTuber Jus Reign responded to Banks' comments on Wednesday by changing his official Twitter name to Dirty Punjab and retweeting Desi women sharing selfies in sarees, lenghas and bindis.
There was nothing more empowering than seeing badass brown women reclaiming their silk sarees, their gold tikkas and most importantly, their brown skin using the hashtag #curryscentedbitch. Eating, cooking and smelling like curry isn't disgusting, ugly or unattractive, it's just a tiny part of being South Asian.
The hate of your colour, the hate of your hairy upper lip and the hate of your scent. If European beauty standards weren't ridiculous enough, when I was young, the hardest part of being brown was not being white.
While these days I can easily tell you which Indian designer I am wearing on my wedding day, who my favourite Bollywood style inspirations are, and which lengha I need to buy next, it took a lot of self-hate before I could fully embrace my identity.
These are the days, I regret not wearing that saree to prom and running from the car to my house if I came back from an Indian function. I regret yelling at my mom about making fish curry and getting mad at her for buying me expensive Indian outfits as a kid.
But seeing the positive response from beautiful South Asian men and women around the world over one racist tweet makes me wish I had this type of sisterhood when I was a teenager. Maybe then I would have been proud smelling like delicious curry.
Follow HuffPost Canada Blogs on Facebook