I will never forget a cold like that. As I rode a bike that was on the brink of falling apart to find shelter on a bone-chilling night last March, I reached into my coat pocket to retrieve my water bottle to find it frozen solid. My partner Phil Dawson, East Gwillimbury's Fire & EMS Chief, and I had only been riding for less than hour. That's how cold it was.
Phil and I had been given a real-life scenario of a homeless youth as a part of 360°kids' 360°Experience. Our experience had us stepping into the shoes of a 16-year-old male, who was unsafe at home and had to leave quickly to save himself. "He" grabbed his old bike out of his family garage and rode away to hopefully find shelter for the night. So, there we were in -23° temperatures riding decrepit bikes 26 km to the group home that would hopefully take us.
For homeless youth, this is a very real situation they could find themselves in as money is scarce for better transportation options -- they make do with what they can. Much like the bikes homeless youth would ride, ours were constantly falling apart, so the ride that should have taken us an hour took up to four hours -- walking our bikes uphill to ride downhill without the chain attached.
The long ride and walk gave Phil and I a long time to talk. "I had no idea youth homelessness was even an issue in York Region," he told me at the beginning of the night.
As we made our journey, I pointed out all of the fields and open spaces in Richmond Hill and Markham that kids use as a place to crash when they don't have a home to go to. "I'll never look at these fields the same when I drive past them," Phil confessed as his teeth shivered. By the time we made it to the group home in Markham, we were both exhausted, and our night was not over.
We were reminded that many kids do this every night, without the option of calling it quits to walk into a warm home with hot breakfast awaiting them and a safe bed they can go to that night.
Like many youth have experienced, the group home was full. Phil and I were turned away from a safe and warm shelter for the night. We had no other options. We took advantage of the tarp and sleeping bags that the 360°kids' Outreach Team had left out, as they would if they saw evidence of youth sleeping outside there. Phil and I tried to be strategic, digging a pit to hopefully capture some of the earth's warmth. By the time we dug out the snow and climbed in, it was 3:00 a.m. and the wind chill dipped to -31°.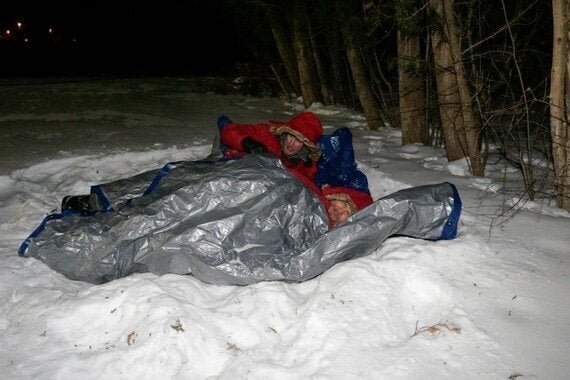 I can't truly explain how exhausting, challenging and incredibly cold this night was. I tossed and turned trying to get warm, but finally at 5:30 a.m. I had the luxury of giving up.
That's not a choice homeless youth have.
At 6:00 a.m., the 360°Experience was over, and all the participants gathered at Home Base for a hot breakfast. We were asked if we could do the whole experience again the next night. Not one hand went up. We were reminded that many kids do this every night, without the option of calling it quits to walk into a warm home with hot breakfast awaiting them and a safe bed they can go to that night.
They are resilient. They go to school, tired and hungry. They are too embarrassed to tell their friends about their situation, so they change their clothes at gas stations or community centres, hoping others won't notice they "forgot" their lunches again.
That's when it really hits home - I make my two daughters lunch for school every day. What if I couldn't be there for them? Where would they go? How would they manage?
As we all went our separate ways after that morning, many heading home to sleep, others off to try and work for the day, we all knew that although it was only one night, our lives and how we look at youth homelessness would never be the same.
Michael Braithwaite is the Executive Director of 360°kids, a registered charitable organization that provides a variety of support services to children and youth throughout York Region. The organization is hosting its third annual 360°Experience this March, a night in which community members experience real-life scenarios of homeless youth to raise awareness and funds.
Follow HuffPost Canada Blogs on Facebook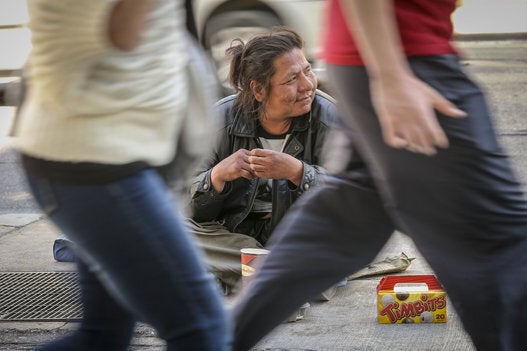 Canada's Homeless