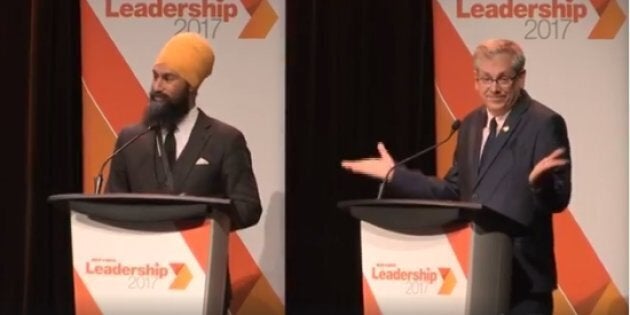 NDP leadership hopeful Jagmeet Singh had a succinct answer when a rival pressed him at a debate in Montreal Sunday to clarify future plans should he lose the race.
"With respect, I will not lose," Singh told rival Charlie Angus, sparking laughter from the crowd.
Angus told Singh he liked the energy the Ontario MPP has brought to the campaign and would like to see him as part of the NDP caucus in Parliament.
"But you are also very popular in the legislature in Toronto," Angus said in French. "So, if you lose the race, are you ready to present yourself at the federal election or will you go back to Toronto?"
Elections coming in 2018 and 2019
Singh's response that he has no other plan but to win did not sit well with Angus, who noted that Ontario's next provincial election is set for 2018, while the federal election will be held in 2019.
"The question, Mr. Singh, is simple," Angus said, sparking some more chuckles. "You are a provincial politician and there will be two elections, 2018 and 2019. Are you ready to present yourself for the Ontario election or federal if you lose this race now?"
"With great respect, when I win, I will present myself at the federal election," Singh responded in French.
"If you lose?" Angus tried one last time.
"I will not lose," Singh said again, spurring Angus to shrug to the crowd.
Angus' exchange with Singh can be seen at around 1:07:40 below:
Angus, who has represented the Northern Ontario riding of Timmins-James Bay since 2004, said earlier in the debate that New Democrats need a leader who is present in Parliament to fully take on the Liberal government.
Singh announced earlier this month that, should he win the leadership race, he will not run for a federal seat until 2019. That would mean New Democrats would not have their leader with them in the House of Commons for at least two years.
The situation would be reminiscent of when Jack Layton won the NDP leadership in 2003, but did not pursue a seat until the federal election the next year.
Singh has said he would use the time leading to the election to travel the country and reach out to Canadians.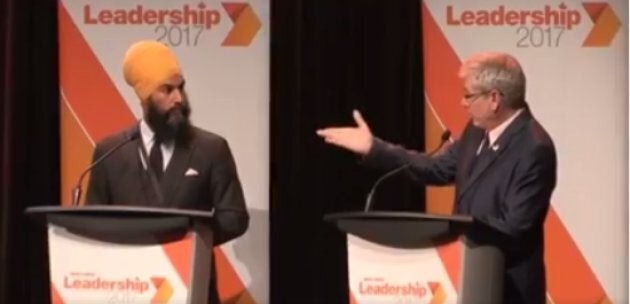 "I would be happy to spend the time while I am not a sitting member to campaign across the country, to get to know the issues, to get know the different ridings ... spending that time speaking with people, reaching out to them," Singh said.
Such a strategy would deviate from outgoing NDP Leader Thomas Mulcair, who was widely lauded for his performance in the House of Commons, notably during question period, leading up to the 2015 election.
That performance didn't translate to success at the polls, however. The NDP ended up losing dozens of seats and falling back to third party status.
The other contenders in the race are also sitting MPs — Manitoba's Niki Ashton and Quebec's Guy Caron.
If Singh wins the federal leadership but keeps his provincial seat he would follow in the footsteps of Bloc Quebecois Leader Martine Ouellet, who is currently an independent member of the Quebec National Assembly. She plans to serve in that role until her mandate is up in 2018.
HuffPost Canada has reached out to Singh's campaign to ask if he will resign his provincial seat should he win the NDP leadership this fall or continue to serve in that role until 2019.
NDP members begin voting for a new leader on Sept. 18.
With files from The Canadian Press