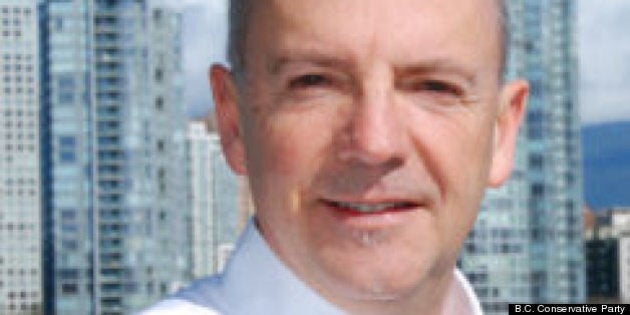 The B.C. Conservative candidate in the high-profile riding of Vancouver-False Creek has been dismissed from the party after a series of controversial tweets from 2011 were reported in The Vancouver Sun.
Ian Tootill was dismissed by B.C. Conservative Leader John Cummins Wednesday.
"Mr. Tootill's comments are completely unacceptable and will not be tolerated by the BC Conservative party. We are a party that believes in a respectful airing of views. Mr. Tootill's statements are unacceptable and downright shameful. He has been fired as a candidate," said Cummins in a news release on Wednesday.
Earlier, reports emerged that Tootill refused to apologize or remove a series of tweets in which he questioned whether Hitler was really to blame for the rise of Nazism during World War II. A "we men love sluts" tweet also appeared on his twitter feed, The Vancouver Sun reported.
On the Hitler remark, Tootill said that people in North America pay too much attention to words and that it's "not just the person who led the charge, it's the people who decide to follow."
He added that the "sluts" remark was tongue-in-cheek.
Tootill initially tweeted that, "It's how we process words that should determine whether or not they hurt. Nobody 'drives' someone to suicide with words." Gorka responded with, "Verbal abuse is nothing to brush aside, nor bullying nor hate speech. All types of 'words' that kill."
Tootill then responded that, "words do not kill. Give your head a shake."
Gorka responded saying, "... the Malleus Malifecarum was 'just words' but led to more deaths than 'Mein Kampf' ... again, 'just words.'"
Tootill's final response: "Good example ... Who's really to blame? Hitler or the people who acted on his words?"
He made the "sluts" remark in May 2011 when Twitter user Bill Stenson asked, "What does 'slut' mean anyway?"
"I don't know but we men love sluts..." responded Toothill.
Tootill is the second B.C. Conservative candidate to step down after North Shore candidate Jeff Sprague withdrew over an "unfortunate personal incident."
The Conservative candidate isn't the only one who's been in hot water over remarks made on social media. Kelowna NDP candidate Dayleen Van Ryswyk stepped down from the party last week after it emerged that she made "hateful" comments about First Nations and French Canadians on an online forum.
Check out Toothill's "shameful" tweets here: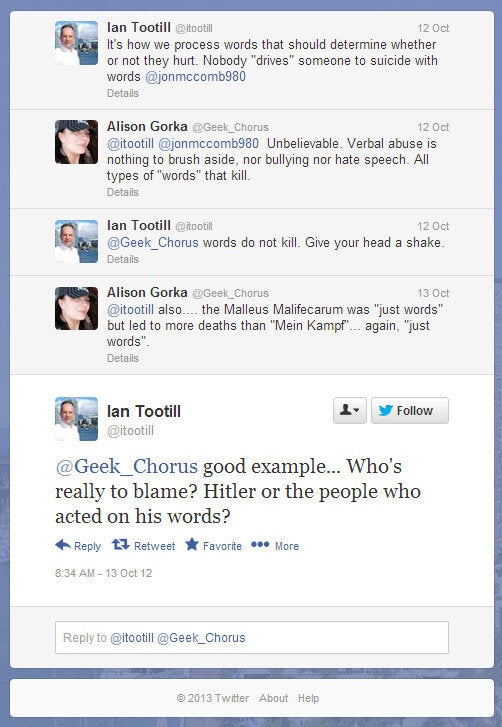 Ian Tootill Dropped As B.C. Tory Candidate (TWEETS)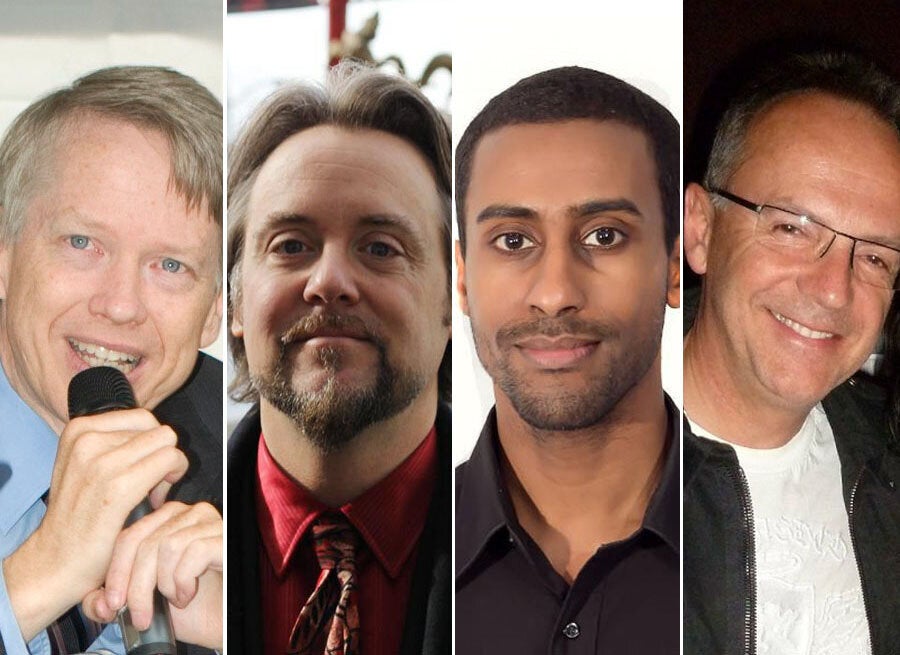 B.C. Ridings To Watch In 2013
Popular in the Community