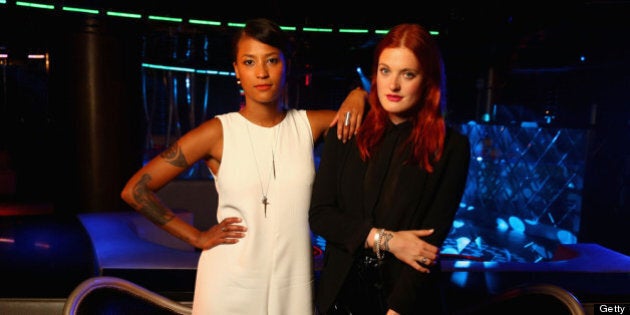 The country of Sweden has a population of 9.5 million, but it has been delivering, consistently, a rather high percentage of the world's finest pop music for decades now, from ABBA and Ace of Base to The Cardigans and Robyn to Max Martin and Avicii.
So after Sweden's latest export, Icona Pop, hit the stage during the taping of "Much Presents: The Big Jingle" at the Air Canada Centre in Toronto this past weekend, we just had to ask them: is there something in the water over there?
"The water tastes amazing. And it's very clear and healthy," Aino Jawo, one half of the duo behind hits like "I Love It" and "All Night," tells Huffington Post. "Sweden is a small country and it picks up trends very easily and transforms them into Swedish versions of American songs. And it's a weird country, as well."
Her partner in musical crime, Caroline Hjelt, agrees. "I think it's kind of cool that Sweden is such a small country and we can come up with so much good music in different genres."
Although Icona Pop have a knack for taking American pop influences and adding a uniquely Swedish spin to them, they're also very happy to step back and let their influences speak for themselves, unlike some other, more cultural appropriation-happy artists these days.
Take the video for "All Night," for example. As fans of the American underground ball scene popularized by the documentary "Paris Is Burning" and brought to the mainstream (read: coo-opted) by Madonna's "Vogue," the pair wanted their video to feature the actual stars of the scene on their own terms.
"The song talks very much for itself," Jawo explains. "You don't always have to be there, with your face in the camera. Those people that were in our video, some of them are actual voguers and one of them was teaching Madonna how to vogue. So we felt that they were the perfect people to dance to the song. We felt very honoured. We were like 'Please do your thing! Express yourself!'"
Thanks to that video, Icona Pop have become even bigger fans of ball as well as fledgling participants. "Now we're really starting to check it out. We're a part of House Extravaganza and we've been to a Ball in New York where it was just so amazing. People putting so much time into expressing themselves and being who they want to be and I think it's amazing."
"We're still rookies when it comes to ball, but we definitely like to express ourselves," Jawo adds.
Much Presents: The Big Jingle, a one-hour special of the concert, airs this Saturday, December 14 at 6pm ET on Much.
Popular in the Community