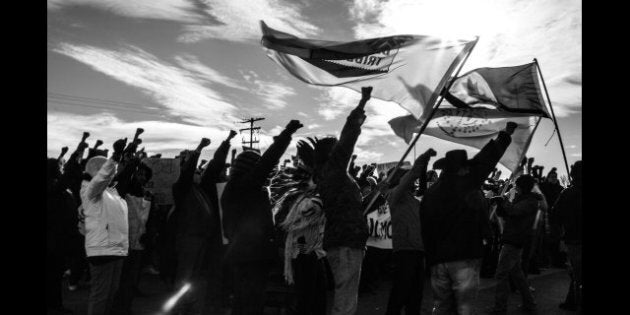 From the frozen north to downtown Toronto, aboriginal protesters and supporters declared today that they would be "idle no more."
Spurred on by social media, thousands took to the streets in cities across Canada, demanding recognition for aboriginal rights. The movement's hashtag, #IdleNoMore, trended nationally on Twitter as supporters shared photos and calls to action.
"Less than three weeks ago, four women from Saskatchewan (Indigenous and non-Indigenous) decided that they could no longer stay silent in the face of what is a legislative attack on First Nation people and the lands and waters across the country," said a release on the movement's website, IdleNoMore.com.
Story continues below slideshow
"Bill C 45 is not just about a budget, it is a direct attack on First Nations lands and on the bodies of water we all share from across this country," said Sylvia McAdam, one of the four founding activists.
Activists have said that the change to the budget bill were penned without adequate consultation with aboriginal groups and violate treaty and land rights. On Dec. 4, aboriginal leaders attempted to enter the House of Commons to make their voices heard, but were physically denied entry, Sun Media reports.
McAdam and fellow organizers Jess Gordon, Nina Wilson and Sheelah Mclean organized learning sessions in Saskatoon, Regina and Prince Albert to bring about awareness of bill C-45's impact on Canada's indigenous people and environment.
On Dec. 10, their movement went Canada-wide in a day of action.
"We are demanding to be taken seriously as one nation by the government of Canada," Michael Champagne, a community organizer, told the Winnipeg Free Press. "And we will not be ignored."
Activists also gathered at Edmonton's Sir Winston Churchill Square.
"The treaties were set by our forefathers," Clarence Whitstone of Onion Lake, Saskatchewan told Global News. "They lit the path for us, and if the legislation is passed down to us, like Bill C-45, then we'll be losing our lands... there will be nothing left for future generations. That's what we're protecting here, that's what we're here for."
Other attendees said that for too long, bills with such far-reaching implications as C-45 have been debated behind closed doors and this day of action is a way for aboriginal people to demand a spot at the table.
"I am willing to die for my people, the pain is too much," Spence told reporters. She says she is prepared to starve to death unless a request for a meeting between Stephen Harper, Queen Elizabeth II and First Nations leaders is approved.