Have you seen the ads? They seem to be everywhere...
In a flush of patriotism, Canada has lauded its first Prime Minister on the bicentennial of his birth. The Right Honourable Sir John A. Macdonald is known as a Father of Confederation, credited with construction of the trans-continental railroad, as well as creating the first Canadian national park in Banff, Alberta. Much more -- even some things questionable -- could be said about this man and his legacy. But he was undoubtedly a man of vision who developed and then acted on his plan to improve and consolidate this newly-formed country.
As the country's 150th anniversary approaches, Canadians deserve a vision worthy of the talent and capacities of a people now come of age. We need a plan of government that allows all who live here to participate in building a better, more inclusive nation today, and to extend those opportunities to the Canadians of tomorrow. Canada needs a plan to eliminate poverty, supported by politicians of every stripe, business leaders and other opinion leaders.
In a country as wealthy as ours, it is simply wrong to allow 4.8 million Canadians to struggle to make ends meet, leaving so many unable to participate in the building up of the new Canada we all desire. Why must over 840,000 of our neighbours need to turn to a food bank to feed themselves and their families every month -- among them over 310,000 children? And why has that number actually grown since the depth of the 2008 recession, when the economy was supposed to be recovering?
Canada urgently needs a vision, and a plan, to turn this situation around.
Fortunately, such a plan now exists. It has been developed by a grouping of front-line service agencies, academics, trade unionists, and faith-based organizations who work together in Dignity for All: The Campaign for a poverty-free Canada. Released after detailed analysis and wide consultations among experts, the National Anti-Poverty Plan for Canada calls on the federal government to address both the immediate and long-term needs of those 1 in 7 Canadians who currently live in poverty. The Plan starts from the premise that poverty is a violation of Canada's human rights obligations, and presents key policy planks in 6 areas: income security, housing and homelessness, health, food security, early childhood education and care, jobs and employment.
No one can deny that poverty is a complex issue. And to be able to effectively address it, Canadians need solutions that meet those complexities. There is no "silver-bullet" solution. But just ask those in situations of need how inaction and denial rate as responses. A plan would develop and implement a schedule for addressing poverty that comprehensively focuses on those most in need, employs regular review and accountability measures, and engages the entire country in solutions.
Of course, all levels of government must be involved if any anti-poverty plan is to have a chance of success. Many municipalities and every provincial government (but one -- British Columbia) already has, or is developing, their own poverty reduction plan. The United Nations has twice called upon Ottawa to develop a plan. A Senate report (2009) and the report of a Standing Committee of the House of Commons (2010) also called for a federal poverty reduction plan. Yet, in today's Confederation, the federal government continues to refuse to develop such an instrument.
Municipalities, provinces and territories and Aboriginal governments can only do so much alone. The federal government, with its particular policy-making, legislative, taxation and redistributive powers, has the responsibility to co-ordinate and enhance best practices across the land in key areas under its jurisdiction.
Almost 150 years ago, leadership to form a new country emerged in this most northerly territory of the North American continent. This was achieved in spite of many threats, struggles and obstacles. At the Quebec Conference of 1864 when they were debating the construction of the Senate, John A. Macdonald was said to have stated, "We must protect the rights of minorities, and the rich are always fewer in number than the poor."
By now, it is time for real change. A commitment to develop and implement a national plan to address the scourge of unnecessary poverty should be in the plank of every political party in the Canada of 2015.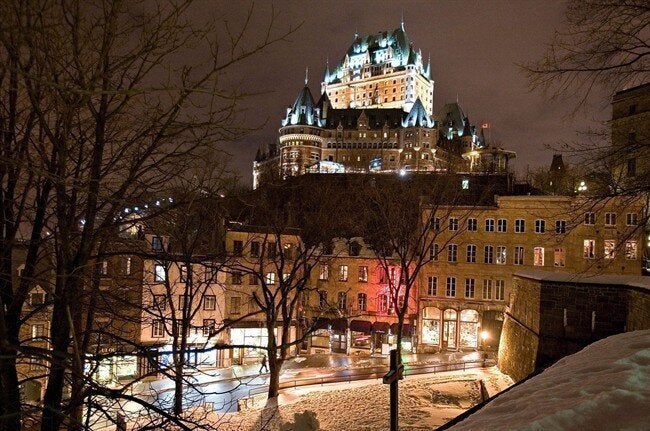 Cities Where Middle Income No Longer Buys You A House
Popular in the Community