People from all over the world have expressed outrage at the killing of Cecil, a popular lion from Zimbabwe.
Late night host Jimmy Kimmel, for example, showed rare emotion as he talked about Cecil's death on Tuesday night, calling Walter Palmer, the man who killed him, an "A-hole dentist who wants a lion's head over the fireplace in his man cave."
But amid the rage over the lion's death, Ijeoma Oluo wants to know where the anger is over the killings of black people.
While Oluo was herself outraged at Cecil's death, she also pointed out a double-standard when it comes to an animal's life, and those of black people.
Here's a Storify of Oluo's essay:
Oluo wasn't the only one to make this comparison.
"Unlike Cecil, Sandra Bland wasn't afforded the universal support of the American people," she wrote.
"It's easier to get behind a lion than a human being – especially, apparently, a black human being in America."
Oluo and Shoaib's words came just days after an Ottawa mural paying tribute to Bland was found defaced with the words, "all lives matter."
The slogan referred to Black Lives Matter, an international movement that raises awareness of "all of the ways in which Black people are intentionally left powerless at the hands of the state."
"The call for Black lives to matter is a rallying cry for ALL Black lives striving for liberation," its website says.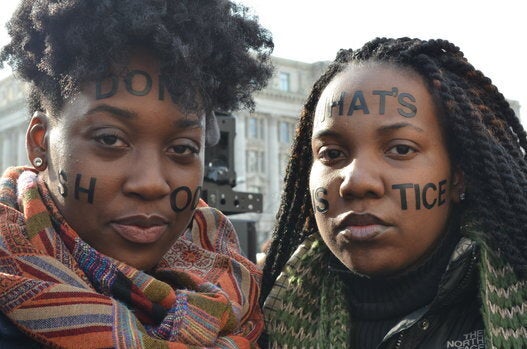 "Black Lives Matter" March