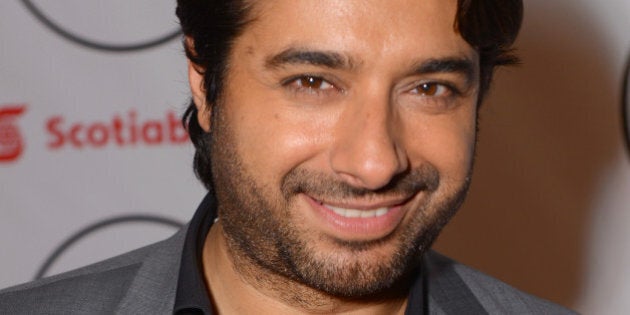 Canadian radio generally isn't a big thing in other parts of the world, but here in Toronto, former CBC radio host Jian Ghomeshi is kind of a big deal. He's well known and well liked, for his views, for his interviews, and for his personality. This week, a decision came down from CBC cutting ties with Ghomeshi after he had tweeted that he was going to take some personal time off. The decision appeared to come out of nowhere, and I for one was a bit shocked. As many people on Twitter put it, Ghomeshi was a media darling, and he is probably CBC's most popular radio host. Why were they canning him suddenly?
Ghomeshi answered the question himself later Sunday afternoon -- he claims they were firing him because a woman Ghomeshi had been dating and having a "rough, yet consensual, BDSM sex relationship with" had come forward after he dumped her with, according to Ghomeshi, a smear campaign set to get him fired. According to Ghomeshi, the woman accused him of sexually abusing her. CBC, Ghomeshi said, fired him for this. Here's his statement:
While we've heard from Ghomeshi, we have not yet heard, at the time of this writing, from the "jilted ex" that he said has ruined his career. I'm not going to sit here and speculate on why CBC fired him or why, at the time of this writing, Ghomeshi is suing CBC and not the woman he says ruined his career. That's for the courts to decide, and while Ghomeshi is rumoured to have been accused of sexual harassment before, albeit under a pseudonym, he's not on trial, yet. He is innocent until proven guilty -- and so is the woman he is accusing.
What I want to talk about is the reactions that I've been seeing to his statement. A lot of people have been giving Ghomeshi the benefit of the doubt while full-on accusing the woman of ruining his career. Without knowing anything but what Ghomeshi has told us, people on Twitter and Facebook have been gleefully maligning her without taking into account that maybe there's more to the story here.
As well, maybe we're all overlooking the fact that Ghomeshi isn't the first to accuse someone of ruining his life over a sexual abuse accusation. He's also not the first to totally malign a woman in order to explain something bad happening to him.
Women everywhere are sexually assaulted by men in power. Many don't bother to speak up because of reactions and consequences like this: Ghomeshi is a man in power and he is also well liked and well known. Chances are, he will be almost universally believed, while she will be accused of lying to get something from him. And while there is an extremely small percentage of women who do accuse men of sexual abuse in order to get something from them, the majority of women don't. The majority of women speak up because they want justice. And right now, we don't know what the real story is -- but as someone who never spoke up when a man in power put me through hell, for a variety of reasons, I believe her until further notice.
I believe her because so many women are sexually abused and it's reasons like this why we stay silent. Because this is rape culture, and rape culture never, ever supports the woman. Because he can ruin our lives far worse than we can ruin his. Because we'll always be known as the woman who accused so-and-so of sexual abuse, especially if the courts rule on his side. Because we live with the scars, physical and mental, of our ordeal. And while I am not accusing Ghomeshi of sexually abusing this woman, I am pointing out that due to the fact that we have not heard her side of the story, she doesn't have a voice in this yet. She is simply represented by Ghomeshi -- and he wants everyone to know that she is the villain in this piece.
The story will come out. If Ghomeshi was unfairly fired for his personal life, I hope he receives justice. But the fact that he's using this woman to build a case against CBC doesn't sit well with me. I look forward to seeing the truth come out as the days go by. I'm saddened this has happened in my city, with a media outlet that I enjoy and respect, and with a media personality that I was always willing to give the benefit of the doubt to.
Willing to give the benefit of the doubt, that is, until he threw a woman under the bus to set the ball rolling on his lawsuit. Not cool, Jian. Not cool.
Edit: It has been brought to my attention that the Toronto Star just released an article detailing more allegations against Ghomeshi. Three women allege that he has sexually abused them. That, on top of the articles and statements linked here, make five women that we know of accusing Ghomeshi of sexual abuse.
Popular in the Community