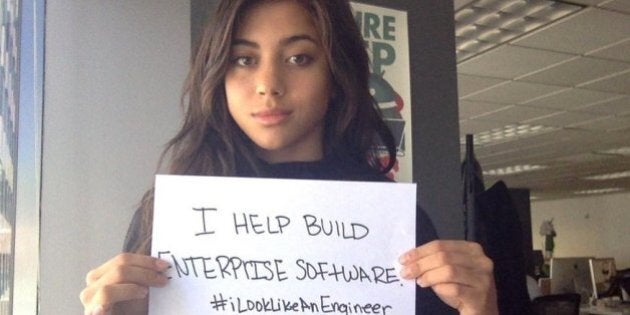 By now, almost all of us know the drill. Someone makes a remark about what exactly women in certain professions should look like and the stereotype gets blown out of the water.
It happened with #DistractinglySexy, when women proved just how "tantalizing" they look in their lab clothes, and now it's happened again, all thanks to one engineer named Isis Wenger.
Wenger, a full-stack engineer in San Francisco, was featured in an ad for the company she works for, OneLogin. And immediately, it started getting comments like this:
Other Facebook comments included statements like, "I'm curious people with brains find this quote remotely plausible and if women in particular buy this image of of what a female engineer looks like."
The reaction prompted Wenger to write a blog on Medium, in which she noted, "The negative opinions about this ad that strangers feel so compelled to share illustrate solid examples of the sexism that plagues tech."
"Some people think I'm not making 'the right face'. Others think that this is unbelievable as to what 'female engineers look like'. News flash: this isn't by any means an attempt to label 'what female engineers look like.' This is literally just ME, an example of ONE engineer at OneLogin."
And with that, a new hashtag, #ILookLikeAnEngineer was born. Obviously striking a nerve in the science and technology industry, which has been plagued by accusations of sexism for years, thousands of women flooded social media with examples of exactly what an engineer "looks" like.
Unsurprisingly, their appearances cover the gamut from young to old to black to white to traditionally feminine and pointedly not. And every single one of them seems pretty kickass. Take a look here: