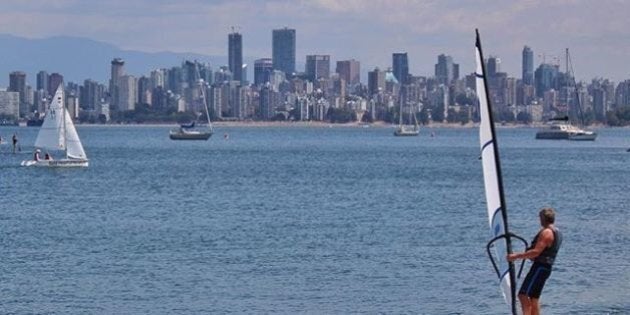 When I told a friend of mine, also a writer with two young children, about our decision to leave Vancouver, he called it "living the dream." He spoke of a long- cradled aspiration to decamp to Golden or Revelstoke, leaving in his wake a Vancouver that watches Portlandia not for the laughs, but for fashion tips.
It is a powerful dream. Despite my cynicism, I love Vancouver and its natives who rail against the "No Fun City" label with all their might. I have always fantasized that I would raise my children in a place where different cultures and personality types butt up against each other, where difference is a way of life and not cause for alarm.
But the other day when my children were scouring Victoria's Gonzales Beach for moon jellies in panoramic view of Washington State's Olympic mountain range, it was easier to view our move as a choice borne of preference rather than necessity. It was a choice. We made it with much more agency than many are allotted. And a new job for my partner, proximity to her family, cheaper rents and better access to the outdoors made a lot of sense when we were paying so much to hear the din of Oak Street traffic 24 hours a day.
But we both felt pushed: every choice we had made to that point was made willingly, but each move -- from Mt. Pleasant to Marpole to Victoria -- nevertheless felt like a concession that inexorably pushed us away from the city we wanted, truly, to be a part of.
Housing markets: bad vs. worse
In October of last year, my partner and I were officially priced out of Vancouver. We fled to the island, to Victoria, where life is much quieter, slightly more affordable, but with a lot more bumper stickers.
One of the first I saw pulling out of Swartz Bay cajoled me to "Relax. You're on the Island now." I couldn't tell if it was a bit of friendly advice or a threat.
Really, we had been priced out of Vancouver a year earlier but hadn't been able to admit it to ourselves. We were paying too much for a two-bedroom apartment in Marpole flush up against the six-lane entrance to the Oak Street Bridge. Both of us worked full-time, I as a freelancer and she as a communications professional at UBC, but searching for affordable housing that would suit our two children under four defeated us. The average rent for a two-bedroom apartment in Vancouver at the end of 2014 was just under $1600 -- if you could find one.
In Victoria, the average rent is still high, but much more manageable at our incomes at $849 for a one-bedroom apartment and $1,095 for a two-bedroom.
The vacancy rate in October 2014 was 1.5 per cent on average, reaching lows below one per cent in Victoria and Oak Bay -- pretty shocking until you consider that in Vancouver it was even worse at 0.5 per cent.
That's really the best way to describe the relationship between the housing markets in both cities: it's bad in Victoria. But in Vancouver, it's worse.
We're not the only ones who are leaving. The Vancouver School Board leaks around 600-700 children per year as families finally hit their limit. Vancouver's oft-touted record on livability is difficult to support when its residents literally cannot afford to stay in the city. And when it's not winning awards for livability or housing prices, The Economist labels it "boring" or the Vancouver Foundation publishes a survey revealing an unusual number of Vancouverites suffer from "loneliness."
It's not easy to quantify loneliness or boredom, but every Vancouverite knows in their bones the deep-seated malaise that flows through the city. When we confessed to a good friend of ours who grew up in Vancouver that we were leaving, she sighed heavily. "There's no point in making friends in this city," she said simply. "Because they all leave."
We know why, don't we? High rents and property prices push residents out of their communities and the dazzling pace of gentrification prevents and disrupts the formation of any sort of collective identity outside of the corporate, sanitized gloss that has come to define the city.
When residents gain purchase on Vancouver's urban culture simply because they are the only ones who can afford it, we should not be surprised to see that culture defined by consumerism, shallowness and alienation.
In many ways, this is true of Victoria as well. The brand of lifestyle politics that stand in for environmentalism and progressive thought are certainly present here. Bike lanes, food trucks, kayak protests against oil tankers -- these cursory issues have come to define vaguely progressive politics in Victoria too.
Meanwhile, Victoria has the highest per capita rate of homeless deaths in the province, gentrification in many areas proceeds apace, and the city ranks second behind Vancouver as the most unaffordable city in Canada.
As I said earlier, it's bad in Victoria. But in Vancouver, it's worse.
Before moving to Marpole, we lived in a lovely one-bedroom "garden suite" (damn that insidious Vancouver euphemism) near Fraser-Kingsway. We bought a crib small enough to fit in our storage closet and made that space work for our tiny family.
In the time we lived there, a Cantonese restaurant turned into a hipster bar and again into a pricey vegan restaurant, at least seven high-end cafés opened (one was replaced by fancy frozen treats retailer Earnest Ice Cream), and a sex shop started selling boutique dog paraphernalia.
Twenty-two months later my daughter was born, asking far too much of that storage closet. Shortly after that, like the neighbourhood when we first moved in, it was as if we were never there.
Leaving aside the question of how many Pomeranian luxury items one city needs, there is a time to ask if a city has enough coffee shops.
Cafés, niche restaurants and boutique shops signify community without doing any of the work that delivers it. We may be lonely and anxious about next month's rent but damn if the pulled pork isn't divine.
Microlofts do not a city make
Vancouver City Hall offers up occult and bizarre solutions to the housing crisis. Laneway housing, tiny homes and microlofts don't offer solutions to affordability so much as entrench the fault lines between home-owning paper millionaires and those of us who didn't crack the market early enough -- or who never stood a chance at all.
I feel lonely in Victoria too. I miss the wonderful friends in Vancouver I left behind, some with kids, who remain determined to fight it out in a city that announces time and time again it is indifferent, if not hostile, to their flourishing.
My partner and I bemoan Victoria's sleepiness too. I miss the bustling streets, the activism, the action (and yes, the takeout options) in the Lower Mainland. I wonder as a freelance writer how my career will suffer as I move away from the media concentration of Vancouver.
I was raised in a slightly suburban university town in Ontario with a population of about 300,000 and spent most of my adult life trying to avoid that lifestyle. Yet here I am, somehow, in a slightly suburban university town with a population of 300,000 on the other side of the country. It is hard, in my darker times, not to look at the succession of compromises my family has made as a departure from what I hoped my adult life would look like.
However: the other day my three-year-old son correctly identified a salmon at the grocery store fish counter. I don't think I ate salmon until I was a teenager. We've seen deer, Cooper's hawks and snowy owls from our front window. And the first time in my life I saw a moon jellyfish was when I took one from my squealing daughter's hands.
But most importantly, despite its not-insignificant housing challenges, I distinctly get the impression that Victoria does not mind if I live here. And that, I think, goes a long way.
(A longer version of this blog was originally published in Megaphone, an award-winning magazine that provides meaningful work to people experiencing poverty and homelessness in Vancouver and Victoria.)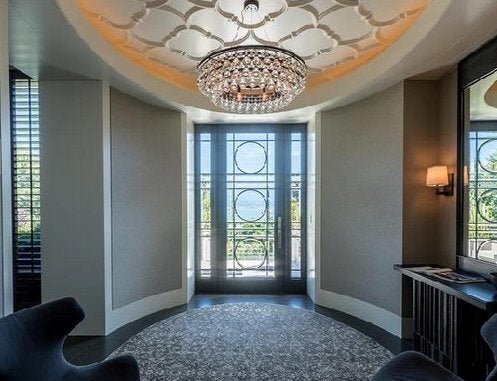 Most Expensive Houses in Canada, July 2015