Asked by a reader about how she would be different than former mayor David Miller, Chow answered "I'm not white. Not male. Want to start there?"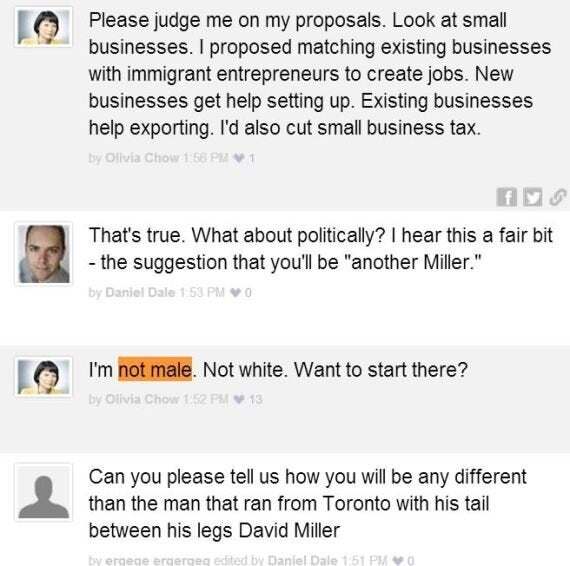 Toronto Star reporter Daniel Dale asked for some elaboration, specifically on what policies will differentiate her from Miller. Chow responded that she would cut small-business taxes and work to match immigrant entrepreneurs with existing businesses.
According to her website, Chow is actually promising to extend an existing small business tax cut that expires in 2015 for another five years. Her campaign estimates this will cost $3 million.
As for matching businesses and entrepreneurs from abroad, Chow has proposed offering city forms in multiple languages and emulating a program in Vancouver called SUCCESS. The website for SUCCESS states that the program, established in 1973, "provides services in settlement, English as a second language training, employment, family and youth counselling, business and economic development, health care, housing, and community and volunteer development."
CORRECTION: An earlier version of this story stated that the chat took place on Friday. It actually took place on Wednesday.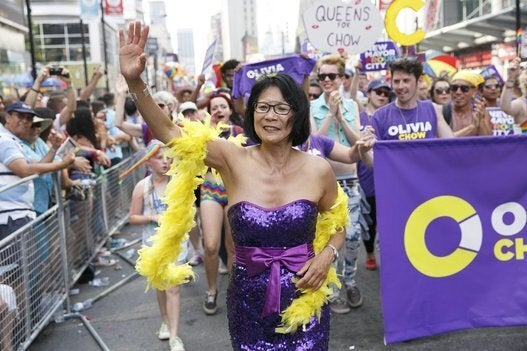 Olivia Chow Through The Years