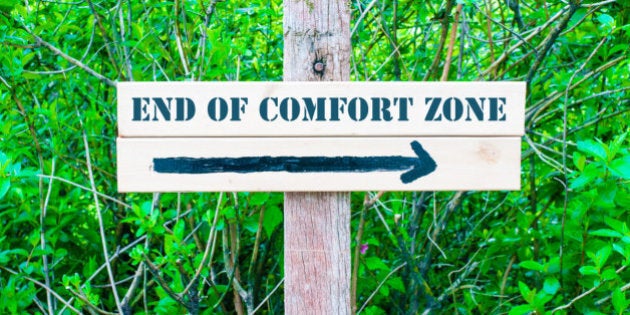 A few weeks ago, I had plans to go on a first date with a new guy. He had chosen a great restaurant in Toronto (points for him for actually choosing the restaurant and planning the date!)
But a few hours before the date, I just did not want to go. I talked to Yas (my sister):
Yas: "Why would you NOT want to go?"
Me: "I don't know. I just want to stay in my comfortable sweats and be home. I don't want to get dressed up and be around someone new. I want to be home, safe and in my comfort zone."
Yas: "D, if you don't go out and date, how do you expect to find someone great?"
Me: "I know and I really do want to meet someone wonderful but WAY TOO much of my life is unstructured and uncomfortable. I can't take anything new. I just want to be at home in my own little bubble. "
Yas: "I understand what you're saying, there's a TON of uncertainty in your new career and in writing your memoir. I know it's EASIER to stay home.....but it's lonelier. You've got to get comfortable with being uncomfortable
She emailed me the following one minute later:
1. You are overwhelmed and need a way to relax
2. Good food and a glass of vino and a few laughs are great ways to relax
3. You'll get dressed up and that will perk you up
When I decided less than a year ago that I wanted to become a speaker and build my own company to inspire and motivate others, EVERY single thing was new. I had NO idea how to create a website or find a web designer, write a speech (let alone actually speak in front of 100's of people), create an invoice, use social media, and how to write a 1 page newspaper article!
I wanted to give my new company all my efforts so I left my corporate job. This meant there was no longer a steady paycheck, benefits, company car, corporate card and a team of people to rely on. It was just me myself and I.
Everything was new, scary and I was nervous because I was really on my own and an entrepreneur. I gradually learned how to deal with that fear by getting tremendous emotional support from family, friends and mentors.
Then, this past summer I decided I wanted to write my memoir and that took uncomfortableness to a completely new level. For most of my life, I have never shared anything that is seemingly less than perfect. I have never embraced social media and am in general, quite a private person.
Writing a memoir has forced me to expose all the areas of my life that are painful, humiliating, embarrassing that I had chosen to keep hidden from the world. I've had to acknowledge the areas of my life that I was ashamed of and realize the many (many!) mistakes I've made along the way.
Writing the epilogue was particularly challenging for me because I discuss my life at the present moment (can't use the "I was "young and stupid" excuse anymore) and what I currently need to sweep out from under the rug and work on. There is a great deal of vulnerability involved and it is a very scary feeling to me.
I was not forced into my new career -- I chose it. I didn't have to write my memoir but I chose to do this because I know it will help other people. There will be many more "uncomfortable" moments that will happen through this journey and I need to gradually learn to embrace them.
I did end up going on that date instead of staying home curled up in my sweats. And my sister was right! I did need to get dressed up, de-stress, laugh, talk to someone new and step away from my own little bubble.
I remind myself of my sister's words every day and will continue to say them over and over until it becomes part of my normal thought process. "You've got to get comfortable with being uncomfortable."
Follow HuffPost Canada Blogs on Facebook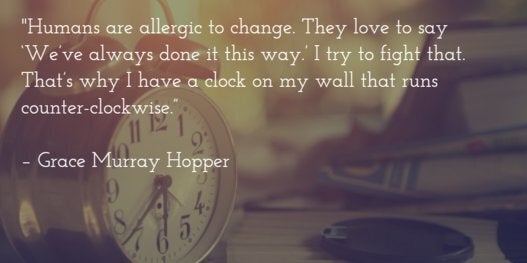 30 Quotes About Change