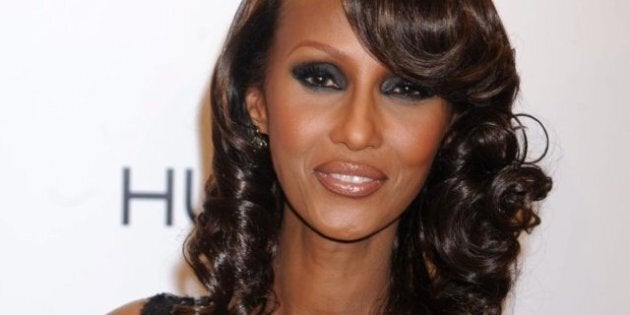 Who says things slow down after 50? Iman is an international fashion icon, a mother to two daughters, the creator of Iman Cosmetics, a philanthropist for numerous charities and the host of Project Runway Canada. Oh, and the wife of rock legend David Bowie.
And despite all this, she still manages to look drop-dead gorgeous every time we see her. Here's what the breathtaking beauty has to say about her beauty regimen and her daily routine.
How do you keep your skin so young-looking? Do you use a specific product or regimen?
Yes, mine! I've been using my cosmetics and skin care, Iman Cosmetics, since I created [the line] in 1994. Religiously. I don't believe in lots of things to do with your face, but cleanse, moisturize. Young girls aren't taught that -- they just see a lot of cosmetics, which isn't good. It's easier for them to put on, since it changes the look, but it doesn't encourage them to take care of their skin. I tell my little daughter, who's eight years old, it's like brushing your teeth. You do it twice a day.
You can get Iman Cosmetics specifically at Sears, and it's a line for women of colour -- regardless if you're Asian, East Indian, African, whatever. Even white people can use it, if they want to look tanned [laughs].
What's your attitude towards aging?
I'm African, so it's all good. We don't stress about that stuff. We don't celebrate birthdays. I know I'm 53, but my birthday isn't something I dread or look forward to. The year starts and it's downhill from there [laughs]! My younger daughter's American so we celebrate for her.
Do you engage in regular exercise?
Yes, a lot of cardiovascular [exercise]. I try to work out every day. A lot of walking, jogging, treadmill, jump rope. I have one bad knee, which I injured years and years ago, skiing. That's why I don't like running very much. And treadmills are so boring. Jump rope, if you do a good 10 minutes, it's a difficult cardiovascular workout. I started jump rope after I had my baby eight years ago and I could barely do three minutes. And I thought I was fit!
You must have a healthy diet. What are your eating habits?
I don't eat McDonald's. I don't drink soda. I never acquired that taste, and I never had it when I was growing up. Not big on sweets, also. I was in a boarding school, so I was deprived of that. I've changed from eating three meals a day to six small meals. I start big on carbs, and then taper the carbs as the day goes on. I rarely touch alcohol, but I have a glass of wine now and then. Champagne gives me headaches -- and believe me, that's all you get when you're modeling. Nine a.m., they give you champagne when you walk in.
You've been married for almost 17 years. What qualities do you think go into a successful marriage?
He (Bowie) says it's all about the humour. He finds me funny. I find him funny as well -- he's very English. It's too bad, because he hates all those media events we have to go to. Half the time I look at pictures of us and I say, "Look at you! You're like a death squad!" [Laughs] People always say to me at those events, "Do you guys consult each other about what you wear?" I just want to say, "Shut up! Do we look like we consult one another?" But you see celebrity couples, and they both dress in black and white... I can't do that. Then they ask me, "Do you help dress him up?" I respond, "It's David Bowie. Of course I don't!"
Everyone is looking for ways to be happy. What sorts of things make you happy?
I'm a very easy-going person. My daughters make me happy. A good-weather day makes me very happy lately. Obama. Any pictures of Obama and his daughters are uplifting. It's easy to be happy.
What would be a regular day for you?
Because there's an 8-year-old involved, it's constantly go-go-go. I wake up usually around 6:30 a.m., have coffee, read the paper, wake [my daughter] up around 7 a.m. and then have breakfast with her and then I take her to school. Maybe I'll go to the gym, and then to the office. I'll stay there for a couple hours, and then pick her up after school -- sometimes we go and do things afterwards. That's a typical day.
Do you plan on staying in New York City for the foreseeable future?
Yes, that's where she goes to school, so we'll be sticking around. It's funny, the first time I made a lot of money, the first thing I did was buy a plane ticket to New York. I love it there.
What's your favourite thing to do on a weekend?
Nothing. If I can, nothing. Have an easy day.
Popular in the Community