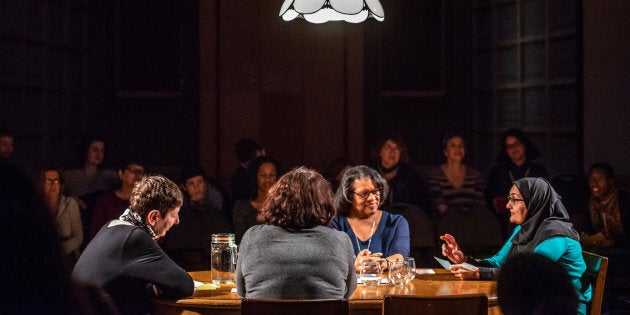 A mother and daughter, seated across from each other at a dining table, rally questions back and forth. The intimate and candid conversation that unfolds is punctuated by raucous moments of laughter and touching moments of discovery. The banter might seem like nothing out of the ordinary, except that these women are getting intimate and candid before an audience of strangers.
"Is it important to you that I keep our family's culture and traditions?" asks Fatima Ahmed with a sly smile, like she already knows what her mom will reply.
"I want you to continue my values, that's most important," replies her mother Ruby Ahmed, matter-of-factly.
"But when I stopped wearing my hijab last year, you were not happy!" Fatima retorts.
"Yes, I didn't like that at all!" the soft-spoken Pakistani-born mother says emphatically.
The audience breaks out in laughter alongside Ruby and her daughter.
The pair are one of four mother-and-daughter duos who have gathered in a cozy, dimly lit theatre to share their experiences, stories and opinions as immigrant mothers with daughters, most of whom are Canadian-born. All 24 participants applied to be part of "Like Mother, Like Daughter," an unscripted play that recently finished its run in Toronto.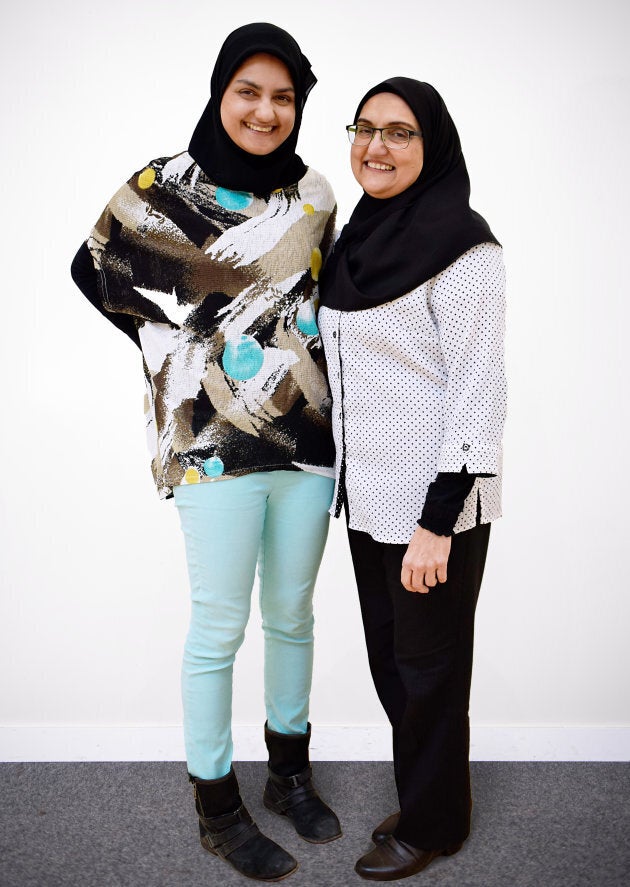 Each night, four varied mother and daughter pairs pull up chairs at a dining table set in the centre of the theatre, armed with questions yet disarmed by vulnerability.
The conversations are impromptu and real; they're discussions these moms and daughters haven't had before.
"Are you scared of anything?" asks Ruby.
"I'm absolutely petrified of being homeless after you and Baba pass away," Fatima replies.
"But you have a mortgage? Why would you be homeless? Why would you be scared?" asks her mother.
Generational Gaps
Ruby's reaction speaks to generational sensibilities that can exist between immigrant mothers raising millennial children in an age of uncertainty.
Most of the mothers immigrated in the 1970s, when the Canadian economy was relatively stable. And many married young, either through arranged marriages or love unions, and started families relatively early on in their lives. Many of their worlds revolved around their families, more so than their careers or personal passions.
On the other hand, most of the daughters grew up in an era of wavering economic stability, where the gig economy has somewhat replaced full-timework, and self-exploration and travel can trump "settling down," (read: getting hitched). "Finding yourself" is more their rallying cry, rather than finding a spouse.
"The world is a different place from when I was growing up in Kenya. It felt simple then. Now, these girls are exploring the world on their own," says Panna Batavia, tucking a strand of her flowing, grey-tinged hair behind her ear — her daughter Hima's near carbon-copy hair is a dead giveaway of their relation.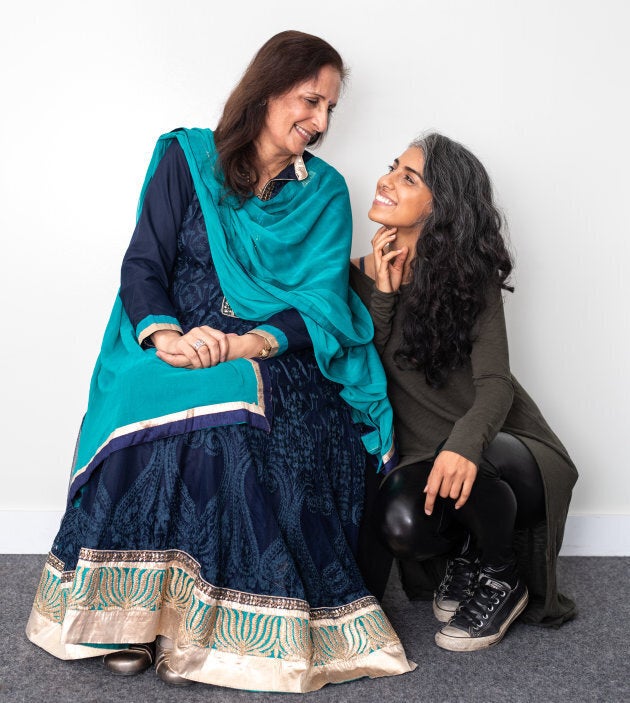 "Hima has been away for a while so there were some things I had been wondering about her. We have a fiery relationship, but even if you have that, you still have a mother-daughter relationship and that is special," Panna told HuffPost Canada in an interview after her performance.
While mothers and daughters often share an undeniable bond, this relationship can be strained and tenuous, especially for children who straddle two worlds: their cultural upbringing, oftentimes in a traditionally conservative family, and a more progressive Canadian society.
"I can't answer on behalf of all immigrant families, but in my case, we never really broke the barrier of child/parent relationship to an adult relationship," says Hima. "[This play] opened up dialogue that we previously had not had. It created the space to ask hard, deep questions, and have conversations that we haven't explored before."
And that was exactly the point of this participatory theatre project.
"My hope for 'Like Mother, Like Daughter' was to provide a strong platform for women with a multiplicity of backgrounds to feel empowered to share their stories, and for audiences to have an opportunity to listen and authentically engage with them," says Koffler Centre of the Arts producer Jessica Dargo Caplan. (The play was co-created by Why Not Theatre and Complicité Creative Learning.)
"Based on the personal stories I've listened to from the mothers and daughters in this project, as well as from some of my dearest friends who have migrated to Canada, the experience of straddling two worlds can be quite challenging, especially for those who have been forced to leave their homelands as refugees."
Two Worlds Meet As One
Psychotherapist Diviya Lewis, whose family immigrated to Canada from India when she was five years old, says communication in immigrant families can be complicated because so many things aren't talked about openly. She notes that perceived ethnic cultural norms and the parents' own conservative upbringing can make topics such as sex/sexuality, money/finances, trauma and mental health taboo in some immigrant families.
"In order to bridge this gap, it has to start with patience, understanding, and a lot of compassion," says Lewis. "Compassion because there are real feelings of shame associated with some topics. Patience from both sides, with a genuine willingness to communicate — even if it's uncomfortable; even if it conflicts with what you've been taught — is necessary."
Lewis believes these conversations could and should be facilitated over the dinner table, if possible.
"Having conversations at the dinner table can help foster a deeper knowledge of family members," says social worker and psychotherapist Arij Elmi. "What are their interests? What are their dreams? When we humanize one another, better understanding the depth and fullness of each person, we can better empathize with one another."
Breaking Bread And Barriers
Food and congregating around a dinner table is a focal point of the play, whose producers recognize the power of sharing stories over shared meals in brokering bonds.
After the mother-daughter pairs have taken a turn at the table answering questions they have written themselves, everyone breaks bread together. Literally.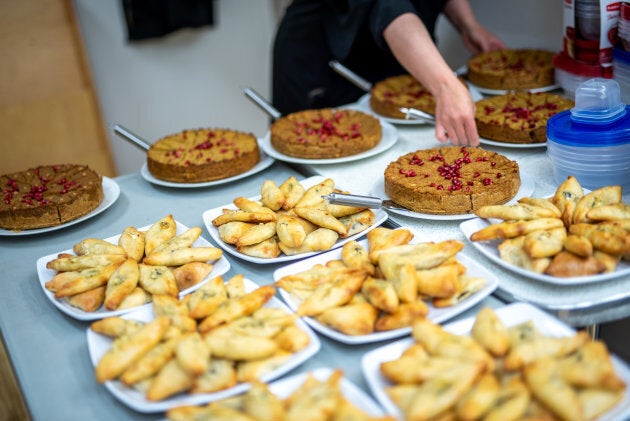 A meal prepared by Newcomer Kitchen is shared around several tables, providing the opportunity to interact with both the participants and other attendees, most of whom also appear to be immigrant parents and their children.
Newcomer Kitchen is a nonprofit organization that invites Syrian refugee women to cook a weekly meal in The Depanneur, a Toronto event venue space and restaurant. It blossomed in 2016 when an influx of Syrian refugees landed in the city. Within a few months, the project had grown to include over 50 Syrian families and a large team of volunteers, who prepare 50 meals weekly that are sold online.
"It's been really special to connect with my mom, see her share her story, and connect with the other mothers and daughters," says Hima. "The mother-daughter relationship is so sacred and complex in so many ways, so it's a beautiful way to connect with others. We also have so much we want to say and this has given us an opportunity to say it and be seen."
Born And Raised is an ongoing series by HuffPost Canada that shares the experiences of second-generation Canadians. Part reflection, part storytelling, this series on the children of immigrants explores what it means to be born and raised in Canada. We want to hear your stories — join the conversation on Twitter at #BornandRaised or send us an email at bornandraised@huffpost.com.