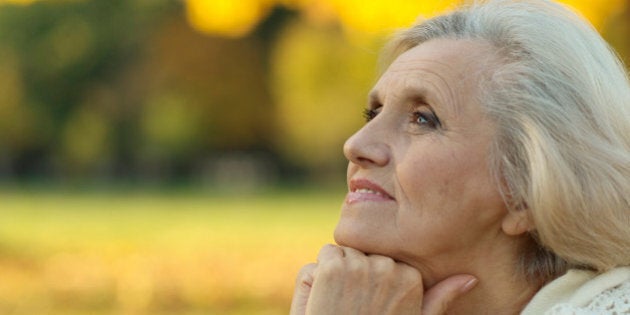 A friend of mine (I'll call him Jack) retired a short time ago after a successful career in the long-term care industry. A chartered accountant, he earned a reputation as a smart, hard-driving finance and industry association executive in the 1970s and 1980s.
Jack is one of those high-energy leaders that everyone wants on their team. And so when he set up a consulting business in the 1990s, the clients came to him. They were still knocking on his door in 2013 when Jack suffered a stroke that cost him the sight in one eye and hearing in one ear. At 72, he begrudgingly accepted what many of us dream about: an early retirement.
Jack's story is a familiar one. Despite our best efforts, retirement plans don't always run on-schedule. In fact, only about one-third of retired Canadians say they were able to leave the workforce on the date they chose.
It is the most important retirement planning decision we don't get to make.
Two separate studies confirm this. The 2016 Sun Life Canadian Retirement Now Report found that just 33 per cent of retirees finished their career as planned. Six months earlier, 31 per cent of retirees reported the same thing in the 2015 Sun Life Canadian Health Index.
What happened to the other two-thirds? There are two leading triggers of a surprise retirement: health issues and employer decisions. According to the Retirement Now Report, 23 per cent of retirees stopped working for personal health reasons. Four per cent left their job to take care of someone who had a health problem. Thirteen per cent accepted an early retirement package from their employer. And employers forced another 10 per cent to retire early.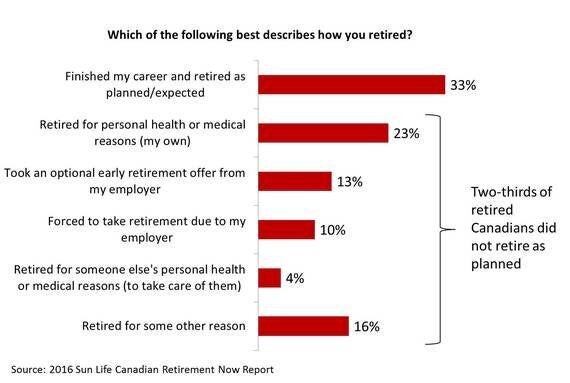 Could this happen to you?
The odds are pretty good. Especially if you're among the increasing number of Canadians who plan to work past the traditional retirement age of 65.
Obviously, health issues become more prevalent in our 60s and 70s. When presented with a range of serious health problems, 43 per cent of respondents who completed the 2015 Sun Life Canadian Health Index survey reported experiencing one or more. The list included heart disease, arthritis, diabetes, cancer, mental health issues and other major health conditions.
That national average doesn't tell the whole story though. While just 33 per cent of 35- to 44-year olds experienced a serious health problem, 43 per cent of 45- to 54-year olds reported the same. Among Canadians 55 and older, half have experienced one or more serious health issues.
Health matters aside, Canada's seven per cent national unemployment rate masks the very real fear older workers have about job loss in the years leading up to their retirement. It is true that many employers are developing progressive policies that cover how to accommodate an aging workforce.
Still, the slow economic growth we've been stuck with since the financial crisis has left millions of Canadians vulnerable to job loss. Workers in their 50s and 60s -- who tend to earn the highest wages -- feel this anxiety deeply.
So as you plan your retirement, it's only prudent to keep in mind that an unplanned work stoppage sometime before your scheduled retirement date isn't just a possibility. It's a probability. That's especially important if, like Jack, you picture yourself still working in your late 60s or perhaps even 70s.
Kevin Press is assistant vice-president, market insights at Sun Life Financial.
Follow HuffPost Canada Blogs on Facebook