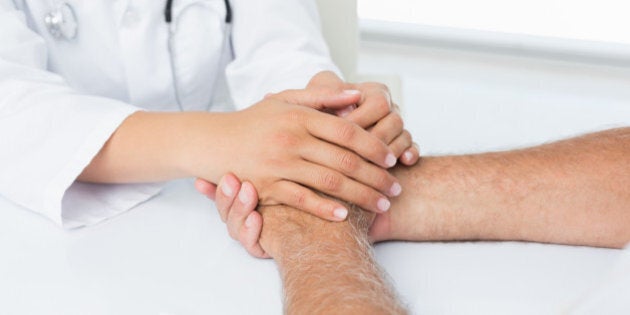 "I am leaving you," she said. "I'm finding a new doctor."
I remember feeling stunned. My patient looked at me and continued, "You aren't here often enough."
Over the next few minutes, she explained how difficult she felt it was to get an appointment with me. She said she worried about whether she would be able to regularly access my care as some of her chronic conditions worsened.
I did the only thing I could do. Reassured her that her complaint was understandable, and then suggested the names of colleagues I thought would be available to take on her care.
When she left my clinic, I felt hurt and confused. It was the first time in 15 years of practice I had a patient ask to part ways with me. I've prided myself on being a good clinician -- and for me, that's meant making sure my I focused on each patient's individual needs and allowed for the time they needed during each appointment.
Over the next few days, I realized my patient was right. I wasn't in full-time practice; I had also recently taken on a large number of patients with complex conditions. I needed to reflect on doing things better.
Another realization was recognizing that this patient may not be an outlier in my practice. There were probably others with similar sentiments; some might leave without telling me, some might stay and never say a thing. I grew to appreciate my patient's frankness. Just as it was hard for me to hear her complaint, I imagined it must have been hard for her to raise it directly with me too. I suspect that many patients with concerns about their care might not always know where to turn.
Complaints should not be hard for patients to make or for providers to receive. One of the best ways to ensure complaints serve their purpose -- that is to say, point out important issues so we can improve care -- is to create systems that can properly manage them. That way everyone feels heard; no one slips through the cracks.
One way in which the health system is improving its complaints management is through Ontario's recently enacted Regulation 188/15. The regulation came into effect on September 1 to aid in spreading and strengthening the patient complaints processes already in place in many hospitals. The regulation builds on efforts that began in April 2014, when the Ministry of Health and Long-Term Care proposed amendments to bolster patient relations and patient engagement efforts under the Excellent Care for All Act (2010).
The new regulation will better inform patients about how to make a complaint, and it will ensure designated patient relations representatives are in place in all hospitals across Ontario. New standards for storing patient feedback and data will be introduced across all hospitals. Collecting information like this will improve the way we deliver care because we will have a way to measure what's really happening. This regulation is supported by organizations like Health Quality Ontario, where I serve as president and CEO, and the Ontario Hospital Association, through the creation of patient relations guides and toolkits. With the informed support of everyone, accountability for patient experiences will become more intrinsic to the system at large.
My patient's complaint inspired me to look at my own practice. I am starting to restructure my time in clinic over the course of a week, using email and phone calls more frequently, and better integrating the other highly skilled members of the team. I am also thinking about how patients could have the ways and means to share concerns in a manner that feels safe for them and helpful for me.
While the new regulation applies to hospitals, I think it can serve as good motivation for all parts of the health care system. The more we listen to patients -- complaints, criticism, concerns and compliments -- the more we demonstrate that our health system is not just for them but shaped by them.
Dr. Joshua Tepper is a family physician and the president and CEO of Health Quality Ontario, the provincial advisor on health care quality. He is an associate professor at the University of Toronto.
Popular in the Community