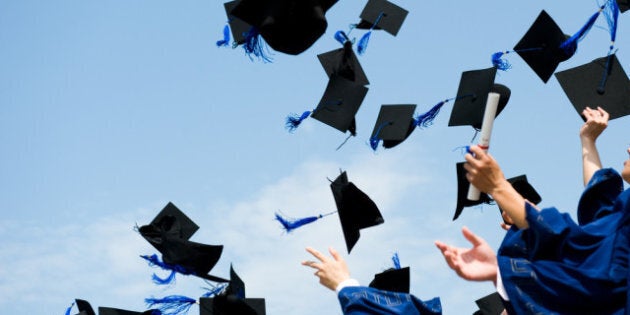 In an increasingly knowledge-driven, innovative and global economy, importance of higher education can hardly be emphasized enough. It increases research capability, teaching, training and learning opportunities, which are necessary ingredients for today's economic competitiveness and higher productivity. It generates higher life-time earnings, more secured employability and more flexibility to changing market conditions.
However, economic returns and employment situation of higher educated persons in Canada -- as compared to U.S. and other OECD countries -- are disturbing. PhDs, even after five to six more years of schooling, earn only 8 per cent more than Masters. In U.S., they earn 43 per cent more. In Canada, PhDs unemployment rate is even worse: 50 per cent more than Masters (6 per cent as compared to 4 per cent).
In U.S., their unemployment rate is only 1.9 per cent. Although U.S. has nine times higher population than Canada, it produces 14 times more PhDs. After adjusting the difference in population and number of doctoral graduates of the two countries, unemployment rate of PhDs in U.S. in Canadian terms should have been 8.4 per cent, not 1.9 per cent. Also, a government report shows that a good number of PhDs are driving taxies in Canada.
Of the total number of university graduates in Canada, only 1.1 per cent was PhDs: 40 per cent were in arts and social sciences, 34.3 per cent in natural sciences, 14.3 per cent in engineering, 2.9 per cent in business and 8.6 per cent in other disciplines. 52.2 per cent of PhDs were foreign born and 47.7 per cent were born in Canada.
There are three main reasons for the deplorable state of Canada's PhDs: declining academic positions due to continued budget cuts (universities being the main employer, 87 per cent), antipathy of politicians who are decision makers in governments (the second major employer, 9 per cent) toward facts and research, and the continuing risk-averse, traditional outlook of the Canadian private sector doing business primarily in natural resources.
In federal government now decisions are made primarily based on ideology rather than rational calculation and research - that's what most PhDs do. Debacle of long-form census is a classic case. Despite the international plea of experts and importance of consistent historical census data to sustain prosperity and social programs of diverse Canadian provinces and territorial need, long-form mandatory census was ditched out in favour of voluntary survey.
Private sector in Canada hires only 4 per cent PhDs compared to the 42 per cent hired in the United States. And when it comes to R&D activities, Canada's private sector stands at the bottom among OECD countries, even after receiving most lavish government R&D fiscal incentives over the last three decades. As a whole, Canada's economy is still predominantly raw, resource based and primary commodities, as it was in the last century. About 60 per cent of Canada's manufacturing and 70 per cent of its top 10 exports are resource related -- areas of the economy where there is hardly a need for PhDs.
The logical question is why does Canada produce PhDs in numbers far more than can be gainfully employed? One reason could be psychological consolation. After all, Canada is in the league of advanced developed country; sitting next to the most technology savvy and knowledge rich country -- United States. It would be a matter of shame and humiliation if Canada also does not follow the course of other advanced countries when it comes to expenditure on higher education and production of highly educated people. Without realizing the fact that Canada is in some way a unique developed country due to its large dependence on raw natural resources for employment and economic wellbeing; and where PhDs are hardly needed.
The other reason could be sustaining the existing PhD programs in most Canadian universities on one hand and on the other, meeting the teaching need of increasing enrolment, especially of foreign students in undergraduate programs of science, engineering, business and economics. Solution: go on producing PhDs at full capacity, but employ them as part-timers or sessional instructors at salaries close to minimum wages without benefits. After all, financially strained universities are not in a position to hire them as regular faculty members and at the same time, there would be no shortage of PhDs when needed.
Can anything be done? Not much in an environment where there is continued shrinking of full time faculty positions in academia, aversion of political masters towards science and research and mindset of the private sector to be content with the traditional primary and resource-based economic activities. It appears that PhDs will be produced basically to serve foreign markets: as brain drain to U.S. or to overseas, and to teach increasing number of foreign students in Canada. Already, about 50 per cent of PhDs in sciences are foreign students.
However, non-pecuniary benefits of PhDs to a society can hardly be minimized. Higher education creates a more knowledgeable, civic and mature society with many unquantifiable non-economic benefits. Its advantages are multiplied in todays complicated, fast changing and globalized world.