Last week was the North American premiere of Icelandic artist Ragnar Kjartansson and composer Kjartan Sveinsson's "The explosive sonics of divinity." Held at the Théâtre Maisonneuve, this theatrical piece was narrated by an expansive visual treatment, supported by a full symphony, and perpetuated by an angelic choir.
This kind of drama was expected since the artists were inspired by Word Light, a novel by Nobel laureate, Haldor Laxness, and his never-ending quest for beauty despite experiencing truths and tragedies throughout life.
The group of women that Nichole Anderson, President of Business for the Arts, assembled that night were nothing short of spectacular. We sat at a rustic communal table at Bouillon Bilk and discussed everything from self development to the expected Montreal versus Toronto debate to arranged marriages... all of this while spectacular dishes were serenading our palettes. We walked across the street to the theatre, adding beautiful Montrealers to our group along the way and I didn't know what to expect being unfamiliar with these brilliant Icelandic minds.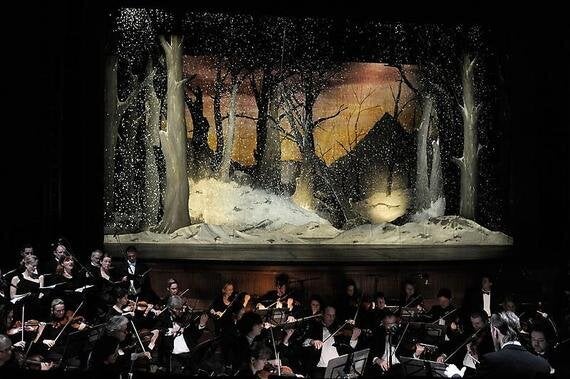 As the curtains rose, there was an eagerness to learn about the talent that assembled before us. The piece began as delicately as it ought to have, establishing a comfort and trust between audience and the performance. But as the climate changed and the melody reflected a surge of pace, we fell wildly before the natural wonderments of devastation with a peaceful acoustic accompaniment. Between witnessing the different scenes, from wild waves rolling amidst rocks on the base of a cliff, to an obsolete forest with gentle snow dancing to the fingers of the composer, we, the audience, experienced nature as it is. Kjartansson and Sveinsson combined live performance with music so skillfully that they created passages for audience to walk alongside Haldor, while experiencing romance and destruction at the same time. Our minds tranced into a hypnotic state, a state of mind that shuttled me to a meeting I had earlier last week.
I met with widely-acclaimed hypno-healer Debbie Papadakis. Why? My investigation to learn about the conscious mind and abolish creative blocks brought me to her. In the consultation, Debbie explained that the mind is broken into three different states: the conscious, the subconscious, and the unconscious. She goes to say that the conscious mind stores experiences and memories, the subconscious minds stores emotions, and the unconscious mind stores wisdom. This breakdown brought clarity to my creative angst. I realized that there must be information stored in an area of my brain that prevents me to get past certain blocks, blocks that lead to anxiety, low self esteem, and a quarterly cycle of binge eating Cookie Dough Dynamo Häagen-Dazs.
I tried to photograph each scene of this theatrical piece so as to never forget it. I wanted to store it in any one of my mind's states because to me, this piece was my first ever experience of gesamtkunstwerk. The artwork, in its totality, occupied all of my mind.
Do I have any authority to comment on this artistic achievement? Not particularly. I don't have a degree in fine art history or theatre. And moreover, for my past two birthdays, two separate friends from two separate networks each gifted me a one terabyte external hard drive filled with relevant films, essays, and television series to familiarize myself with the present. Somehow, to date, I have yet to watch a full Simpson's episode.
I understand that my partial cultural backwardness can be viewed as a hindrance to fully appreciate art history and pop culture. But as I sat there, between a stylishly cultured crowd and a plethora of musical and artistic talent, I realized that my creative block was not established due to my obliviousness of general pop culture things.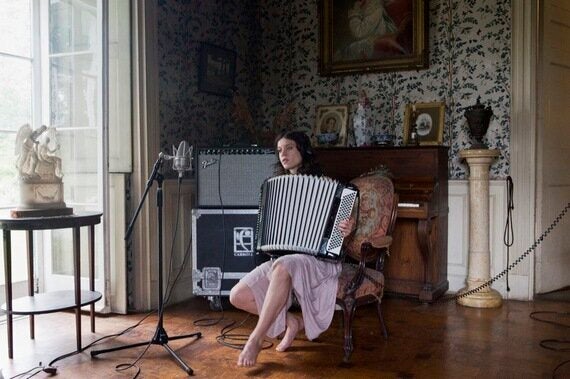 Montreal is a hotbed of intellectual thinkers, dreamers, and overall badasses like Jean Francois Beaudoin and Christine Renaud. After the show, Nichole, Melanie Joly, Julie Arsenault, Antoine Ertaskiran, and I assembled in the Ragnar Kjartansson exhibit that housed his video installation, The Visitors (2012). An impressive nine-channel projection on a 1:1 scale shows musicians who are Kjartansson's friends and acquaintances (including Kristín Anna and Gyða Valtýsdóttir, sisters who were founding members of the legendary Icelandic group Múm, as well as Kjartan Sveinsson, keyboard player with the band Sigur Rós until 2012). And for nearly an hour, they interpret the melody of a song through various instruments and voice. Called Feminine Ways, the music was composed by the Kjartansson and the lyrics are a poem written by Ásdís Sif Gunnarsdóttir.
Presented collectively, the individual sound pieces create a powerful but subtle contrast and the viewer is positioned in the very middle of a continuous choral performance. While these melodic voices sang in tandem, I looked around and nobody was talking. We were taken by this new media audio visual collaboration that allowed us to voyeur into the private spaces of artists. Whether bathtub or bedroom, the screens were large enough to project a life size image of a girl playing the accordion in a pleasant dusty pink dress with bare feet. This type of exposure shed light on the bigger artists' anguish. One where they are alone and perhaps ironically, have a hard time connecting to people.
At this moment, I smiled to myself, realizing that my creative block is a self-imposed prison that has been constructed by me alone. And more formidably, there is a community of artistic weirdos out there that without ever meeting in person, I can connect to.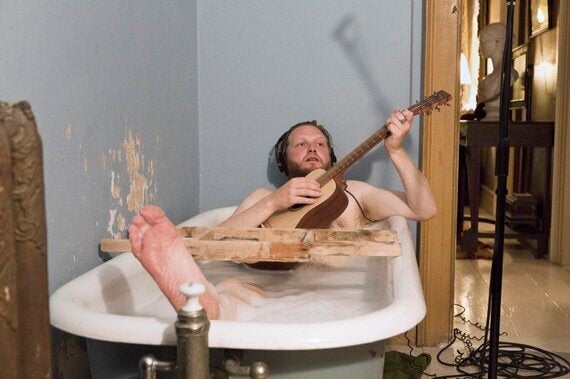 The exhibit is running at the Musée d'art contemporain de Montréal until May 22.
Follow HuffPost Canada Blogs on Facebook