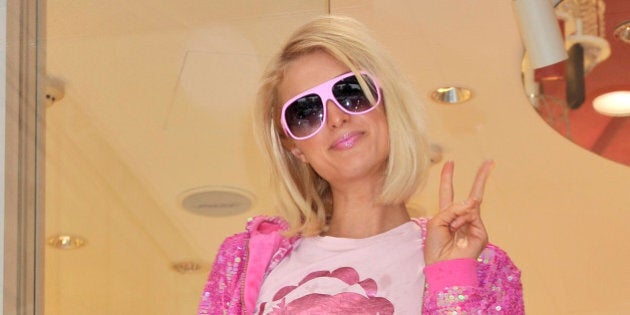 Yep, there were some awful fashion trends going on in the aughts. There may have been a short, ruffled mini skirt worn to a 2004 Easter dinner—with a polo shirt and a Von Dutch hat—and we may have thought it was sexy.
But because our favourite thing is to defend the worst things we've ever done, here's our attempt at defending the worst things we ever wore between the years 2000 and 2009.
Will Uggs be included? Only time will tell. Also: yes.
Story continues below slideshow: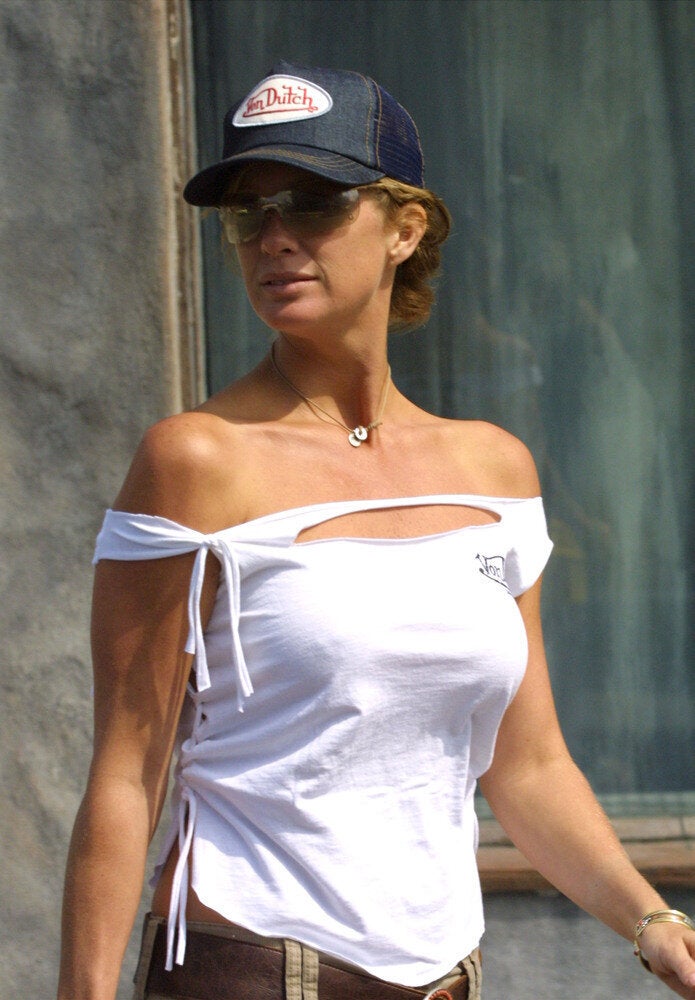 Do The Biggest Trends Of 2004 Still Hold Up?
Well let's just start at the beginning and not just because we spoiled the surprise for you: Uggs. We wore them—often—and usually in the wrong context. "But," you say, "there is no right context." Incorrect!
If you are a surfer and/or you live in Australia where Uggs were born, then you wore Uggs as post-surfing and/or ocean slippers, and they have earned a deserved place in your home. But if you were like us and you schlepped through snow and salt and wet, convincing yourself these were "totally the warmest boots ever," then we have all failed as a global capitalist community. And we ruined our feet in the process. But on the flipside, Uggs paved the way for our re-embracement of combat boots: we wanted big-ass foot silhouettes, but we didn't know how to get there properly.
If you saw a spiked belt today, you would celebrate both it and the seventies punk movement it's drawn from. So our problem isn't with spike belts, it's with how we wore spike belts. Instead of pairing them with something that would've complemented their presence, we wore them with jeans—jeans and t-shirts and yes, men's ties. We dressed like Avril Lavigne, not considering that we could pair spiked accessories with grown-ass blouses, dresses, or even really beautiful delicate-looking rings. Enter: 2014 and its only-getting-better legacy.
We went through a logo phase, but that's okay because we're still in a logo phase, and we never actually left it. The problem with Von Dutch hats was that Von Dutch wasn't a particularly awesome brand (we adopted it thanks to Paris Hilton, who, at the time, was less high fashion than she is now)—and then, we applied to it to one of the worst trends of the decade: trucker hats.
Together, they created the perfect storm. So true: Von Dutch trucker hats are one of the most dated looks of the aughts, but it's only because we teamed it up with one of the other most dated looks of the aughts, and forced them to work together. Maybe had it been on a sweatshirt and not on something Ashton Kutcher would wear, we'd be kicking ourselves less for spending $50 on a fake one on that day trip to Toronto.
Well, we had to. Because while the "novelty" trucker hats of the mid-2000s delivered only abysmal sayings, actual vintage trucker hats aren't actually that bad. (They're not great, but they're not bad.) So don't let "Punk'd" ruin what could otherwise help shield your face from the sun. And if it's too late, let's at least agree right now that no one will ever ruin baseball hats for us, no matter who doesn't make the World Series.
It was all Marissa Cooper's fault: "The O.C." character could make the bottom half of a horse costume look awesome, so in an attempt to be her, some of us insisted on purses so small we could bring with us only regret. The thing is, there's nothing wrong with a clutch or a small bag (duh). But 2000-era purses dictated that you wear said bag on your shoulder when nothing in the world makes less sense. (Why did we insist on doing that? We spent all night balancing a bag while we could've just wrapped something around our wrists like adults.) So don't blame the bags, blame the rules. And us, for not understanding how wristlets worked and trying to wear them . . . well, you just read the above paragraph.
Kitten heels were terrible, clearly. (Especially if attached to a flip-flop. Why did we do that to ourselves? Who were we trying to impress? And more importantly, were they worth it?) But! We will defend them based solely on this: experimentation. While the nineties delivered chunky heels, and the early 2000s insisted on stilettos, kitten heels were the transition between "absolutely I will hurt my feet at this nightclub" and "screw this I'm wearing flats." Kitten heels were the gateway to flats. And fortunately, they're now presented in a way not at all reminiscent of what we faced nearly a decade ago.
Oh, so now we're ashamed of wearing skinny scarves? Okay. Okay, sure. Well, why don't we wrap these long, oversized scarves around our necks so many times that they've actually created something...oversize. In fact, they look almost eternal. Or more specifically: like the scarves we're still wearing today. So be not ashamed, former skinny scarf wearers. For you paved the way for the rest of us.
Whether or not you want a brand's logo across your bum is one thing, but the other more important thing is that while we may mock the Paris Hilton and/or Julie Cooper-from-"The-O.C." aesthetics, a) velour tracksuits are comfortable, and b) they're the essence of seventies kitsch—a.k.a. the very style "American Hustle" helped re-usher in last year. Like, Jennifer Lawrence even wears one. So nobody is too good for velour, thank you.
We don't even know how to phrase them. Slogans? Sayings? We're certainly not saying "jokes" because whatever we used to read on t-shirts about a decade ago are only funny if you are being held under duress and the only way to escape is by saying, "Yes, that t-shirt joke is funny." So we are not fully defending them. What we are defending is the t-shirts today that say things like "I know guacamole costs extra" because that did make us laugh.
Actually, all we're going to say about those is this: we don't seem to have a problem with it anymore...DO WE. (We say, wearing no less than two at all times.)
Popular in the Community