When "high fashion" Crocs appeared at Christopher Kane's Spring 2017 show late last month, nobody quite knew how to react.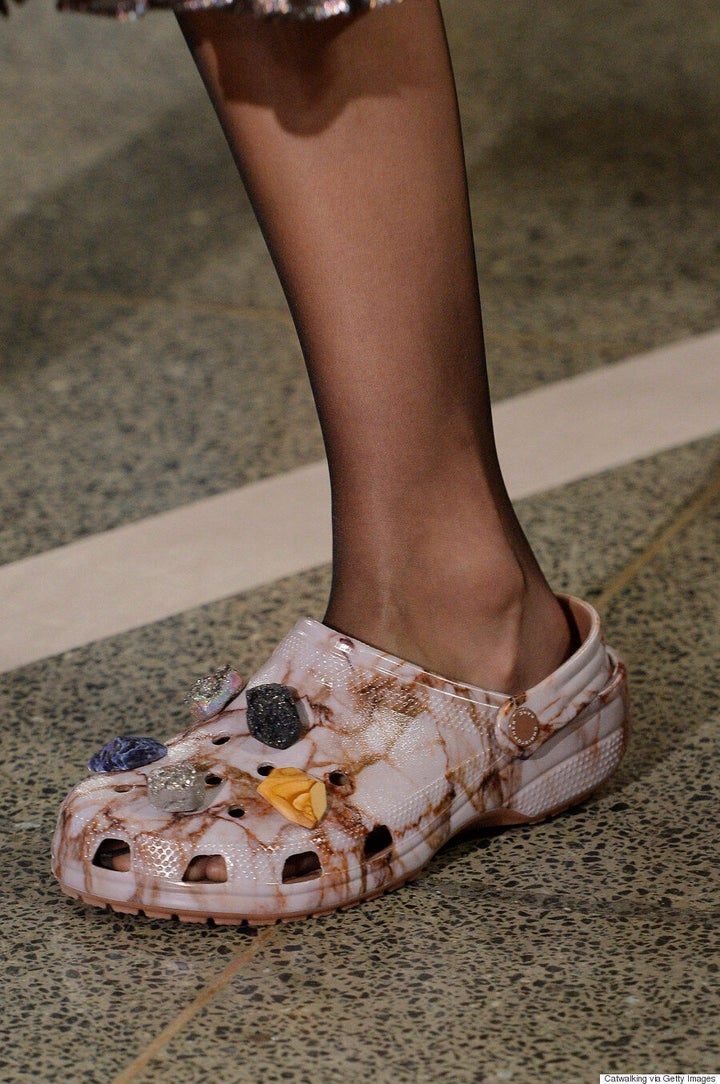 For the record, we all hated Crocs. (A lot. We hated them a lot.) We made fun of people who wore them and we filed its proud defenders away, shaking our heads at their inability to comprehend style, substance, or why rubber shoes were a bad call.
Their cries of comfort didn't matter — nor did the fact that it really wasn't any of our business what anybody else wore. Crocs were the enemy, and when they nearly went bankrupt, we took it as a sign. We were right, they were wrong, and anybody who disagreed could go right to the devil (who, as far as we were all concerned, were behind Crocs to begin with).
And now here they are again. And I, a person who once hated them, am going to defend their triumphant comeback. (Which is shocking, I know.)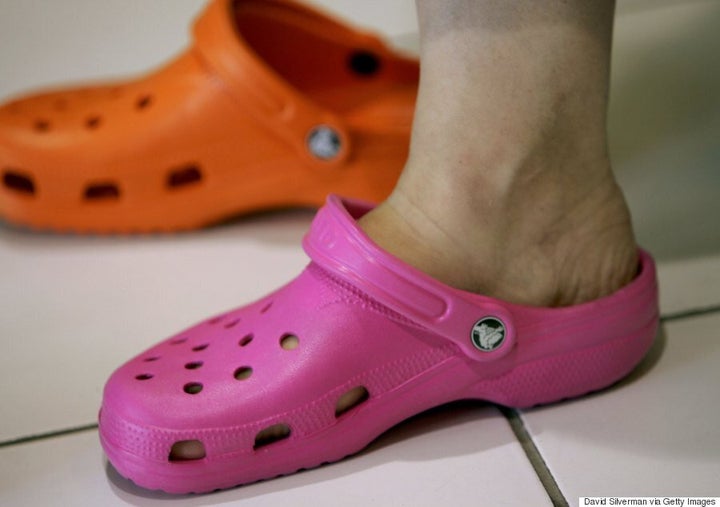 The thing about Crocs is this: they are far from the ugliest shoe in the world. In the early 2000s, some of us (hi) wore oversize skate shoes paired with Dickies pants, hoping to harness the majesty of skater chic, despite some of us (hi again) being completely unable to skateboard at all. (I'm so sorry.) We wore $5 flip-flops from Old Navy until they dissolved into nothing. And I know I'm not the only person who tried to make kitten heels happen — with socks and flared jeans.
So basically, Crocs are not the tragedy we once cited them as. They're fine. They're okay. But regardless of your personal feelings for them, they signal the fact that every look has a place in 2016 and beyond. Like the return of UGG boots, they've shown up to stake their claim on a climate defined by a lack of rules, rights, or fashion wrongs.
And as our post-trend approach to style progresses, we should celebrate the re-arrival of what we've previously deemed unacceptable or below our standards — mainly because our "standards" are nonsense, and they work to create a world built on elitism and hierarchy. Both of which go against the idea of self expression — which is the point of fashion to begin with. (Whew.)
Therefore, the question of whether or not you would wear Crocs is erroneous, because somebody else wants to, which makes their comeback totally valid. Plus, one could also argue that to embrace something so fringe is the ultimate act of cool and/or hip, since mainstream approval is a little bit boring. Which makes Crocs cooler than it could ever have hoped to be upon the backlash.
But also, they worked with Kane's pieces. So while we can sit here, sink to our knees, and scream "Why?" louder than Stanley once called for Stella, we can't deny that together with the colour co-ordination and the way they anchored the femininity of the collection, they looked interesting (at least enough for us to write about non-stop in the days after their resurrection). Plus, they were probably comfortable and made us second-guess our approach to spring footwear, thus embodying the point of a good show altogether.
So as far as I'm concerned, Crocs are doing exactly what good shoes are supposed to do (style itself be damned). And while I'm not sure I'm ready to put my money where my Croc-branded accessories are, I'm here to see them come back — particularly because I'm here to see anything "bad" come back, since we're finally starting to realize how subjective trends are, and how none of us are special enough to dictate whether someone can or cannot wear a thing.
Even if they're skate shoes or kitten heels. No matter how much I may make fun of the ones I wore.