According to Jewish law, if taking a single life is like destroying an entire world, then saving a single life is like saving an entire world.
This concept, known as pikuach nefesh, is derived from the biblical verse "neither shall you stand by the blood of your neighbour" (Lev. 19:16). It's a way of life that's etched into the moral fabric of every Israeli and which helps to explain Israel's resolve in preserving the human life of its own countrymen, of complete strangers, and even of thy enemies.
By now, you have surely heard the story, seen a picture, or at least have heard of the name of Gilad Schalit, but he's not a celebrity or a politician. Gilad didn't choose his fame. Instead, in the early morning of June 25, 2006, Palestinian terrorists crossed Israel's southern border with Gaza through a tunnel and entered sovereign Israeli territory. After attacking his tank with rockets and grenades, killing his commander and another Israeli soldier, Gilad was wounded, abducted and held in solitary confinement for over five years without access to family, lawyers, the Red Cross etc. Gilad didn't even see the light of day while in Hamas captivity for 1,934 days.
Hamas' war crimes and flagrant violations of the Geneva Conventions came to an end after the terrorist organization and Israel agreed to a lopsided exchange of 1,027 Palestinian prisoners, hundreds who were convicted terrorists with blood on their hands, just for a staff-sergeant of the Israel Defense Forces. Irrespective of the wisdom, or lack thereof, in negotiating with terrorists for terrorists most likely bound for recidivism, Israel's efforts reaffirmed the tremendous value it places on human life.
This valuation of life was best epitomized in the Israeli film Precious Life which was short-listed for best documentary at the 2011 Academy Awards. The film told of the harrowing tale of a four-year-old Palestinian boy with a rare and deadly disease who could only be saved by a Jewish doctor in the Tel-Hashomer Hospital in Jerusalem. This touching story of how Israeli and Palestinian doctors attempt to save the life of Mohammad Abu Mustaffa is a regular happening that takes place every day in Israeli hospitals where Jewish doctors operate on Arab patients and vice-versa. When it comes to human life in Israel, the sanctity of life is not met with discrimination.
This unique ethos explains why as conflict rages in Syria, Israel has taken in hundreds of Syrian refugees who were in need of urgent medical care. Even though Israel is officially at war with Syria, the preservation of life trumps security concerns. Likewise, when Palestinian terrorists try to make a "martyr" out of their children by indoctrinating them to adorn suicide bomb vests in order to maim and murder innocents, Israel remarkably takes painful efforts to save that child's life. After all, a child brainwashed by terrorists to commit murder is a perfect example of innocence being exploited and human life rendered to be lacking value.
Beyond the conflicts that envelope Israel's borders, wherever a natural disaster occurs, be it small or of biblical proportion, Israeli rescue teams are often the first responders whether in earthquake-struck Japan or in Haiti to provide much needed relief, and to save lives. IsraAID, an Israeli humanitarian organization, offers targeted help including disaster relief, search and rescue, rebuilding communities and schools, aid packages, medical assistance, micro-financing and post-psychotrauma care. These Israelis are there to implement Tikkun Olam, a Jewish mission to "repair the world".
Israeli innovators are also repairing us internally and are on the vanguard in developing cutting-edge medical technologies and surgical treatments. Think of new nanotechnology solutions developed by Israelis or the made-in-Israel PillCam, a breakthrough capsule endoscopy solution to record images of the digestive tract without invasive surgeries. When U.S. President Barack Obama was in Israel recently, he was given a demonstration of ReWalk, a battery-operated exoskeleton suit created by Argo Medical Technologies which allows paraplegics to confidently walk anywhere they want. Meanwhile, Israeli scientists from Mobileye have developed collision-prevention systems to help drivers navigate more safely.
Gilad's situation was as analogous to the ones above with the common denominator being that Israel, which contrary to international headlines claiming the Jewish state has a lust for violence, views human life as irreplaceable. For while Israel cherishes life, its enemies seek death while trying to kill.
Whilst in captivity, Gilad did not know that his government, the Israel Defense Forces, Jews in the diaspora, friends of Israel, and the international community were all tirelessly campaigning to win his freedom. Israeli Defense Forces soldiers are always taught that their country would never leave a soldier behind, and one can only hope that Gilad found solace following his release when he learned of the incredible efforts taken by a number of countries, organizations, and individuals who advocated for his welfare and safe return. Such efforts were best epitomized when Prime Minister Stephen Harper said the following about Gilad: "We have great sympathy for him, his family and all those who know him. He stands as a symbol and remembrance that terrorism is a very real fact in Israel's day-to-day existence. He is a symbol of that reality and of the complete lawlessness of those in that region who threaten Israel's existence." Likewise, the efforts of Canada's Foreign Affairs Minister John Baird, along with the Liberal Party of Canada, deserve recognition for their fervent lobbying for Gilad's release, along with the tens of thousands of Canadians from coast to coast who rallied and prayed for his redemption.
On Sept. 16, Gilad is coming to Canada to convey a message of thanks to the Canadian people in a cross country tour organized thanks to the sterling efforts of the Jewish National Fund of Canada. This venerable organization is also deserving of praise for honouring Prime Minister Harper for his efforts to ensure that support for Israel is non-negotiable and sacrosanct.
You may be used to hearing tired libels of alleged Israeli brutality in the media, but as sunlight is the best disinfectant, let us hope that Gilad's story will put a spotlight on Israel's steadfast resolve to preserve precious human life.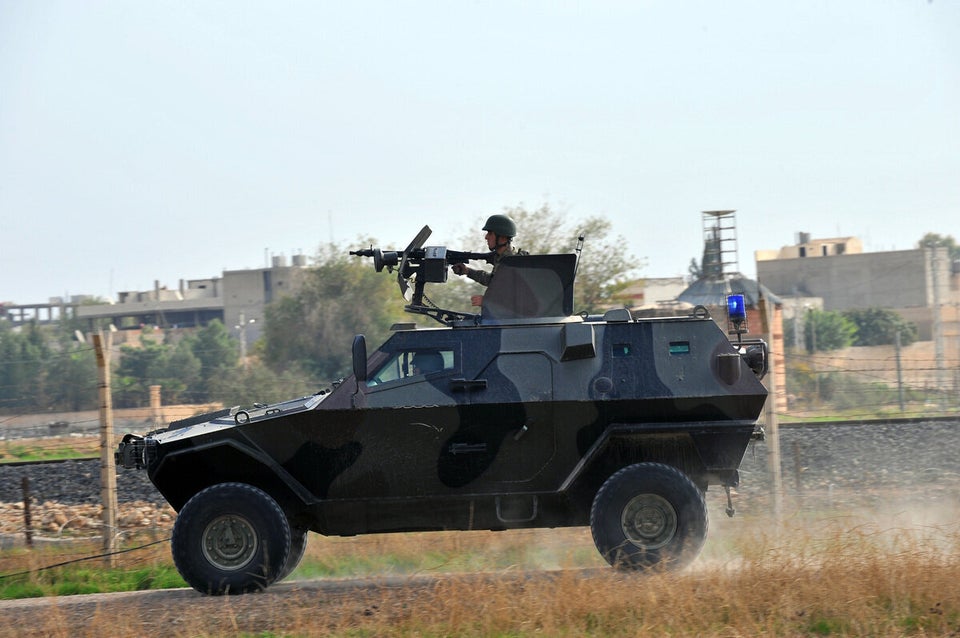 Syria Crisis Spills Over Into Neighbors