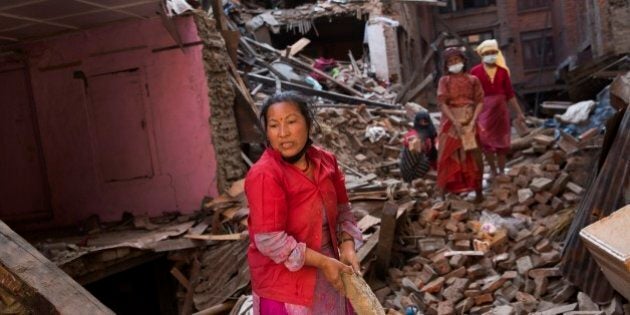 The morning that a (second) major earthquake devastated Nepal, the Globe and Mail ran a front page story. Quoting a disaster risk management expert, the article states that earthquake aftershocks can persist for more than a year.
But can we persist? In the year following the earthquake in Nepal, will Canadians persist with aid? Will we persist with our compassion and interest?
Considering that Nepal was not front and centre in the news for the rest of this week, it seems unlikely. People have moved on. Just like people moved on after the 2010 earthquake in Haiti and the South Asian tsunami in 2004. Nonetheless, the earth has been shaking for 19 days in Nepal. People have been sleeping in cars and under wet tents, with no water or electricity. And while the Nepalese earthquake isn't the top story in the news today, it will be the top story for the next several years for the women of Nepal.
The fact is, the minute an earthquake (or any emergency) hits, women's organizations are responding. Before the humanitarian machine kicks in -- before food aid drops, before reconstruction efforts get started -- women's organizations are creating makeshift shelters, finding and preparing food, protecting girls and caring for the sick. They are an essential part of recovery and a huge asset in relief and reconstruction efforts.
At the same time that these grassroots women's organizations have been finding ways to react quickly, women and girls are facing the most challenges. They are disproportionately impacted and increasingly vulnerable during a disaster. They are at a higher risk for violence, sexual assault, and rape. Further, women and girls account for more than 75 per cent of displaced persons in a disaster, and displacement camps in particular are hotbeds for recruiting young girls into the sex industry. This is especially distressing in Nepal, where 15,000 girls are already trafficked annually. Women (and grassroots women's organizations) are also the ones shouldering the burden of care for young children, the sick and the injured. And they will continue to be the ones doing most of the care work after a disaster.
How do we know? Take two such women's organizations currently working in Nepal: Her Turn and Women's Awareness Centre Nepal (WACN). Her Turn equips Nepalese girls with the knowledge to reject trafficking and early forced marriage and to stay in school. Since the earthquake, Her Turn has been training girls in emergency situations to protect themselves against gender based violence. WACN, who works with women to implement social and income-generating activities through rural savings cooperatives, has responded to the earthquake by launching a housing reconstruction project for 200 households in one of the most devastated districts.
Like the women on the ground in Nepal, the rest of the world must be nimble and responsive to this disaster. And, of course, persistent. Women-led organizations are working on the ground, tirelessly and bravely, and yet their roles continue to remain unrecognized and under-resourced. They are a critical part of the path to recovery in Nepal, and should be viewed as such. As Canadians, we can start by acknowledging and funding these women's organizations. Not just immediately following a natural disaster. But also for the long haul, even after the ground stops shaking.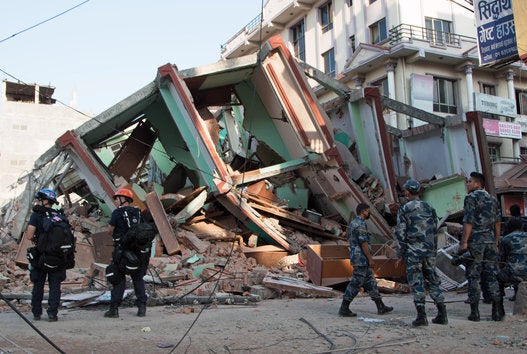 Nepal Hit By Second Major Quake