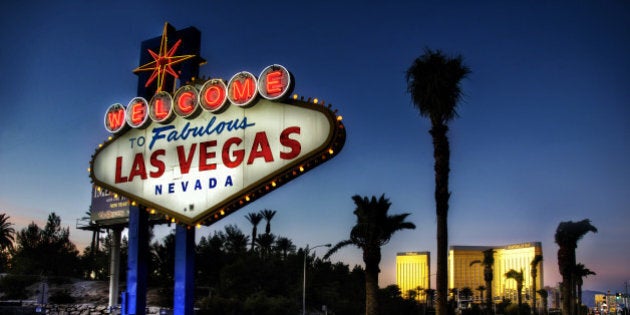 williambeem.com" data-caption="Welcome to Fabulous Las Vegas NevadaSlot machines used to play in the key of C, since it was thought to be a pleasing sound to the human mind. Busy carpet patterns were intended to keep your eyes up so you could see the games. Iâve been thinking about the subtle ways that people are manipulated by others lately, and itâs fascinating. Iâm just not sure if Iâm paying more attention to prevent being manipulated or to learn how to do it better to others.Decisions, decisions.Please visit the blog at williambeem.com" data-credit="wbeem/Flickr">
The best new restaurant in Las Vegas isn't housed in a gaudy hotel on the Strip. Nor is it adorned with the first name of its celebrity chef or a menu with prices that equate to the cost of one of the city's pricey theatre shows.
It is on East Fremont Street, a downtown district with a sketchy reputation that is the epicentre of a revitalization project. Part of the change in downtown Las Vegas is turning the derelict area into a community, with family-friendly attractions, hip bars and restaurants worth the $20 cab ride from the Strip to enjoy.
Leading the pack is Carson Kitchen, recently honoured by a local newspaper as the finest new eatery in the city. Kerry Simon, who once ran the kitchen in the city's Hard Rock Cafe, opened Carson Kitchen with the intention of championing local food and bringing a neighbourhood atmosphere to downtown.
"It's a very different experience cooking and working in a restaurant like this one versus a place where you know you're not likely to see any of the diners again," says Matt Harwell, the eatery's general manager. "It's a challenge to run a restaurant for your neighbours but it's also really rewarding because we can show a different side of Las Vegas and maybe build something new that's for the community and not just for people flying in."
Carson Kitchen does its best to serve regional and seasonal cuisine, although Harwell admits that in the desert it is a difficult task. The local food comes from about 10 farms, a smidgen of the number other cities in more fertile parts of North America can rely on.
Chefs like Simon have the talent, creativity and passion to make what they have work. The Carson Kitchen chicken skins ($9) are the best I've tasted. Far from greasy or overly salty, they're like a tasty chip that keeps diners coming back. The other popular item is the bacon jam ($12) and brie, made with caramelized onions and selling in batches of about 40 pounds per day. The menu is small and reasonably priced with no item costing more than $20.
While Carson Kitchen is a star in the neighbourhood, it's not alone in its artisan or culinary aspirations. Eat is a popular breakfast spot opened by another chef, Natalie Young, who has defected from the Strip.
At Container Park, bars and restaurants are among the locally owned businesses that have popped up in micro spaces made from refurbished shipping containers. More than 40 businesses are in the park, along with play areas for kids and a stage for entertainers who help bring the community together.
In a place known for losing your soul as well as your shirt, it's compelling to witness a group of citizens rising to demonstrate what can be accomplished when you go all-in with your heart.
Food and downtown tour guide Renea Witherspoon credits Tony Hsieh, the CEO of Zappos shoe company, with providing the funding and vision for improving the quality of life in this part of Las Vegas that doesn't receive nearly the amount of tourism revenue as businesses on the Strip. "Tony Hsieh has really done a lot for the community. There's a desire to make life better for the people here and it's started to take shape, especially with the chefs and restaurants we now have in the area," Witherspoon says.
I ended up taking Witherspoon's tour because a new travel app, Booking Now (from Booking.com), recommends spur-of-the-moment experiences -- as well as accommodations -- based on your user profile. With my interest in the culinary world, the tour was selected for me. That was a good thing, because I would not have discovered this intriguing scene emerging far away from the glitzy part of Vegas. The tour, operated by Nosh, included a stop at Carson Kitchen that convinced me to go back for a full meal. Another highlight of the East Fremeont Street neighbourhood was JinJu Chocolates. Located at Container Park, it is operated by Jin Caldwell, the former chocolatier at both the Wynn and Bellagio hotels.
Once you're done with the new Vegas cuisine, you'll want to check out a true hidden gem: The Laundry Room. It's a speakeasy with Prohibition-era decor, a fabulous piano bar and top-notch cocktails. The Laundry Room is at the back of the Commonwealth bar and accessible only by text message -- if you're fortunate enough to discover the number to contact.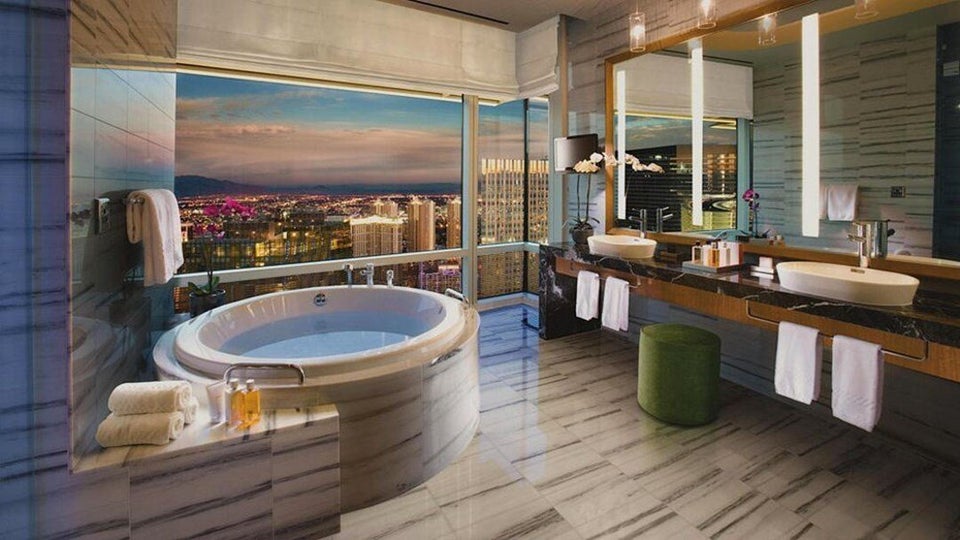 Las Vegas' Most Over-The-Top Bathrooms
Popular in the Community