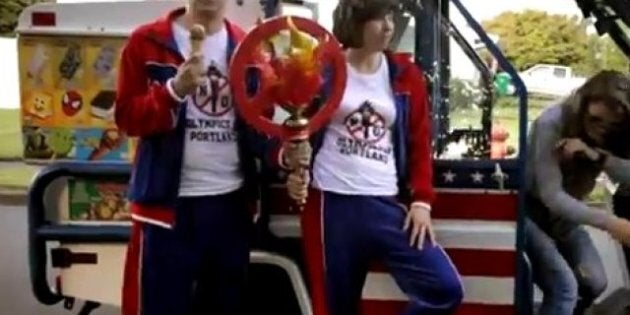 Driving the congested streets of my home town, more often than not, I'm likely to be faced with gridlock and a frustrating lack of traffic flow. No matter what time of day I choose to take to the streets. I often try to imagine living in a city where both walking and biking are not only welcomed, but are actually the norm. Where traveling and mobility, whatever method you choose, are both easy and environment friendly. As it turns out, you don't have to look too far to find such a place.
Welcome to Portland, Oregon, a city of just over 500,000, that has been home to a progressive environmental culture pretty much before "being green" became hip and very marketable. It's been on the top of my list of places to visit for a long time, so when I was fortunate enough to get a ticket to the second annual World Domination Summit taking place there, I was very excited. The event itself was awesome! A gathering of 1,000 people all committed to live a remarkable life in a conventional world. And for me, so was the city of Portland itself.
Portland's reputation is certainly one to be proud of. It's known as one of the most ecologically conscious places in the world. Hundreds of grassroots environmental organizations are based in and around the city. They don't just pitch this as a possibility, they genuinely live it and value sustainable growth. And that's what I found as I walked the streets. I actually smiled every time I saw the BigBelly® solar-powered garbage receptacles on the street corners.
The city is incredibly bicycle friendly, and it might even seem that cyclists get priority on the roads. Unlike many metropolitan centres, Portland motorists are very accommodating. It's estimated that at least 7 percent of their population commute to work by bicycle, one of the highest numbers of cycling commuters in all the U.S.
There are over 315 miles of developed bike-ways, plus both designated bike and skateboard lanes. They also currently boast a fare-free zone for their public transit system, which dramatically reduces traffic into the city's downtown core. Seems everyone walks or cycles in Portland, including unicyclists and dogs, whose owners have bikes custom-made with pet-carriers. Very cool. Although I didn't cycle, I did take public transit and was amazed at how easy it was to get around the city in a short amount of time.
Considering that greenhouse gases that contribute to global warming come to a large extent from fossil-fuel-based transportation, the initiatives Portland has implemented to both reduce or eliminate hydrocarbons, is extremely impressive. Through a grant with the Climate Trust, Portland has committed to re-timing traffic lights to reduce fuel consumption. Traffic-signal optimization studies traffic patterns and re-calibrates signals to minimize the amount of time cars spend idling and accelerating. "Now that would be incredible here." I think each time I drive around town where traffic lights seem to be timed exactly opposite to that, creating ongoing stop and start gridlock.
This initiative alone is calculated to have already cut fuel consumption in Portland by 1.75 million gallons, which is equal to more than a 15,000 ton reduction in CO2 emissions. Other cities would certainly do well to study and implement their model. I got to experience this smooth traffic flow first hand, as I hopped on and off the city streetcars that post real-time arrivals that are spot on to the minute.
The city also has "smart" parking meters which are solar powered, accept credit cards and stand one per block. Interesting that Portland is also the birthplace of car-sharing in the U.S. Their Flexcar members have access to a fleet of vehicles that are located throughout the metro area, with every Flexcar replacing an estimated six cars on the road.
Everything about Portland in fact, is delightfully green and makes for the perfect place to have an eco-friendly vacation, too. Their Light Rail and Streetcar system continues to expand, making it both easy and esthetically pleasing to travel the city. Where else can you travel from the airport to the heart of the city on Light Rail and only pay $2.50?
Portland values beauty too. The evidence is everywhere. From their cobbled and richly textured streets, to their visually lovely bus shelters. Plants flourish and trees abound, creating gentle shade. It was fun to walk the twelve South Park Blocks stretching through the heart of downtown Portland, to see how each is unique and features its own interesting artwork.
The downtown waterfront area, home to the 40-mile loop trail system, is also a favourite place for jogging, bicycling and walking, as the trail weaves for miles along the Willamette River. As I sat quietly in a beautiful lush waterfront park, I was grateful to have a chance encounter with an engaging downtown parks horticulturist, who gave me lots of interesting information about the city and its horticulture history.
One thing that was a must see for me was the historic International Rose Test Garden in Washington Park. A little bit of heaven and without doubt, an absolute highlight. Founded in 1917, the garden is the oldest official continuously operated public rose test garden in the United States. With over 500 varieties, mostly in full bloom when I visited, the beauty of this garden is absolutely exquisite. The range of colors and fragrances was breathtaking.
Just across the street, I found serenity and calm in the Japanese Garden, where my very quiet and peaceful walk offered another wonderful way to commune with nature. A lovely stone Jizo (a bodhisattva or enlightened being) accompanied me home from the garden's shop, as he is a protector of travelers. A gentle reminder to me of my desire to continue traveling to places that call to me.
For a confirmed book lover like myself, visiting the bustling Powell's - City of Books on Burnside, was another great reminder of how many people still love to browse and buy real books. Approximately 3000 people walk in and buy something every day. Offering new, used and out-of-print books on the same shelves, this location fills a complete city block, (at 68,000 square feet, it's the largest bookstore in the world) and represents the ultimate in recycling! And did I mention that Portland (all of Oregon actually) is a sales tax-free zone!
There are so many things that stayed with me from my visit to Portland, I sense there's much more for me to explore there. So, until next year when I'll return for the World Domination Summit 2013, I'll hold these memories and continue to spread the word about what an incredible place Portland is to visit.
On a final note...it's truly amazing when you visit somewhere you've wanted to see and find you are even more impressed and touched by it than you could have ever imagined.
Where have you visited that you absolutely can't wait to return to?