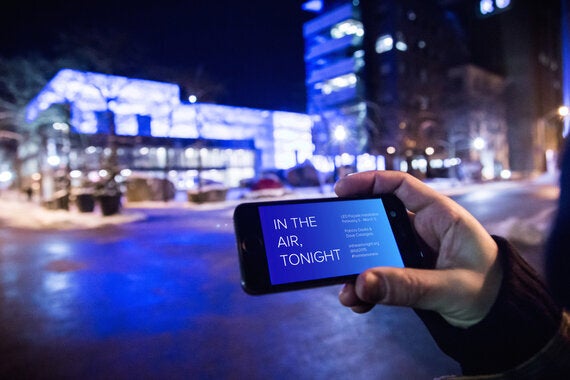 There are over 5,000 homeless individuals in Toronto; over 400 sleeping outside on an average night and these numbers continue to grow. Across Canada, the number is closer to 200,000, and more than 1 million Canadians have experienced homelessness at some point in their lives.
Of course, the first questions we ask ourselves after hearing something like this are: why, in an affluent society, does the problem of homelessness persist, and, what can we do about it?
As creators of large-scale visual art installations that seek to deepen our connection to matters of public concern, myself and my artistic partner Patricio Davila are attempting to address these questions in a way that we hope will increase our collective understanding of the issue of homelessness and evoke empathetic responses in our urban environment and online: In The Air, Tonight, a month-long reactive architecture installation, uses the spectacle of a glowing building in downtown Toronto reacting to tweets about #homelessness to enhance people's understanding and connection to the complex issue of homelessness and directs them to ways they can help.
Here's how it works: every tweet with the hashtag #homelessness triggers a red pulse on the illuminated facade of the Ryerson School of Image Arts and Ryerson Image Centre. In between pulses, a blue wave reacts to the wind speed and direction at the site, amplifying the very real threat of the elements felt by those without permanent shelter. Anyone can participate by visiting intheairtonight.org or by following @itatonight on Twitter where they can read and re-tweet messages from activists, community groups, and concerned individuals, or compose their own. Participants can watch the building change colours remotely via a live feed of the building on the website. They can also donate directly to organizations like Out of the Cold, Raising the Roof and the Ontario Coalition Against Poverty that provide support and advocacy for people experiencing poverty and homelessness.
So what kind of illuminating information might you come across after being attracted by the prospect of launching a tweet that changes the colour of a glowing building? For one, as it has been noted here before, homelessness is not a choice. From my time volunteering at the Out of The Cold program at University Settlement in downtown Toronto, I know that homelessness is a complicated problem, a transitory and vulnerable state that results from a combination of many factors which can include prolonged unemployment, injury, estrangement from family, issues with addiction, mental health, and so on.
I also know that regardless of how well shelters and drop-ins are run (and they are run as well as they can be thanks to a number of tireless workers and volunteers) they simply do not provide the means for people to escape the issues that are keeping them down. They are often overcrowded, noisy, and sometimes dangerous. Fights can break out in close quarters between people in desperate situations. It's not uncommon for someone's only pair of shoes to get stolen in the middle of the night. The people who use these centres leave bleary eyed, barely rested, and spend most of their day figuring out where they can get a meal and finding their way to the next shelter, not knowing if there will be room when they arrive.
What you might also learn from active tweeters on the issue of #homelessness that you'll encounter through In The Air, Tonight, like Street Nurse and activist Cathy Crowe and Steve Gaetz, director of the Canadian Observatory on Homelessness, is that the prevailing problem of homelessness in Canada is the result of our choices as a society to invest our time and energy into certain goals and resources and not others. This is not to say that tax dollars are not being invested to look after those in need in our society; it is to say that the persistence of this problem points to the need to keep pushing for more sustainable solutions.
According to the experts at The Homeless Hub, a research library and information centre at York University, "an adequate supply of safe, affordable and appropriate housing is a prerequisite to truly ending homelessness in the long term." So, while we need to support and understand the role of shelters and the people that use them, we hope that by engaging with In The Air, Tonight, and the conversations, people, and feelings this puts you in touch with, you might come to learn that we also need more affordable housing, a better "housing first" approach, and a national housing strategy (Canada's the only G8 nation that doesn't have one) to address the root causes of inequality and help people get out of the frigid air not just tonight but every night.
Popular in the Community