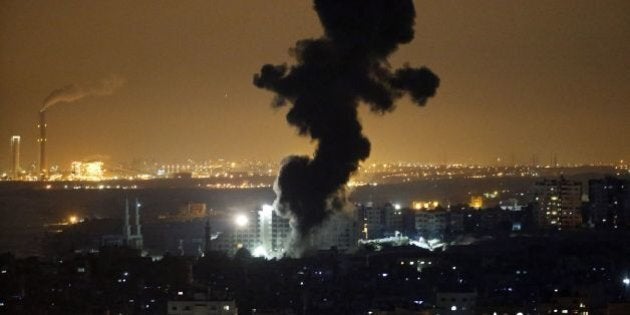 The news of the murder of three Israeli boys -- Eyal Yifrah, Gilad Sha'ar and Naftali Fraenkel, and the subsequent burning alive of a young Palestinian boy, Mohamed Abu Khdeir, was shocking. Equally terrifying are the supremacist and racist opinions of those who seek to reduce the dreadfulness of these events through twisted rationales.
As events escalated, Israel unleashed aerial strikes in Gaza causing immense human suffering. Media sources report two fundamentally opposed narratives.
Is Israel responding disproportionately to rocket attacks by Hamas, who are viewed as bloodthirsty extremists bent on destroying its neighbour? Or is Israel subjugating the resistance of those suffering in an open-air prison or an apartheid state?
The collective Israeli conscience views Palestinians as murderers, seeking the destruction of Israel since its inception. The collective Palestinian conscience views Israelis as usurpers of their land, inflicting unspeakable horrors on their families through superior military might.
As an outsider one can only pray for peace between the two. Yet, quotable popular figures have noted that being neutral against injustice is like abetting oppression. Is simply praying for peace merely a convenient way to remain neutral?
Consider LGBTQ activists' claim that the mantra "it gets better" should be replaced with "we make it better."
Both Judaism and Islam uphold the teaching that the killing of even one soul is equivalent to slaying all humankind. Yet, the situation in Israel and Palestine leads one to believe that nothing is getting better.
Firing umpteen rockets at a militarily superior neighbour simply invites more havoc on innocent civilians who have nowhere to run and hide. Chances for peace are dashed when civilian casualties and everyday indignities result as more illegal settlements are built.
Is it possible for human beings to follow, as Rabbi Malka Drucker explains, hesed -- unconditional loving-kindness even for those we do not like? Is it possible to follow the teaching of Muhammad (upon whom be peace) to forgive those who wrong us and to repel evil with good?
What if human beings followed the path of futuwwa -- spiritual chivalry, to do what is right and just without expecting the same in return?
As a greater power, what if Israel, rather than smearing its policy critics, listened to them, critically looked inward? Upholding the Judaic principle of justice, what if Israel decided to disband illegal settlements on the moth-eaten Palestinian map and effectively addressed human rights violations?
Likewise, what if Hamas replaced the "destruction of Israel" with the "prosperity of Israel" in its Charter? Indeed, according to the earliest model of Muslim governance -- the Charter of Medina -- Jews, Muslims, Christians and pagans all had equal rights and responsibilities.
Can texts that call for inclusion replace absolutist texts that call for exclusion? What if we were not defined by political grievances, but by our commitment to alleviate human suffering?
Sometimes all these lofty words seem surreal in a world marred by nihilism -- where love is suffocated by supremacism and racism. Indeed, the world is rife with those who worship the most devious and biggest false idol of all -- the self-righteous ego.
Yet there are some who keep the torch of introspection and self-criticism alive and who refuse to give in to twisted rationales that support oppression. Rabbis for Human Rights put their own lives at stake to stand by their neighbours. Various grass root Arab-Israeli groups continue to work towards peace.
Amidst the madness, the Israeli and Palestinian families directly affected by the murders of their precious children reached out to comfort each other. Amongst many others, Rabbi Liz Bolton of the Jewish Voices for Peace Rabbinical Council went to offer her condolences to the family of Abu Khdeir, whose mother said "my insides are burning."
Independent Jewish Voices stand against the military occupation of Palestine and support the Boycott, Divestment and Sanctions movement. They released a passionate statement that included:
"The murder of the Palestinians and the Israeli youth merit both our sympathy and solidarity. It is our profound hope that this tragedy might inspire the Israelis to change course and seek a diplomatic route based on the application of international law and respect for the human rights of all parties."
Universalist Muslims stand shoulder to shoulder with their Jewish brothers and sisters at Independent Jewish voices and all organizations and individuals who share those values.
We at Universalist Muslims speak out against any nation, Muslim and non-Muslim, that acts in a way to oppress individuals and contravenes the essence of the Universal Declaration of Human Rights.
Those who are mired in bigotry have and will continue to derail efforts towards peace by resorting to fear mongering and smear tactics. Yet, the Persian mystic Rumi taught us to not be afraid of sullying our reputation. This is especially true when the lives of our children, both Jewish and Muslim alike are at stake.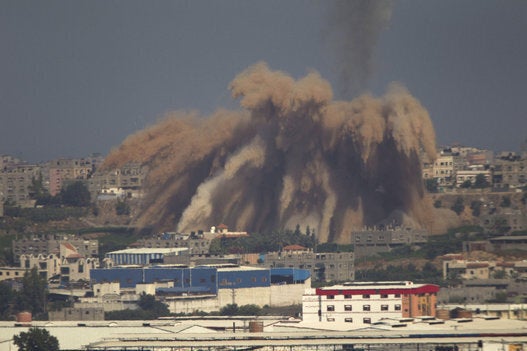 Israeli strikes on Gaza