The Huffington Post Canada is proud to be a sponsor of the prestigious RBC Taylor Prize for Literary Non-Fiction. In the weeks leading up to the March 10 announcement of this year's prize winner, we are publishing blog posts and excerpts from the five finalists. Here is Thomas King on how the inspiration for his short-listed book The Inconvenient Indian was born in pictures.
I'd like to tell you that The Inconvenient Indian is the result of scholarly research, but the truth of the matter is that The Inconvenient Indian is just as much a result of photography. I was a photographer before I was a writer and as a photographer, I saw the stories of the world through pictures. Long before I began to formulate the written text that would become the book, I began photographing that history.
Well, part of that history.
In the 1980s, I began a concerted effort to photograph Native artists in North America. It began as a whim that became a hobby that became a project. The Medicine River Photographic Expedition.
I'd travel around the country, sometimes alone, sometimes with my brother Chris, sometimes with my children and my partner, photographing as I went, documenting contemporary Native artists in a contemporary world. At first, it was all quite serious photography, but after a while, I slid into more playful and satiric moments. I began photographing my kids in front of "Indian" iconography, particularly versions of James Frasier's famous sculpture "The End of the Trail" which, I discovered, litter the North American landscape.
This series I called "Indians On Vacation."
And I began photographing Indians in a Lone Ranger mask (I'll leave the reasons to your imagination). That series was called "Shooting the Lone Ranger" and it was quite popular among the artists.
The photography made me consider the image of the Indian in North America and how it was formed and that led me to popular culture, which led me to the library and then back to my own life as a writer and an activist.
In the end, The Inconvenient Indian is a distillation of all these elements. It is a conversation that I've been having with myself most of my adult life.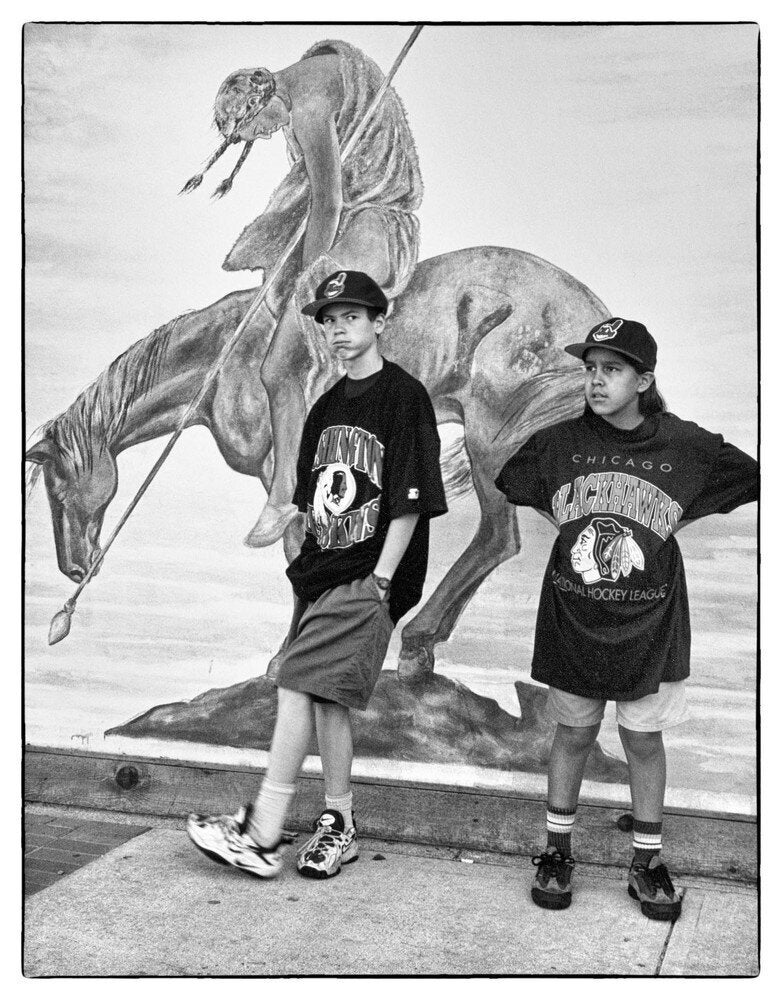 The Inconvenient Indian In Pictures