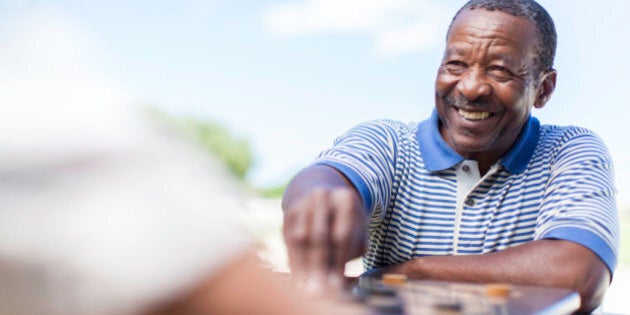 While the wait lists for long-term care homes continues to grow in Ontario, the number of seniors choosing to live independently in their houses and apartments is increasing, as we see on a daily basis. The key in all of this appears to be the ability to have the choice to do this.
Through their choices, more seniors are living healthier lifestyles, allowing them to live longer and happier. It's evident in the smiles and conversations during deliveries by our team. In fact, in a recent poll conducted for Heart to Home Meals by Leger, 89 per cent of Ontario seniors said the ability to live independently brings them or would bring them happiness.
With this month being the 32nd annual Seniors' Month in Ontario, it's important to continue the dialogue about how to create solutions and opportunities for seniors to find happiness, since they're such a vibrant and important part of our communities.
Take John and Katy Diestl who live in Durham Region. The two are spending more of their golden years together now that they utilize a meal delivery service more often ever since John suffered a heart attack. Rather than spending an hour or two preparing a meal, Katy places the meals to cook in the oven allowing them to have their late afternoons and early evenings together. This is in addition to John getting the meals that meet his dietary needs following his medical procedures.
"It's definitely made our lives easier and we're happier for it," said Katy.
The same poll for Heart to Home Meals found that that 62 per cent of seniors in Ontario said not worrying about meal preparation would bring them happiness.
From the stories that make their way to me and the voicemails I get, this happiness can manifest itself in all sorts of ways for seniors.
For example, Lawrence Redmond, a Korean War navy vet who lives in St. Catharines, faced numerous barriers to nutrition. The biggest was his lack of knowledge about cooking. He was spoiled during his marriage when his wife was able to whip up a meal nearly instantaneously for him. Since becoming a widower, he's relied on takeout, which he says is the "same ol' grease."
Without services that cater to the needs of seniors, he's almost certain he would be calling a long-term care facility his home, and not the house he's had for the last quarter century, a place he wants to call home for the rest of his life.
"It's definitely part of the reason why I can stay in my house -- I have no doubt about that," said Redmond.
The alleviation of cooking and shopping for one has given seniors like Diane McCooeye, a widow in the Ottawa Valley, the opportunity to be much more outgoing and social. "It's in your freezer. If you've been out for the day, all you have to do is pop in a meal into the oven (or microwave)," she said. "There's no thinking required to prepare."
Seniors have already given so much to our communities. Stories like these three reinforce the fact that there's a growing need for more services that help give seniors the opportunity to live independently and enjoy their lives.
Popular in the Community