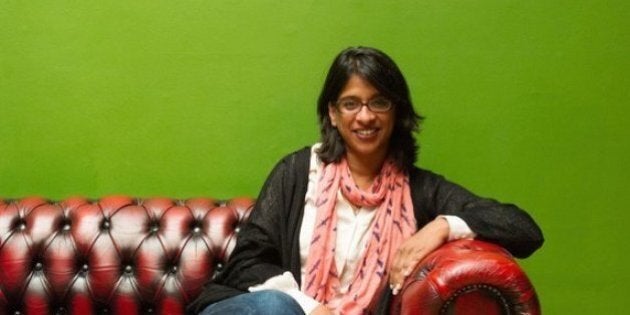 "Do you still get nervous?"
"Oh all the time. All the time," she emphasizes. "I'm nervous every time I put on a show - whatever the show, because it's scary. You put your heart and soul into it and then you put it out there to be critiqued."
Yet being critiqued is nothing new to this theatre veteran, whose work has been consistently well received and has even earned her a handful of distinguished awards, including the Asian Women of Achievement Award and the Liberty Human Rights Arts Award. With a headstrong career spanning over 20 years, it was humbling to hear 42-year-old Indhu Rubasingham, artistic director of Tricycle Theatre in Kilburn, London, admit that she still gets nervous.
"I've worked really hard for it. It always makes for a good media story when you hear that someone suddenly gets discovered and they become a star - and I don't believe that for a second. I think for anyone who was ever been 'discovered', there's been years of work behind it."
For Indhu, the years of work started when she was a teenager. As with many young Tamils influenced to pursue a traditional career path, Indhu started off in science, although she often changed what she wanted to do from being a lawyer to going into politics. "Ironically, I was good at sciences but I think I was a natural born rebel. I was very adamant not to do that route but I had no idea what I wanted to do."
It wasn't until she was sixteen when she was introduced to the world of theatre. "I did this work experience at Nottingham Playhouse. It was by coincidence that I got my work experience at a theatre and I just fell in love with it. I couldn't tell you what it was... it was something about the world and atmosphere of it. I just thought 'this is a world I want to be a part of' but I didn't know in what way."
Indhu still carried on to do her A levels in science but began to join every theatre group she could in her free time. It wasn't long before she realized she wanted to pursue a drama degree. However, without the relevant A level requirements, she was not accepted into any drama programs. Stuck at a crossroads, it was surprisingly her father who persuaded her to use her year off to do an A levels in English so she can apply to drama programs.
"I remember my dad saying something really interesting. He said, 'Your generation always complains about our generation being old fashioned and not knowing things but it's up to your generation to inform us and open our eyes.' I think it's very true because for them they came from Sri Lanka to Canada or England or wherever with a different set of expectations, values and culture. They came as immigrants. Why should they know what our experiences are, being born and brought up here?"
Indhu continued to strongly credit her success to having her parents' support. "I definitely wouldn't have been able to do it. It's a hard world and you have to have incredible confidence without that support. It's not that it was easy for them either because they didn't know what this world was. Parents in our community want their kids highly educated in order for them to have a decent income [...] They want to know they're going to be alright and that isn't the case with this lifestyle."
The lifestyle she is referring to is one that is consumed by the world of the theatre. "Work is my life. People who get attracted to theatre or the arts - it's a bit like an obsession. It takes up everything. I don't have a stable family with two kids and that kind of lifestyle and I don't think I want that. It's not my thing but equally you kind of go, 'Am I going to be like this all the time?' - you don't know."
Indhu made her way into this lifestyle after directing her first play as a student at Hull University in Yorkshire, England. She found directing to be the perfect medium between her analytical scientific half and the countering creative, intuitive self. "It felt like something that sat really well with me and once I realized that I really enjoyed doing it as a student, I wondered what it could mean for me professionally."
She soon made the move down to London and got a bursary to be a training director at Theatre Royal Stratford East, where she had the opportunity to help on new plays, musicals, and pantomime - including assisting the notable English writer and film and theatre director Mike Leigh. The breadth of experience allowed Indhu to go on to do freelance directing for a number of theatres including, the National Theatre, Chichester Festival Theatre, and Birmingham Rep.