By Amanda Cupido, World Vision Canada
Some people hate being in a plane for a long period of time, but I love it: it means you're off to a faraway destination.
When I booked my 15-hour direct flight to India to attend a wedding, I was excited. The long flight also meant I would have enough time to watch at least five Bollywood movies.
Everyone knows Indian weddings are extravagant, colourful and dazzling. When I received the invite from one of my best friends to attend her "brother's" wedding in India, I couldn't say no. But I immediately took note that she referred to the groom as her brother, who, in reality was her cousin. And it wasn't the only time someone referred to a family member with a title that evoked a closer relationship.
"Aunty" and "Uncle" are terms you'll commonly hear kids in India use to describe adults who are not related to them, but as a sign of respect, equivalent to "sir" and "madam." As if we're all one, giant family. It was also the way I was treated by everyone at the wedding -- as if I was one of their own.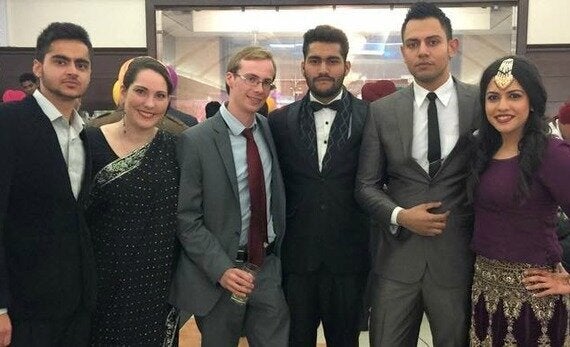 Amanda Cupido, pictured second from left, at her friend's wedding in India.
Wearing a sari, I was told I "carry it" well: a compliment that stayed with me. I was honoured to take part in such a historic practice, which dates back to as early as 2000 BC.
The wedding celebration included four days of traditional rituals, eating and -- of course -- dancing. Unlike in North American culture, I loved how in India, the men typically dominate the dancefloor. And the more colourful their garments, the better. They also made it their personal duty to recruit all onlookers.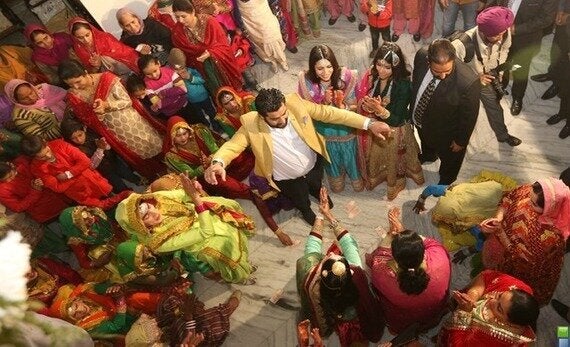 Wedding guests take part in the festivities, which include plenty of music and dancing. All photos: Amanda Cupido
One of the evening events took place on an open plot of land, that was transformed into a wedding venue using carpets and stage lighting. It spilled into the street. I was told to expect hundreds of people, but it was hard to pinpoint the exact number of guests expected, since nobody knew how many people would be walking by and decide to join the party. That's right: wedding crashers were warmly welcomed.
I hiked up my leggings and dipped my feet into the water. No matter what religion you practice, everyone cleanses their feet before entering the grounds of Sri Harimandir Sahibm, or more commonly known as the Golden Temple. The temple, located in Amritsar, is Sikhism's holiest site and is covered with real gold. Some argue it's even more stunning than the Taj Mahal.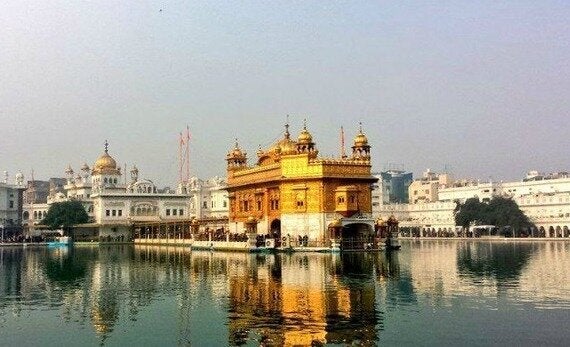 Sri Harimandir Sahibm, also known as the Golden Temple, in Amritsar, India.
It's visited by more than 100,000 people each day -- all of whom are invited to a shared meal called "langar."
Between two windows each day (12 to 2 p.m. and 7 to 9 p.m.), meals are served every 15 minutes. It's a process that's facilitated by volunteers, who have it down like clockwork. It's been running for more than 400 years and aims to bring people together for a meal of traditional foods like dahl and chapati.
Everyone sits side-by-side on the floor in rows. Donations are accepted, but the meal is free for all. An overwhelming sense of togetherness washed over me. No matter where you're from, being served a yummy meal is greatly appreciated.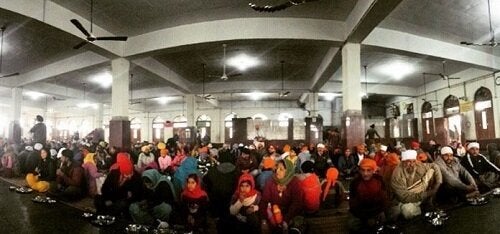 Visitors and worshipers gather for a meal at the Golden Temple.
India is a large country -- seventh-largest country in the world to be exact -- with a population of more than 1.2 billion. North to south it's 3,214 km, which means people who live there are accustomed to long drives. I found it shocking when someone offered to drive me to the next city I was set to visit, which was four hours away. I tried to turn down the offer, but I was assured that the drop off was no big deal.
The next shocker came once we were on the road. Because the country is so densely populated, you can only imagine how many people are driving at any given time. While in stop-and-go traffic, we crashed into the car in front of us after a quick brake.
Our car was unscathed, but the car in front of us now had a noticeable dent in its back bumper. The man hopped out and came running up to our window. Before he could say anything, my driver spoke up.
"I'm sorry," he said sympathetically.
"OK," replied the other driver, who jumped back in his car and continued on, without disrupting traffic.
Three weeks travelling through India granted me access to some amazing experiences.
But a year after I returned, I learned this shocking fact: there are 63 million girls living in India, who do not have access to toilets. That's 63 million girls who are at risk because they have to use the bathroom outside in the open, in unsafe and unsanitary conditions, multiple times a day.
Worse even, 47 per cent of schools in India don't have female toilets, so many girls end up missing school and missing out on a proper education. But you and I can help.
World Vision's Rise Up! Daughters of India is an initiative to bring proper toilets to girls in India. We seek to meet even their most basic needs because they are valued and important. Please consider getting involved today.
Follow HuffPost Canada Blogs on Facebook