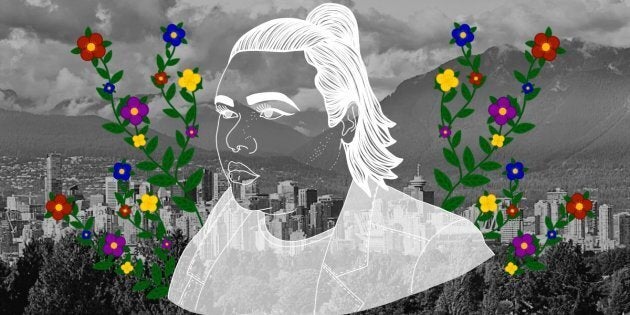 A force to be reckoned with is what comes to mind when thinking of jaye simpson. Drawing from their own experience as a former youth in care, jaye is unafraid of speaking up or questioning those in power about needed changes to the child welfare system.
They are a non-binary trans femme and are Oji-Cree, Anishinaabe from Sapotaweyak Cree Nation, living in Vancouver. They're also two-spirit, which refers to someone who identifies as having both masculine and feminine spirit, and is used by some Indigenous people to describe their sexual, gender and/or spiritual identity. jaye uses they/them pronouns.
Experience and hardship has shaped them into the artist, writer, performer, facilitator and activist they are today. But jaye acknowledges that communication has been key. Their ability to express themself in an accessible way has given them a platform to address changemakers.

As an Indigenous and queer poet, jaye intersects many different communities that have been easier to access in a big city. But this has also made them susceptible to scrutiny and abuse from people in those communities.
Living in the city has been hard. But it's also been great, because I found what I was looking for; I found so many different aspects and pockets of community.
With certain communities, I've had to go into hiding, because oftentimes, I am one of the biggest fighters and I'll go up to bat for our people. But at the same time, I'm emotionally burnt out, I'm exhausted from my heartache. So, I'm taking time to keep things at bay and recognize my own limitations. It's been very trying discovering my own self-care.
Being an urban Indigenous person can be complicated when you're not on your community's traditional territory. For jaye, that means declining to speak on behalf of people native to Vancouver.
Oftentimes, being in Vancouver, folks will ask you to lead ceremony. I refuse because it's not my territory and it's not my ceremony. My role on the unceded Musqueam, Tsleil-Waututh and Squamish territories is to witness and to do the necessary work.
It's interesting in urban situations, where, instantly, all of us are meant to be the spiritual leaders in all aspects of our existence — in our social lives and in our work lives. It's absolutely astonishing how many folks just want to copy and paste us into these spiritual visions of reconciliation.
Growing up in foster care has shaped jaye into an activist. They witnessed firsthand what was wrong with the child welfare system in B.C. and Manitoba, especially "aging out," when someone turns 19 and is expected to start living on their own. They hope that their activism can prevent other Indigenous youth from experiencing similar trauma.
I was a youth in care for 16 years. I've experienced so many different things and so many different traumas — it's hard to explain and I can't give a CliffsNotes version. But aging out of the system was so traumatizing. I was asking so many questions to my social worker, but getting no answers.
I ended up never getting my birth certificate, never getting my social insurance number – to this day I don't have a birth certificate or a passport. The aging out process is just ... you know, they give you a blanket and they kick you out the door.
That experience has enabled jaye to articulate ideas so that people in positions of power can understand. Despite the burden of being seen as an "expert" on Indigenous experiences in care, they acknowledge it's given them access to spaces they can disrupt.
I ask people to be accountable to their words and their actions, and folks don't like that.
Sure you can even find services for queer folks, but oftentimes they don't have any training for intersectionality or racialization. And then you can find services for Indigenous folks, but it's very stiff and it's very heterosexual. There just isn't a service that is meeting the needs.
One of jaye's passions is poetry because it allows for honest expression. In writing, they take inspiration from their Indigeneity, ancestral memories, resilience and how the intersection between queer and Indigenous identity is often so overlooked.
Recently, I've been obsessing over this thing called monstrous bodies. Monstrous bodies is about the bodies of people who aren't men, the bodies of people who aren't CIS or abled. It's about queer bodies, trans bodies, disabled bodies, fat bodies.
It's about how we are manifested into monsters by those who want to exterminate us.
are we not those monstrous bodies?

the wild haired women between the trees?

the grotesque trolls under their bridges?

the Baba Yagas in our chicken footed huts?

the wendigos in the Coldest North?

are we not the ones you not only want to slay but the ones you wish to bed?

are we not those monstrous bodies?

the long shadows in your closets?

the beasties lurking under your bed?

the changelings, spriggan and the banshees?

wailing about in our own monstrous ways, have we not always haunted you?

the things you couldn't all kill?

An excerpt from "monstrous bodies" by jaye simpson
Some of the responses in this piece have been edited for clarity and brevity.
This story is part of Not My Territory*, a HuffPost Canada series about urban Indigenous perspectives driven by the people who are part of the country's fastest growing populations.
*Some Indigenous people live in cities that don't overlap with their community's traditional territory, and many feel burdened by being regularly called on to represent cultures and backgrounds that aren't their own.
Popular in the Community