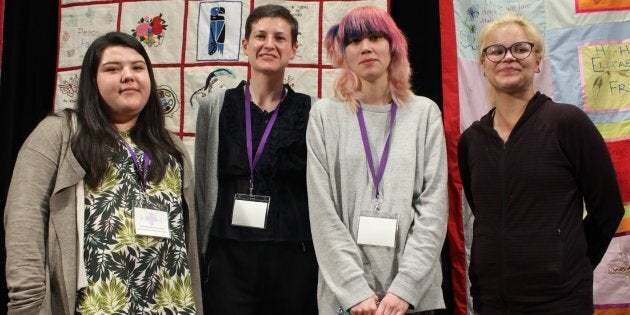 'VANCOUVER — Fialka Osean Jack-Flesh remembers her 19th birthday in sharp, painful detail. Instead of gifts or a party, the teenager received a stark warning from social workers at the group home where she was living: Leave by noon, or the police will remove you.
"They told me that they were going to call the cops," she said, so she stuffed her belongings into six trash bags and left. "It literally felt like it was garbage day ... I felt like I was getting thrown out and that I was garbage."
Originally from Nanaimo, British Columbia, Jack-Flesh had been living in and out of the foster care system and group homes in B.C. since she was just a few weeks old. Like hundreds of other youth in the province who "age out" of the Ministry of Children and Family Development's care each year, her 19th birthday marked a sudden end date for most support.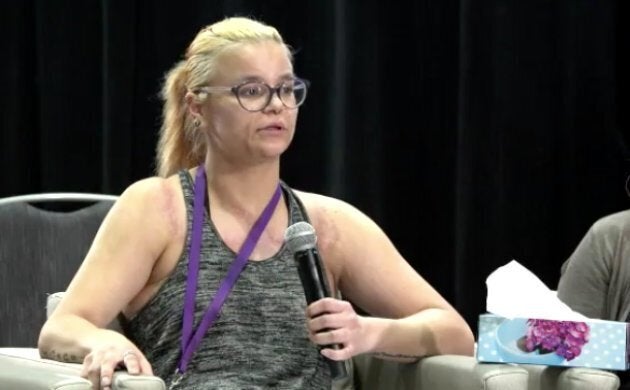 "'Aging out of care' is like a euphemism for the abrupt termination of all MCFD services," said Erin Pavan, manager of the YWCA Metro Vancouver's Strive program, which provides support to youth who are transitioning out of care. "I don't even like this term, I think it's too gentle for what you experience," she added. "It's like being pushed off a cliff."
Within a month, Jack-Flesh had moved into a single room occupancy hotel in Vancouver's Downtown Eastside, an impoverished area that is notorious for high levels of drug use, crime, sex work and homelessness. She has struggled with addiction, and has been homeless twice.
"It was horrifying to see so fresh into my adulthood that this was where people were living," she recalled of her time living in the area. "I did some things that I promised I would never do, and I regret it, but from there I've grown."
Speaking Friday at a panel organized by the National Inquiry into Missing and Murdered Indigenous Women and Girls in Vancouver, where family and friends of missing and murdered Indigenous women and girls gathered to share their stories with the public, Jack-Flesh said that as a child she believed it was "normal to hop from home to home," and quickly realized that "a lot of aboriginal children were in care." She is a member of the Mowachaht First Nation.
Only 7 per cent of Canadian children are aboriginal, but nearly half of all children in Canada's foster care systems are aboriginal.
"If we had the same type of numbers for non-Indigenous kids [in foster care], we would be calling it a crisis," Dawn Thomas-Wightman, B.C.'s deputy representative for children and youth, told the Vancouver Courier in November.
If we had the same type of numbers for non-Indigenous kids [in foster care], we would be calling it a crisis
Pavan says the sobering ratio of Indigenous youth in government care in B.C. and across the nation is a result of "the continued marginalization and oppression of Indigenous peoples in Canada," and the "intergenerational effects of residential schools."
"Many people say the care system is the new residential school," according to Thomas-Wightman. Jack-Flesh echoed that sentiment Friday, noting that living through the government care system in B.C. felt like being "ripped away" from her heritage.
"It goes back to intergenerational trauma [and] residential schooling," agreed Shae-Lynn Noskye, who aged out of foster care in 2014. She spoke at the panel with Jack-Flesh, Pavan, and 22-year-old Cheylene Happi Ugh-na Moon, who spent seven years in foster care.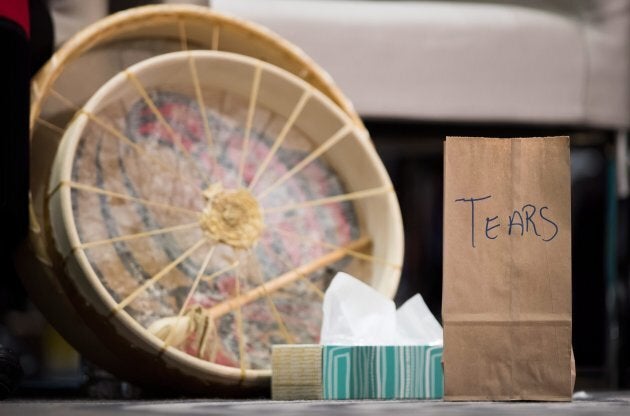 "I guess that trauma sort of follows your family," added Noskye, 22. "Trauma ages the soul but stems any potential growth after recovery."
Young adults who have aged out of care are less likely to finish high school or find a job than other youth, said Pavan, whose stepfather is a survivor of residential schools. Citing "shameful" statistics, she added that many are impoverished, suffer from trauma and substance abuse issues, become young parents, and fall into the criminal justice system.
"Youth live with this constant panic of homelessness," she said. "They are living in fear all the time."
Now 24 years old, Jack-Flesh works with Noskye and Moon for an initiative called TRRUST (Transition in Resources, Relationships and Understanding Support Together), which supports youth transitioning out of government care in the Vancouver area. She is advocating for those youth to receive better training on how to find housing and jobs.
"You shouldn't have to worry about homelessness every second after aging out of care," she said. "That is something that at almost 25, I still fear everyday."
Popular in the Community