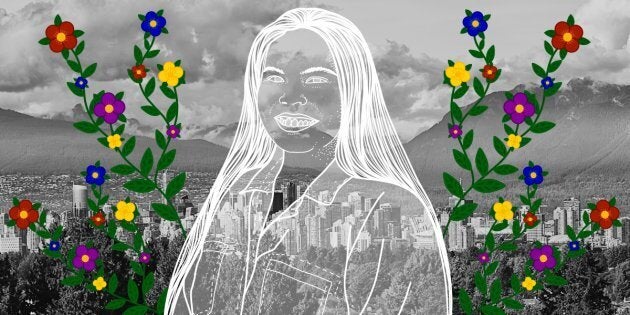 Some might say Adina Williams is lucky to have been able to grow up in the city, while also living in her community. She says she couldn't imagine living anywhere else, but it's tricky navigating both spaces.
Adina is Squamish and Namgis; she grew up on the Squamish Nation Reserve in North Vancouver. Vancouver sits on the unceded territory of the Squamish, Musqueam and Tsleil-Waututh Nations, which means that Aboriginal title has neither been surrendered nor acquired by the Crown.
Adina is a fourth-year student in the First Nations and Indigenous Studies department at the University of British Columbia.
Adina is so incredibly kind; her voice is warm and her tone is calming. She's confident in the work she is doing because people are finally willing to listen. She speaks passionately and personally about the residential school system and the effects of intergenerational trauma.

Adina knows how tiring it can be to be called on again and again as an expert on Indigenous topics, but she's willing to do the work when she's knowledgeable because it gives her a platform, and sometimes even willing ears.
I get called upon to speak at some events. To talk about my experience as an intergenerational survivor of the residential school system, oftentimes as an Indigenous student, or just as an Indigenous youth. And as hard as that sometimes is, it's important to be able to empower and centre voices of Indigenous young people and Indigenous peoples in general.
Just being able to acknowledge all the survivors who were there, and those who weren't, for sharing their stories. There were a lot of people who were really receptive to what I had to say and to what the survivors had to say.
I'm frustrated when I encounter different comments that evolve around the "get over it" notion, because I truly believe in dialogue and where it can take us.Adina Williams
Adina has a variety of experiences speaking to people, and while the majority of them have been rewarding, she still encounters racism and ignorance. But she continues to say yes to speaking engagements because she believes in the power of dialogue.
There are times when I sit on a panel discussion, there can be some really, even racist things that are said. And they're based off of ... well, I don't know what they're based off. But I think that there's a lot of ignorance around topics such as residential schools, and it can be frustrating.
I'm frustrated when I encounter different comments that evolve around the "get over it" notion, because I truly believe in dialogue and where it can take us.
But, there are several people who are willing to learn and willing to try their best to understand and acknowledge the truth of our history. And that's what motivates me to do this work, and what motivates me is to share the truth, as best as I can, of my own experience and observations of being an intergenerational survivor of the residential school system.
It's been really difficult to hear some of the stories that my family has shared with me. And growing up with those stories and understanding the harm that that system has had on people as close as my dad and people in my community is really tough.
That's what makes it really frustrating when there's people who have very minimal or no understanding of the residential school system, to have such an immediate response to reject those stories and parts of our history.
At 22 years old, Adina has a wealth of knowledge, but acknowledges that her experiences are just her own. Still, she hopes she can encourage people to go out and educate themselves.
I really try my best to reinforce how I'm not an expert at all. I mean, I'm still learning myself. It reminds me to be cautious as well, because some people have understood what I'm saying to be the history of residential school, the history of Indigenous peoples. And it is not one history. This is my story and this is my experience and this is what I'm sharing with you.
You know, it's not my responsibility or any Indigenous person's responsibility to be an expert or to be educating others.
But, I am doing the work because I believe in what I'm sharing.
Some of the responses in this piece have been edited for clarity and brevity.
This story is part of Not My Territory*, a HuffPost Canada series about urban Indigenous perspectives driven by the people who are part of the country's fastest growing populations.
*Some Indigenous people live in cities that don't overlap with their community's traditional territory, and many feel burdened by being regularly called on to represent cultures and backgrounds that aren't their own.
Popular in the Community