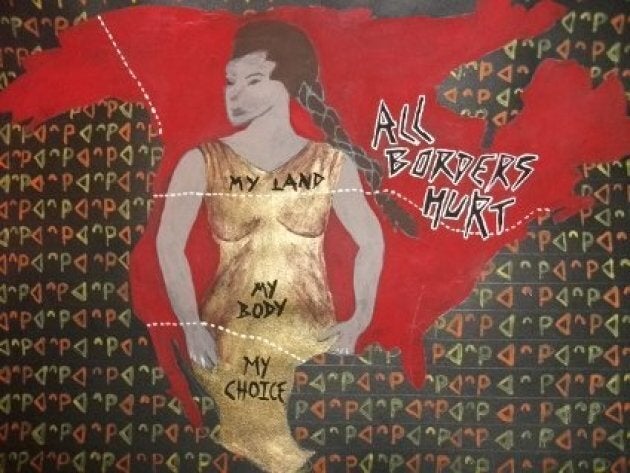 Recently, the discussion on sexual harassment in the workplace has been pushed to the forefront, despite historical efforts by the feminist movement to have such concerns addressed since 1911. While I could write an entire post on the historical (and present) problems with the feminist movement, including the failure to adequately address the realities of Indigenous women, girls and two-spirit folks, I want to call attention to the erasure of certain stories, especially in the struggle for basic recognition of human rights.
In May 1917, Lizzie Cyr (alias Waters), a Métis woman living in Alberta, was arrested and convicted for vagrancy — specifically, prostitution. Her lawyer, John McKinley Cameron, challenged the magistrate's jurisdiction to hear Lizzie's case. The magistrate was a woman and, at the time, women were not considered persons. Following Cameron's appeal to challenge a woman's right to sit as a magistrate, the Alberta Supreme Court (now, the Court of Queen's Bench of Alberta) and the Appellate Division of the Supreme Court of Alberta (now, the Court of Appeal of Alberta) dismissed the appeal later that same year. The judges found that the magistrate was legally appointed.
The women who advanced the feminist cause built their entire movement at the expense of Lizzie Cyr, a Métis woman criminalized for simply surviving.
The Famous Five — Emily Murphy, Henrietta Edwards, Nellie McClung, Louise McKinney and Irene Palby — urged the Supreme Court of Canada to follow Alberta's precedent. The Supreme Court of Canada ruled against the Alberta courts, holding that women were not legally persons. The irony in this challenge is the fact that an Indigenous woman was enough of a person to be arrested, charged and convicted by the same state that did not see women, in general, as persons. And, even more to the point, it was Lizzie Cyr's story that ignited the fight for white women's right to vote in Canada. Meanwhile, Indian women, as defined by the Indian Act, could not vote until 1960. (Métis could vote if they possessed voting qualifications.)
The Lizzie Cyr story shows us that only certain kinds of stories matter in the fight for equality. The women who advanced the feminist cause built their entire movement at the expense of Lizzie Cyr, a Métis woman criminalized for simply surviving. The Lizzie Cyr story also shows me, a First Nations woman with lived experience in the sex trade, that my story and other stories like mine do not matter when it comes to the fight for equality.
This past weekend, during the International Women's Day marches across Canada and in particular, in Toronto, I saw many people come together to rally around a young Indigenous girl. Her name is Tina Fontaine. Many people chanted and shouted for justice.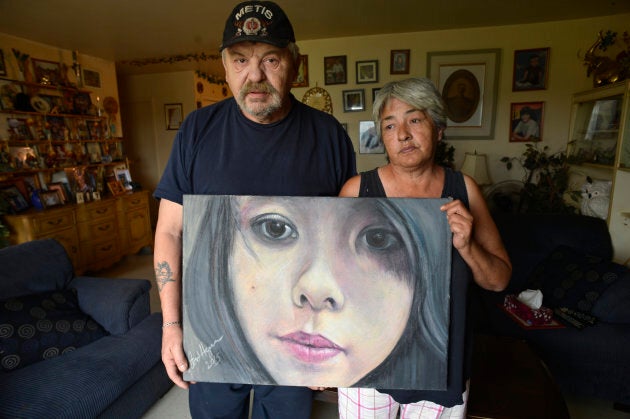 Many people will argue that prostitution should be criminalized in order to save and protect Indigenous women and girls. These same people will also likely argue that all prostitution is exploitation and that nobody chooses prostitution.
Nobody chooses to be reported missing or to be found murdered.
Or, like in the case of Cindy Gladue, an Indigenous woman who died from an 11-centimetre wound to her pelvic region, nobody chooses to be left lying dead in a hotel room's bathtub. The man charged with Cindy's murder was also found not guilty by a jury in March 2015.
Indigenous women and girls only matter if we are reported missing or found murdered.
This past weekend also included the celebration of International Sex Workers' Rights Day. When I saw the signs for International Women's Day, I saw the fight for fair wages, the fight for freedom from sexual harassment, and the fight for inclusive and diverse political spaces. These are similar messages that started the International Women's Day rally over 100 years ago. Similar to 100 years ago, the erasure of certain kinds of realities still exist.
I do not deny people's right to rally and protest the outcome of criminal trials. But I do urge the feminist movement to think beyond arguments, like calling for more justice. Justice, for Canadians, often means increasing policing or criminalization — all in the name of safety and protection. Justice never means safer housing or safer community supports (like those supports free from judgement or risk of criminalization).
When I see calls for more justice, I also see causes using cases like Cindy Gladue or Tina Fontaine to advance a movement while erasing certain realities.
Indigenous women and girls only matter if we are reported missing or found murdered. We never matter when we are alive, today, demanding something better than justice.
Every day I wake up and read stories about violence inflicted against Indigenous women and girls. It is in these stories that I am reminded that I am not supposed to be here. Still, I fight for justice, for people like me. This fight comes with a great cost, mentally, emotionally and financially. I may be one person when I write my words, but my words and my stories are the words and stories of many. This fight for justice — my fight for justice — includes sex workers, trafficked survivors and young people surviving on the street.
It also means making space for disagreement and dissent. It means creating the space for many stories to be told and honoured. It means we honour all lives, including the living, and not just the missing and murdered. A basic human right means the right to be living free from fear of the state and police — structures allegedly designed to deliver justice. My fight for justice includes asking others at what cost are you willing to join me.
Popular in the Community