"You had to go outside and pretend to be doing some chores so you could talk to other students that were there at residential school. We would be speaking our language but we didn't dare do it in front of them."
Rosa Violet Pitawanakwat-Burke is a 76-year-old Odawa from Wikwemikong Unceded Territory on the northeastern shore of Manatoulin Island in northern Ontario. She's recalling her childhood, when the federal government forcibly took her away from her home and family.
The school's goal, she explains matter-of-factly, was to "destroy the Indian in each person. To be ashamed. But my mom said 'you keep going, don't listen to them. Just don't speak in front of them so you don't get the strap.'"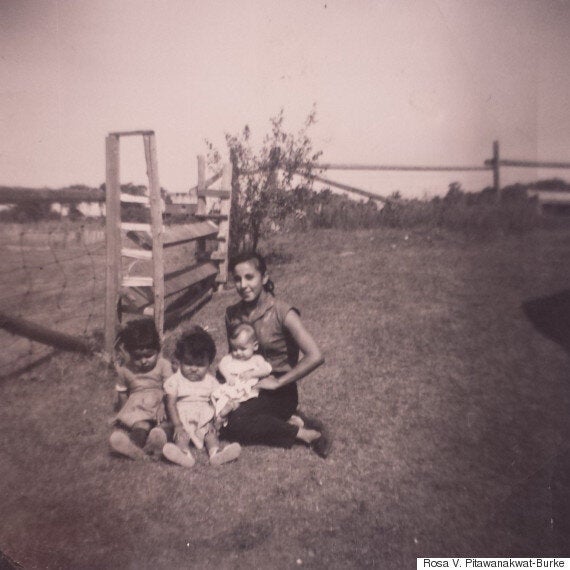 Rosa Violet Pitawanakwat-Burke with her mother and siblings in the early 1940s.
Rosa is sitting at a kitchen table in a tiny downtown Toronto apartment. She made the eight-hour trip south to this graffiti-and-poster-covered brick building from her Lake Huron island home to pick up copies of her new album from the indie music manufacturer and graphic designer who lives there.
But this is more than a CD.
It's a tool to teach her native Odawa language, an Ojibwe dialect she estimates is spoken by about 1,000 people, mostly aging Odawans.
The Canadian government doesn't record Odawa as a separate language but Ethnologue estimated that as of 2007, "a couple thousand" still speak it in Canada. (Wikwemikong is home to the Three Fires Confederacy, an Anishinaabe alliance of Odawa, Ojibway and Pottawatomi nations. About 3,000 people live there while 5,000 more live off-reserve.)
In December 2016, Prime Minister Justin Trudeau promised legislation to help preserve indigenous languages, though it currently remains in development.
"We know all too well how residential schools and other decisions by government were used as a tool to eliminate indigenous languages and cultures. We must undo the lasting damage that resulted," Trudeau told the Assembly of First Nations, according to APTN.
But my mom said 'you keep going, don't listen to them. Just don't speak [your language] in front of them so you don't get the strap."

— Rosa Violet Pitawanakwat-Burke
"We're losing [our language], yeah," Pitawanakwat-Burke says bluntly. "They're trying to bring it back into the school but it's not successful because teachers forget to use the language consistently. They just do it one word at a time — not in dialogue, not in sentence structure."
"And then when the children go home they have no one to practice on because the parents don't speak it," she says, alluding to the unfortunate success residential schools and other government policies had in quashing the language and culture of that generation.
'It's very healing when you know your language
The Odawa language isn't alone in becoming endangered.
The 2011 census reported about 60 indigenous languages being spoken, out of the hundreds of tongues that could once be heard across the land — but only a handful of them, like Cree and Ojibway, are used in large numbers. Most have speakers numbering only in the hundreds, like Mohawk with 545 speakers and Oneida with 180.
Overall, about 17 per cent of indigenous people in Canada can converse in their local language — a number that drops to 5 per cent in B.C. where all 32 indigenous languages are endangered — but efforts are begin made to turn this around even as the numbers continue to fall due to the advanced age of most speakers.
"It's very healing when you know your language," Pitawanakwat-Burke says. "With all the materialistic stuff in this day and age, going back to your language you forget about the earthly things. So your language really covers what you don't have."
She mentions the panic and stress that young indigenous people are facing due to endemic poverty, and the suicide crisis that has been gripping reserves. She's not alone in believing that restoring indigenous language can help — Trudeau himself declared it "essential" to preventing suicides.
"There were no hospitals in my day so I was born at home by a midwife, brought into the world very tough. No silver spoon but with a shovel in my hand. I had to work for everything that I have," she says, with a warm steely smile.
But then Rosa was removed from her family in the late 1940s, what she calls the "dark ages," and sent to a residential school that was far enough that "you couldn't run away" and where speaking her own language was forbidden.
Her mother went through the same experience. The government took her from the hand-built log cabin in the bush where she was living to a residential school where she also wasn't allowed to speak her language. But there were First Nations workers there who secretly helped her retain it so she could later pass it on to her daughter.
"She was so happy when the school burned down," Rosa recalls with a laugh.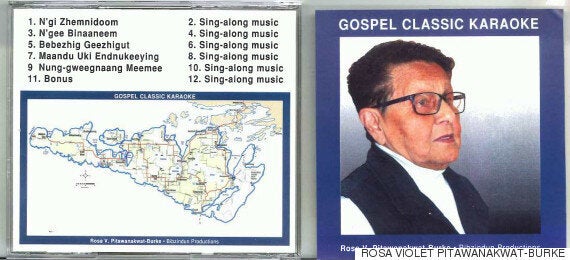 Rosa's new CD, her fourth, is called "Gospel Classic Karaoke" and is targeting Christians in her community by translating familiar church songs into Odawa, just like her previous records did to children's songs, Christmas carols and "country classics." Half the tracks have Rosa singing her translated lyrics and the rest are instrumental versions for singing over once the Odawa is learned.
"I did 'This Land Is Your Land' because people know the melody so they really are interested in the song. They retain their language without even knowing that they're learning it," she says of her earlier record.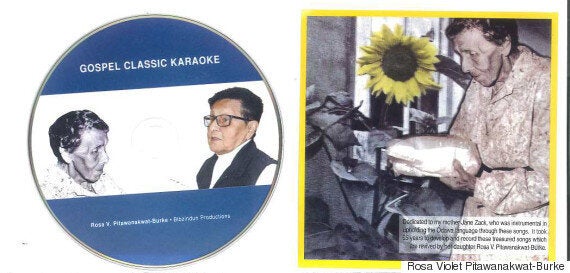 Rosa Violet Pitawanakwat-Burke's CD disc and inner sleeve show images of her mother Janet Zack.
She dedicated the new record to her mother Jane Zack, "who was instrumental in upholding the Odawa language through these songs." The dedication notes "it took 65 years to develop and record these treasured songs."
Rosa says the idea of translating English songs to teach her own language dates back to her mom's idea in the 1950s.
"We never had vehicles so when we were walking – my mum and I earning our keep each day, going from farm to farm – we would sing as we were going. And that's how I retained my language with her," she says.
"I guess she was setting me up – as if she knew how we'd be losing it. I'm glad I followed her suggestion."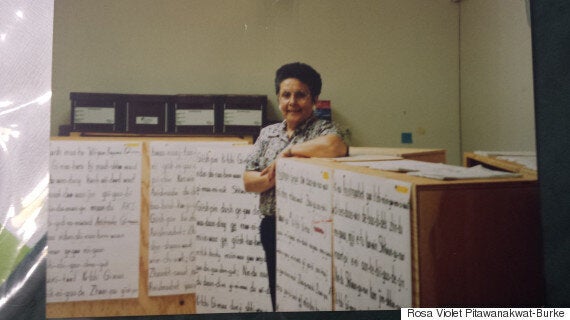 Rosa Violet Pitawanakwat-Burke in her Wikwemikong classroom in the 1980s.
She also followed her mom into the education field, albeit not until her 30s.
"I was dipped into it with no education. They said we want to do a pilot project. This is in '72. I put my name in and was just thrown into the classroom. There was no curriculum, there was nothing," she says of the era when the federal government began transitioning from residential schools to on-reserve schooling.
"And thank God for the songs I learned. That's how I entertained the children. I taught them how to read it and they took it home. They sang it to their parents."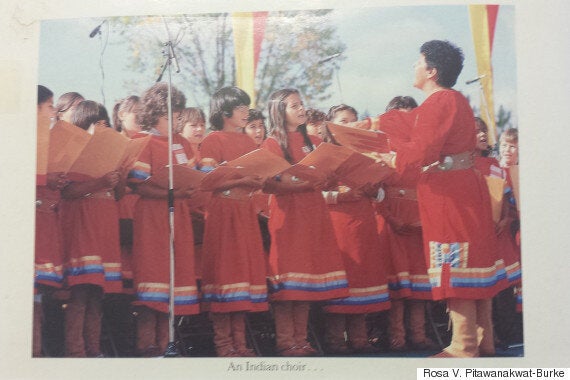 Rosa Violet Pitawanakwat-Burke's choir performs for the Pope during a visit to Midland, Ont. in 1984.
Pitawanakwat-Burke started a choir that would perform around the region, even once entertaining Pope John Paul, and used singing as a language teaching tool in the classroom for the next few decades. She retired in 2003, after her second husband died, but continued to volunteer as a singing language instructor in schools and to perform at social events.
Her Odawa version of "O Canada," which you can see in this video, has become a popular fixture at weddings, funerals and powwows.
"It's healing for everyone," she says. "Before you were told you can't speak your language. But now we can. People are so proud to hear it — and they are learning and the children are there and they really give it their 100 per cent. They go for it.
"They're not ashamed anymore."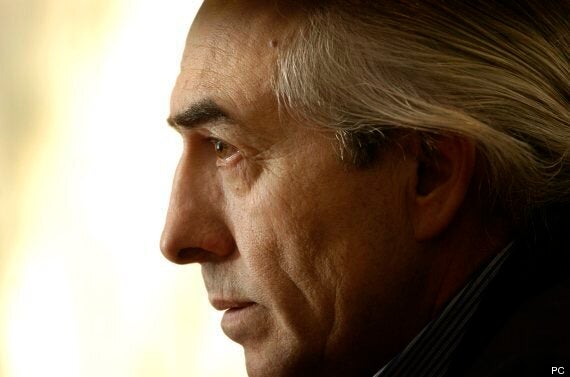 10 Indigenous Voices That Inspire Us