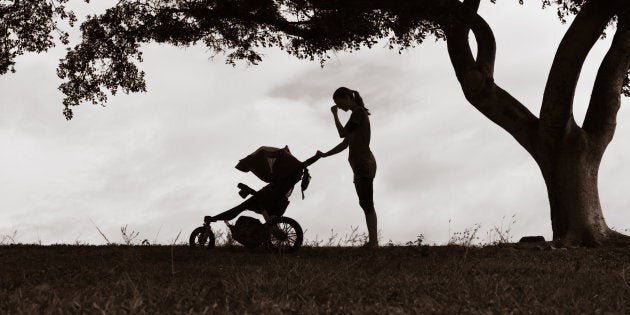 Maya Houle believes intergenerational trauma is the reason she's currently suffering from postpartum depression.
"My mother is a '60s Scoop survivor," the Edmonton mother of two told HuffPost Canada. Her youngest child is just seven weeks old. Houle also suffered from postpartum depression (PPD) following the birth of her first child, who's now two and a half.
"My grandparents were both Indian residential school survivors so there is a disconnect not only with my mother's generation, but my grandparents and even my great grandparents. That's a lot of trauma woven into my DNA as a nehiyaw iskwew (Cree woman)," Houle said.
"I felt as if I lacked the ability to be a mother because I hadn't been mothered," Houle said. "My mother was suffering from her own traumas and I didn't have traditions or my kokom (grandmother) to teach me how to prepare for my baby."
Story continues below video:
Julie Brown* suffered from postpartum anxiety. She lived on a reserve in Ontario until she was 18 years old. She asked for her name to be changed to protect her identity.
"I believe that it goes back to my childhood and how I wasn't protected the way a child deserves to be," Brown, who has two children and is currently pregnant with her third, told HuffPost Canada.
"My father was beat up by nuns in school and suffered severe racism growing up. Racism is still alive and I experience it to this day. I think that motherhood is difficult and being an Aboriginal mother is even more difficult."
Canadian study finds Indigenous moms are more likely to have PPD
"There is a body of previous literature suggesting First Nations are discriminated against ... and this may explain why our findings were most consistent for this group, even after controlling for all other factors such as socioeconomic status," new study author Christoffer Dharma told HuffPost Canada.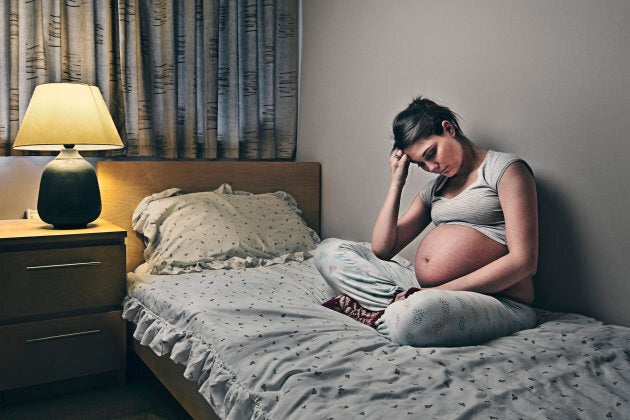 Researchers looked at the data of over 3,000 Canadian mothers from various ethnic backgrounds from pregnancy to five years postpartum.
"Given that our finding was not universally observed across all ethnic minorities, there appear to be other unobserved factors that might be specific to the groups where the increased risks persist, some of which might not be easily quantifiable in a survey," Dharma said.
Chronic life stress and trauma could be key causes
Amrita Roy — a family medicine resident at the Schulich School of Medicine & Dentistry — said she isn't surprised. Roy interviewed pregnant Indigenous women and service providers for the 2015 Voices and PHACES study in Calgary while she was an MD-PhD student at the University of Calgary's Cumming School of Medicine. The study found chronic life stress and trauma to be key causes of prenatal depression in Indigenous women.
"The answer lies in the historical and present-day societal context of Indigenous women shaped by factors such as racism, sexism, domestic and sexual violence, and intergenerational trauma from residential schools and other legacies of colonization," Roy told HuffPost Canada. "Our study results show this quite clearly."
Almost all of the pregnant Indigenous women interviewed for the study reported being deeply and negatively impacted by having someone in their life — a parent, an aunt or uncle, a grandparent, an older sibling — who survived the residential school system, Roy said.
Story continues below video:
"So, even though today's pregnant and [Indigenous women parents] are generally too young to have attended residential school themselves, they are still impacted by the legacy of that horrific Canadian government policy," Roy said.
Among the recommendations stemming from the report include the creation of Indigenous-specific prenatal and parenting programs to address the intergenerational effects of residential school trauma.
Discrimination could also lead to genetic changes
Intergenerational trauma is also the focus of a new study published in the Journal of Psychoneuroendocrinology, the first of its kind to examine the relationship between discrimination and DNA methylation of stress regulatory genes in pregnant and postpartum Latina women.
"The exciting finding is that we are documenting an association between ethnic discrimination stress and genetic changes that have been strongly linked to depression and anxiety in a high risk, rarely studied, yet growing Latina population," study author Ben Nephew told HuffPost Canada.
"Our data implies that the current political and social climate in the United States is having adverse effects on immigrants, triggering depression and anxiety mechanisms that are potentially trans-generational."
Stephanie George, an Indigenous midwife on a reserve in Ontario, said many of the women she helps continue to face discrimination.
"Our moms don't feel they have worth," George said.
"We need every person who works with us to have trauma-focused healing methods because we are traumatized as a people. Listen to us. Take the time with individual moms to listen. Help us be part of all decisions. When you help all women, especially racialized women, feel their strength, their voice, their worth. We are not our trauma. Trauma is part of us."