It was less than six months ago that a handful of energy companies resorted to selling off portions of their stake in the oil patch after failing to garner the kind of investor support they needed to fund major projects.
The costs of development in the oilsands is increasing due to material and labour shortages in Alberta and limited real estate. According to reports by the Petroleum Human Resources Council of Canada, the industry is effectively innovating itself out of the labour market, expanding beyond what the available pool of skilled labour can support.
Development costs are also escalating as the environmental toll of extracting and upgrading tar-like bitumen from the region has put both policy makers and the public on edge.
Jean-Michel Gires, the former CEO of the Canadian unit of France's Total SA, says crude from the oilsands is "among the most expensive oil" in the world to produce. Yet, development continues, leading some experts to claim that the oilsands costly production still doesn't accurately reflect the true costs associated with the resource.
Blog Continues below slideshow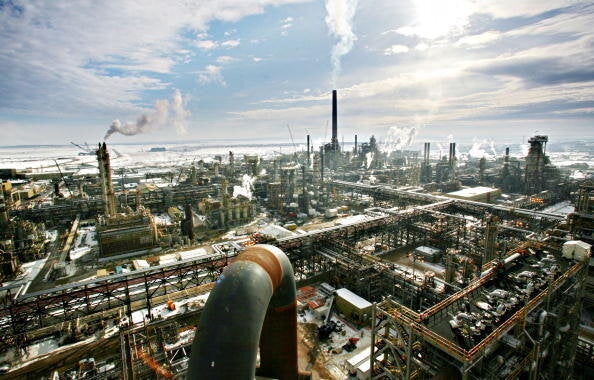 The Oil Sands and Canada's Environment
Even without environmental regulations concerning waste, companies are already spending billions on tailings reduction technology simply because they're running out of space. Tailings ponds currently cover more than 176 square kilometres of the region.
The Kearl Mine, an Exxon-owned Imperial Oil project, cost $12.9 billion in its first phase - more than 40 percent over the expected price tag.
The mega-project is intended to produce 600,000 barrels of crude oil per day by 2020. Downgraded from three development phases to two, the Kearl project is expected to produce 110,000 barrels per day by the end of this year.
The mine is already connected to Enbridge's Cheecham Terminal by the Woodland Pipeline and will begin to test capacity before long.
Enbridge quietly received regulatory approval in August of last year to build a $1.3 billion extension of the Woodland Pipeline to accommodate the expected increase in production at Kearl. The project is set to be complete in 2015, the same year Imperial plans to move an additional 110,000 barrels of bitumen per day out of Kearl.
According to investment analysts, the solution to the problem, both in terms of money and morale, is to greenlight the various pipeline projects currently under consideration, including proposal to modify existing pipelines such as Enbridge's Line 9 to eastern Canada. But those pipelines themselves are projected to cost billions of dollars to build.
Moving ahead with such projects has been made easier with a flood of outside investment used to artificially prop up the industry.
One such surge of investment recently came from Warren Buffet. This summer marked the first time one of the world's largest investors plunged billions into Canadian resource development. Buffet, head of Berkshire Hathaway Inc, has thrown his weight behind Suncor, Canada's largest oil and gas company.
Ironically, this kind of large-scale investment serves to drive costs up even higher by contributing to inflation.
It's unlikely the rising costs of development, no matter how severe, will investment in the oilsands to an end. Yet when it comes to realistic cost accounting for large-scale carbon projects, there are people working on pragmatic solutions.
In spite of the environmental movement's push for a shift in values, some experts say it's more likely carbon policy will make the difference.
Dr. Andrew Leach, professor at the Alberta School of Business at the University of Alberta says the rising social cost of tar sands development, as well as meaningful environmental policy changes are contributing to the higher price tags on new projects, but it's ultimately consumer choices that will determine whether projects in the tar sands remain viable.
To illustrate, Leach uses the example of the car-driven suburb model of living.
"In order to meet at 450 ppm target, we can't have people living out in the suburbs and driving big cars, but people are still living in the suburbs and buying big cars." The analogy applies to dirty oil development. It's not that developers don't know what's going on; it's that they won't stop until someone makes them.
"That's sort of at the heart of carbon pricing to say let's let the market decide what activities make sense given a particular carbon budget."
From a policy perspective Leach, who spent a year working on policy initiatives with Environment Canada, believes the best thing we can do it is force the industry to internalize the social costs of extracting oil from the ground.
"The social cost of a carbon future, reclamation expenses, water and air pollution - those need to be internal to company decisions, and that can be done in any number of ways," he said, adding that this is a standard view among economist, despite how popular media portrays the issue.
Matt Horne, Director of Climate Change at the Pembina Institute, says industry regulation and policy changes are already making renewables more competitive. Combined with success stories from various fields within the green energy, the gap between oil and renewable energy is getting smaller. It's just the policy piece that's missing.
He says the combination of solid economics and strong environmental policies will make renewables the norm rather than "a few leading examples." The goal is ultimately to make it cheaper to produce clean energy than it is to extract oil from the ground.
"I think policy can change quickly and change the economic playing field quite quickly."
Mark Jaccard, professor in the School of Resource Management at Simon Fraser University and author of Sustainability Suspicions, believes that with more attention on those leading examples--particularly the ones closest to home like California and British Columbia--we can make that change sooner rather than later.
"I am amazed that environmentalists all over North America are not talking about California's policies every day and focusing strategic efforts to effect voting support on vulnerable politicians where they do not push for similar policies," he said in an interview.
He cited the Low Carbon Fuel Standard, the Renewable Electricity Portfolio Standard and the Vehicle Emissions Standards among others as examples of economic and environmental success.
Jaccard also believes the movement needs to shift its focus from individual projects to the broader issue of the climate. When it comes to particular projects, such as the Enbridge Northern Gateway Pipeline, he says the benefits for the people in power will always outweigh the environmental costs. To create the critical mass necessary for change, we should be focusing on climate change as a global issue, something no one can ignore.
"When did we get good policies implemented? Never when talking about oil sands and oil spills. But yes when we got enough people (probably less than 10 percent of the population) very concerned about climate change. Politicians, ever watchful of swing voters, had to pay attention." Environmentalists should also be fighting for trade penalties on imports from jurisdictions that are still using the atmosphere as a dumping ground, he adds.
"Only in this way can environmentalists put together a coherent argument for action. Only in this way can we effectively counter the fossil fuel arguments like, one, we need the Chinese to act, two, our emissions are only a small percentage, three, we won't stop needing oil tomorrow, etc."