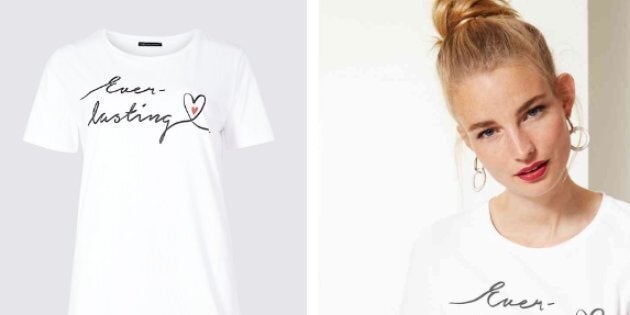 It has a tasteful and moving design, its message is one of awareness, and it's part of a campaign that will donate more than $25,000 to support U.K. baby loss awareness week.
"We're grieving just as much as our partners and it would of been nice to have felt included in their campaign," dad Rob Crussell, who lost his son Theo less than two days after he was born in 2015, told HuffPost Canada in an email interview Thursday.
"I must say it's amazing to have such a big brand helping move the conversation into the mainstream. I just feel they have really alienated the dads in this case. I find it hard to believe no one thought about the dads."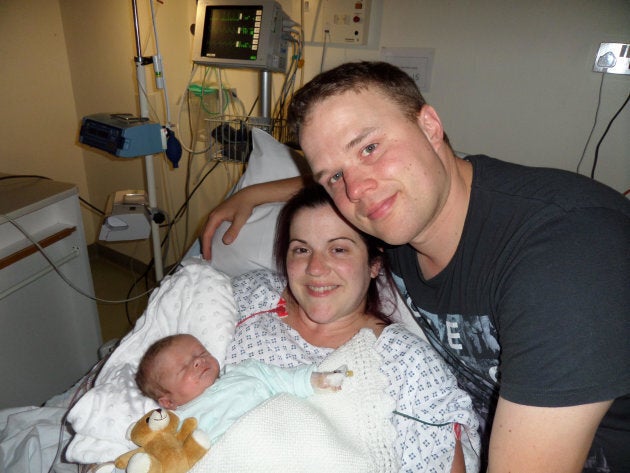 Crussell, who's from Northamptonshire, U.K., has been a vocal critic of Marks & Spencer's decision to only make the shirts available for women, joining a chorus of others across social media expressing their concerns.
"Did no one think that dads suffer and want to remember too?" he wrote on Twitter.
"Shame you have left the fathers out completely of this, next year maybe include us as we grieve too," he wrote in an another tweet.
Designed to help break the silence
The shirts — which say "Ever-Lasting," and show a small heart encased in a larger heart — are already sold out, according to their website. A baby loss awareness candle, with a similar heart design, is also completely out of stock.
The products were designed by Marks & Spencer buyer Amy Mott, who has been personally affected by infant loss, according to Good Housekeeping.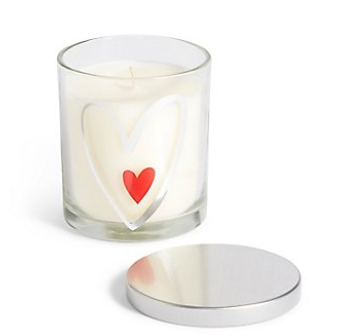 "M&S will also be donating £15,000 (about CAD $25,000) to help support Baby Loss Awareness Week, which runs from 9-15 October," Marks and Spencer wrote on its website.
October is often a month of mourning pregnancy and infant loss
Story continues below video:
You 'kind of forget about self care'
Theo was born by emergency C-section at 39 weeks after Crussell's wife, Kate, was diagnosed with severe preeclampsia, Kate wrote on their website dedicated to Theo.
Preeclampsia is a dangerous pregnancy conditioned typically characterized by high blood pressure. It's one of the leading causes of both maternal and infant illness and death, according to the Preecamplsia Foundation.
Theo was born without a heartbeat and had to be resuscitated for 35 minutes, Kate wrote. She and Crussell were told he'd suffered massive brain damage and likely wouldn't survive. Theo lived for just 44 hours.
"In the first few days and weeks as a father experiencing a loss, you are trying to hold it together for your wife or partner and kind of forget about self-care," Crussell told HuffPost Canada.
He had a hard time finding support and other men to talk to, he added.
In a response to one of Crussell's tweets, Marks & Spencer said they would pass his feedback about the shirts along.
"We'd never want anyone to feel left out in raising awareness or supporting this brilliant cause, so I'll certainly share your thoughts with the relevant team," the store tweeted on Sunday.
But Crussell said he found the brand's response "very poor," and noted they didn't apologize.
"I'm making it my mission now to highlight things like the T-shirt campaign to remind a lot of people that, rightly so, the focus is on the mothers, (but that) us dads are hurting just as much."