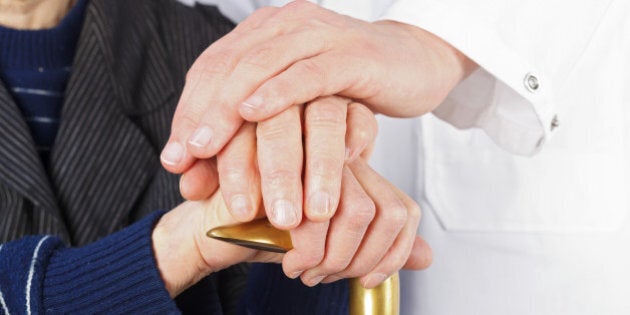 By Dr. Vandana Ahluwalia, MD, FRCPC, Chief, Division of Rheumatology, William Osler Health System
Patients hear it all the time: "It's just arthritis. There's nothing you can do about it." But for rheumatologists - physicians who specialize in diagnosing and treating arthritis and other conditions that affect the joints, muscles and bones - and their teams, there is no such thing as "just arthritis." In fact, there are more than 100 different forms of arthritis and, while there is no cure, there are many treatments available that can help patients reduce their pain, manage their condition and avoid permanent damage and disability, particularly in the case of inflammatory arthritis.
Inflammatory arthritis is an autoimmune disorder that causes the body to produce harmful antibodies that attack healthy tissue in the joints and occasionally other parts of the body as well, causing pain, swelling and inflammation. It is often confused with osteoarthritis, which is caused by wear and tear to the joints.
According to the Arthritis Society, approximately 300,000 Canadians live with rheumatoid arthritis, one of the most common forms of inflammatory arthritis. It affects women two to three times more often than men, and can develop at any age. As of right now, there is no known cause, although researchers believe there may be a genetic predisposition.
Symptoms and what to look for
The early symptoms of inflammatory arthritis are generally feeling unwell or tired, and soreness and swelling in a few joints. From there, symptoms can worsen quickly and progress to involve multiple joints with pain and swelling, symmetrical symptoms on both sides of the body, morning stiffness, rashes, psoriasis, and potential internal organ involvement affecting the eyes, mouth, lungs and kidneys.
Best results if diagnosed early
Much like with heart attacks and strokes, timing is everything for people with inflammatory arthritis. The sooner after symptom onset that a patient receives a diagnosis and begins treatment, the better the long-term outcomes: less pain and stiffness, managed symptoms, and less risk of permanent damage. If left untreated, inflammatory arthritis invades the cartilage and bones and causes irreversible deformity of the joint, potentially leading to disabilities affecting mobility or trouble with fine motor skills like eating or holding a pen.
It's recommended that patients see a physician within four weeks of symptom onset and, within the following six weeks, be referred to a rheumatologist and begin treatment. However, in Ontario it can take more than a year to see a rheumatologist as it is an underserviced speciality.
Putting together a good team
To help cut down on the wait time and improve access to care, many rheumatologists have taken a team-based approach.
At William Osler Health System's (Osler) Musculoskeletal Program: Early Arthritis Clinic, for example, Advanced Clinician Practitioners in Arthritis Care (ACPAC) - physiotherapists and occupational therapists, trained as extended role providers - triage the patients: collect medical histories, do joint exams, order lab and diagnostic imaging tests, and ensure the patient sees the right specialist at the right time. With all of this preliminary work taken care of in advance, rheumatologists can focus on diagnosing and putting together treatment plans. Thanks to this team-based approach, patients referred to Osler's Early Arthritis Clinic usually begin treatment within six weeks of referral.
Treating inflammatory arthritis
Once a diagnosis is made, treatment can begin. Medications are available to reduce inflammation, manage painful joint symptoms and reduce long-term damage to the joints.
Patients with inflammatory arthritis are educated on their disease through group education programs, and also work individually with physiotherapists and occupational therapists to help manage their condition through physical exercise, healthy eating, relaxation techniques, and learning how to protect their joints.
With the correct diagnosis and treatment, patients with inflammatory arthritis can manage their condition and improve their quality of life. All they need to do is take that first step.
If you or anyone you know is experiencing joint pain or any other symptom of arthritis, visit your family
physician as soon as you can as early treatment makes a difference.
Dr. Vandana Ahluwalia is Chief of the Rheumatology Division at William Osler Health System (Osler). She sees patients in her Brampton practice as well as in Osler's Musculoskeletal Program: Early Arthritis Clinic. She is a graduate of Queen's University and attended medical school at the University of Toronto, where she completed her Internal Medicine training and Rheumatology fellowship with a subsequent research fellowship focused on lupus. Dr. Ahluwalia was the President of the Ontario Rheumatology Association (ORA) from 2010-2012, and continues to remain active within the organization as chair of the Models of Care Committee (MOC). Dr. Ahluwalia currently holds the position of Vice President of the Canadian Rheumatology Association and is an active member on the board of directors of the Arthritis Alliance of Canada.