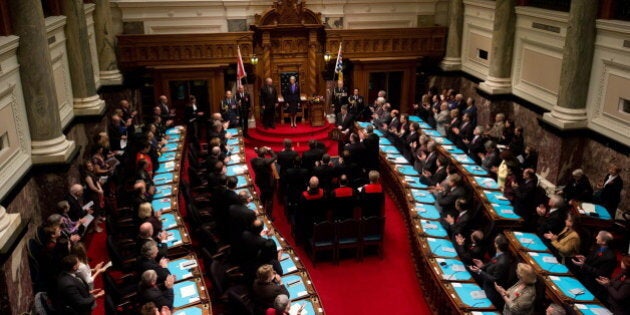 With the provincial election finally over, a new majority in the legislature, and a new mandate for Premier Christy Clark, it's time to take a look at the prospects for improving information rights in this province.
There have been more than a few problems on the freedom of information and privacy front over the last two years under Clark's government. The Liberals have presided over a sharp decline in FOI responsiveness thanks to a widespread culture of what Information and Privacy Commissioner Elizabeth Denham calls 'oral government' in the Premier's office and elsewhere. Similarly, political staffers across government have been found to be hiding, deleting, or failing to produce documents altogether in an effort to keep contentious public policy decisions out of the public eye. And at the same time, new IT projects like the disastrous Integrated Case Management system and the secretive B.C. Services Card have been foisted on British Columbians at enormous and still not fully disclosed expense.
If the Liberals have any interest in dealing with this raft of problems, the first step they should take is to appoint a minister who is knowledgeable about the issues, has control of their department's agenda, and has an open mind about how FOI and other accountability measures can work better not just for the government but for all British Columbians.
Unfortunately, since 2009, the Liberals have shuffled ministers in and out of the role so quickly that there's hardly been a chance to make any meaningful progress. In fact, over the past four years, both Campbell and Clark governments have appointed no fewer than five Ministers of Citizens' Services and Open Government. And none of them lasted for more than a year (fun fact: both the first and last ministers were Westside-Kelowna's Ben Stewart).
If the rather dismal information rights situation in this province is to be improved, this revolving door needs to be jammed for two major reasons.
First, it's critical that ministers have an opportunity to get a grip on their portfolios, in all senses of the word. They are supposed to provide direction to the bureaucracy, not the other way around. But when a minister isn't familiar enough with the issues and policies in play, that's exactly what can happen.
Second, if a ministry becomes known for high turnover, those appointed to the post will tend to treat it as a way station and may (not necessarily incorrectly) assume that they will be shuffled in the not too distant future. Likewise, the bureaucracy may assume that they will constantly have to bring a new boss up to speed. Though these effects can take root unconsciously, they can still have a corrosive effect on a ministry's effectiveness.
The Ministry of Citzens' Services handles many critical issues, taking the lead on projects that cost hundreds of millions of dollars and affect the lives of millions of people. It is a full-time job and deserves full-time attention from this new government.
That's the least British Columbians should expect.