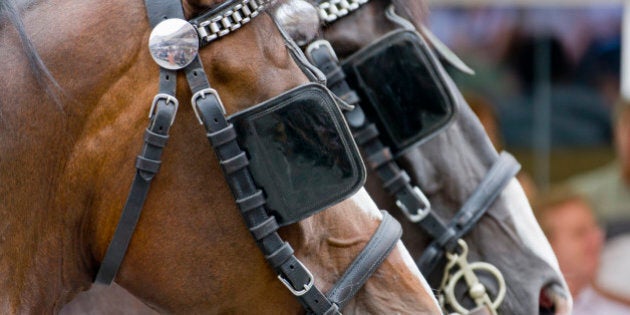 Do you remember the first time you saw a horse with blinders on? How did it make you feel?
Blinders are often used to keep horses racing in a straight line and free from distraction. However, some horse race experts argue that true competitors want to see what's coming. They say expanding the field of vision expands possibilities. Blinders are fine if you're doing the same thing over and over like going around a track but adapting to a new set of circumstances requires you to see the whole context.
President Obama's recent decision to reject TransCanada's Keystone XL pipeline project has been received in Alberta with anger, disappointment and feelings of betrayal. Some have warned this will increase shipments of crude by rail while others suggested TransCanada should pursue legal action under the North American Free Trade Agreement. Some are just hoping for a Republican president to win the US election in January 2017 so TransCanada can reapply for a permit.
Is it possible that Alberta's obsession with getting one resource to market is actually blinding us from other possibilities like creating a more diversified, creative and forward-thinking province?
Significant changes are taking place in the energy sector.
Oil prices have dropped by more than 40 per cent over the past year. Assets are stranded because pipeline access to markets is blocked by influential stakeholders who don't trust the companies involved. Some of the most successful companies and investors in the world are dumping billions of dollars into renewable energy. The United States President wants to make global climate action part of his legacy and both Alberta's and Canada's governments have been replaced by parties with a mandate to put a price on carbon. We know the future will look very different from the past and this is no time to be wearing blinders. In order to innovate for the future that is coming we have to expand our horizons and learn to thrive in adaptive space. The question is: how do we do that?
Step one: immerse yourself in new learning environments
If you're the smartest person in the room, perhaps it's time to find a new room. One where you can test out new ideas, make mistakes, learn from them and build new leadership skills. A real life example of this new learning environment was launched last week. It's called the Energy Futures Lab, which is a multi-stakeholder approach to develop an energy transition strategy for Alberta. The lab is hosted by The Natural Step along with partners Suncor Energy, Pembina Institute and the Banff Centre. Forty influential "fellows" from industry, government, First Nations communities and environmental NGOs have committed to immersing themselves in an innovative learning environment over the course of a year and a half in order to set a common vision for the future and collaborate to achieve that vision.
Step two: expose yourself to perspectives important to your stakeholders
Exposure to stakeholders requires getting out of the office and building empathy towards those most impacted by our actions. An interesting example of this can be found in another new initiative called Viewpoints Alberta. Donna Kennedy-Glans, a lawyer, former oil industry executive and former Associate Minister of Electricity in Alberta has been traveling across the province to encourage Albertans from all walks of life to voice their opinions about the future of energy at a time when the world is converging in Paris for COP21. These opinions are then shared broadly through an online communication platform in order to expose policy makers and others to grassroots perspectives.
Step three: actively seek out the latest, most innovative ideas in existence
If someone, somewhere has thought of something, it immediately moves from the unimaginable to possible. That is the potential behind the Carbon XPRIZE - a global competition offering a $20 million reward to the best idea that can make carbon go from being a waste product to an input product for all types of purposes. The competition was launched in partnership with the Canadian Oil Sands Innovation Alliance, NRG Energy and the XPRIZE Foundation.
The XPRIZE has a fantastic track record for uncovering innovative solutions from commercial space travel to oil spill cleanups. In fact, for the $1.4 million Oil Cleanup X Challenge, one of the finalists was a Las Vegas tattoo artist. For me, that explodes the paradigm of what innovation looks like. It demonstrates that if we want to work with the best and brightest we have to look in some of the most unconventional places to find them. Sometimes we're so obsessed with being competitive that we fail to invite collaboration. If we did this more often, we might be shocked by some of the innovative thinking out there and the change makers who are ready to work with us to solve our greatest challenges.
What's stopping us from innovating for the future?
Perhaps we're not as creative as we'd like to be because we're too focused on the work in front of us right now. Most of us have way more work than we have hours in the day. With so much deadline driven stuff, who has time to be creative? However, just beyond that narrow vision of existing work and our self imposed blinders is a world rich with creative possibilities. If we're courageous enough to take off our blinders we may even revolutionize our work, our province and indeed the world.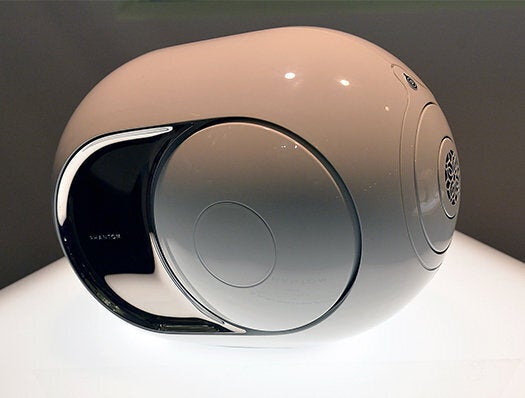 T3 Awards 2015: Design Innovation