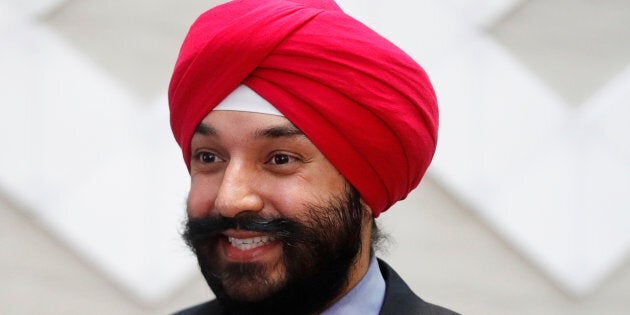 Canada's innovation minister has a blunt message for corporations claiming they don't have the talent to create diverse leadership teams.
"That's a bunch of bullshit," Navdeep Bains told students at the University of Windsor Wednesday.
In a clip from CBC News, Bains poured cold water on an excuse used by some in corporate Canada who claim to struggle to promote women or minorities, saying there's an "enormously talented pipeline" out there.
Bains also suggested corporations need a cultural change to look beyond the so-called "golf network" for future leaders, according to the CBC.
His comments come as a Senate committee prepares to review Liberal legislation that will push at least some Canadian corporations to, among other things, put its cards on the table when it comes to diversity.
Bill C-25 would amend the Canada Business Corporations Act to require certain publicly traded companies "place before the shareholders, at every annual meeting, information respecting diversity among directors and the members of senior management," including the number of women on corporate boards.
Such corporations would be forced to make their diversity policies public — or explain why they don't have one.
'Moral duty' to promote diversity
While the Canadian Business Corporations Act affects nearly 270,000 companies, The Canadian Press has reported the changes would only apply to those that issue shares and a report to a securities commission — roughly 600 companies on the Toronto Stock Exchange
When he introduced the bill in October 2016, Bains said he firmly believed it is a "moral duty" of the government to promote diversity and inclusion.
"Under-representation of different segments of our population is not only a question of fairness, it affects the bottom line," he said at the time. "In the boardroom, as in life, taking into consideration viewpoints from a variety of perspectives can lead to innovative thinking and better performance. Innovation requires fresh ideas, new ideas, and the best ideas can come from anyone, anywhere."
NDP status of women critic Sheila Malcolmson has also argued in the House of Commons that since the bill doesn't mention federal crown appointments, Liberals aren't getting their own "house in order." Malcolmson has put forward her own private member's bill calling for the federal government to ensure gender parity in appointments to federal crown corporation boards.
With files from The Canadian Press