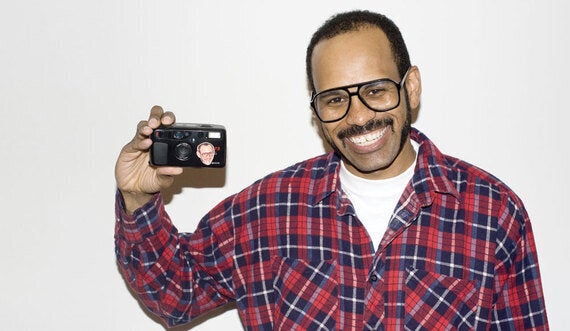 Today, Geno Sims is best known for co-managing artists A$AP Rocky, A$AP Ferg, and the rest of the A$AP Mob. Yet his story extends far beyond the one we know at this moment. Sims met 50 Cent before the latter had become the recording artist and entrepreneur he is today. Sims also recalled when Nelly would show up at Penalty Records every day. "The guy that could be cleaning your floor today could own your building ten years from now," Sims said slowly, emphasizing his point: respect everyone.
Although he primarily credited this advice to the late music industry executive Chris Lighty, Sims also learned the importance of relationships firsthand throughout his career. In between his first two jobs at HMV and Harlem Music Hut, Sims and a friend served informally as A&R interns for Uptown Record's Joe Black, dropping by when convenient and running errands for the company.
Through a couple of friends, he connected with Penalty Entertainment CEO Neil Levine's assistant, with whom he landed a job opportunity answering phones. He eventually became Penalty's Director of A&R. When I ask him he grew at such a rapid rate, he said, "I believe you should know and learn your territory...Know those people that have fought in that territory."
Know Your Territory Through Reading
Books and autobiographies help readers learn from mistakes that others have taken years -- sometimes decades -- to correct, said Sims. One of his mantras runs contrary to what most people think: "It's what you know, it's not who you know." Or, as he said earlier in a panel at NXNEi, "What you know will bring you who you need to know." Information will lead you to real-life connections.
"Books about the bounce back are important as well," he wrote me via email. "It lets readers know that we all endure a struggle." Sims advises frequenting libraries. "Highlighting and underlining are important, but if you can't do [that], buy a 99 cent notepad to take notes, or read via Google Books," Sims replied.
Role Models and Self-Imposed Limits
Reading sheds light into other people's lives. Yet it's also important not to get caught up in milestones or cosmetic similarities of the people you admire. "Success doesn't have an age, doesn't have a gender, doesn't have a race, doesn't have a sex," said Sims. He pointed out an interesting pattern between Russell Simmons, Donald Trump, Colonel Sanders, and Oprah Winfrey: "When did they become millionaires?" he asked me. I don't know.
"It wasn't in their twenties," he said. "As long as people know that success doesn't have those barriers, so to speak, people will excel. If you say, 'I have to do this by this time,' you're limiting yourself." Wise words in an age where genius is often confused with precocity. (In fact, Oprah was almost 30 when she started hosting her first local television show.)
When Sims and collaborator Noreaga attempted to create a video series at the turn of the millenium, What What, they understand this new technology was going to change the way recording artists connected with their audiences. "I think http://app.dmm.fm/Ryan Leslie and Soulja Boy are two people in the music industry that people don't give enough props to," said Sims. "They were the first ones to embrace the media meets technology format. They were early."
The Intersection of Technology and Music
Sims first stumbled upon journalist Hans Ebert's work during his stint as a Multicultural Account Planner at Berlin Cameron United, a digital agency job he took up after working as the Director of A&R for Bad Boy Records and Tommy Boy Records. Sims has since grown even more fascinated with technology. He muses out loud about creating a record label for app creators.
"A lot of record companies have people that have been there too long, and they fear change," said Sims. "If I was a record label...I would have Mother do marketing for these two albums or projects. I would do that rather than have them give people these salaries -- $250,000 to $500,000 -- and they can't execute! But you have a little company like Mother, who have all these great people, and creatives, and creative directors, and tech guys. Record companies just need to embrace the new, man. They don't do it."
In our hour or so of conversation, one thing is clear: Geno Sims is extremely familiar with the territory of music. In addition to the wisdom acquired from books, he has learned his landscape firsthand throughout the years.
Sims recalled one of his favorite quotes by invoking Bane from The Dark Knight Rises: "It doesn't matter who we are. What matters is our plan." Much like Bane, Sims is a strategist at heart.
When our conversation shifted to growing the A$AP Mob and the trail that A$AP Rocky and Yams have paved, Sims said, "When you make your foundation and your roots strong, a tree can grow." Between his accumulated knowledge, his connections in the entertainment industry, and his stint in digital technology, Sims has created a strong foundation for his and his collaborators' explorations into the territory where the continents of music and technology meet.