Since the election of Donald J. Trump, people have been motivated, mobilized, and activated in ways we have never seen. The polite veneer of the status quo may have been ripped away, ugliness exposed, but hatred is not the only thing gaining speed. This moment has also revealed a sense of urgency to change hearts and minds for the advancement of all marginalized people. International Women's Day is the perfect time tap into this momentum and build it up.
I'm not the first to say that movement building is a marathon, not a sprint. But, this is one of those rare moments when movement building actually is a sprint. It's a sprint whose results have very real consequences for individual lives. It's a sprint we can only continue if we truly understand its uniqueness.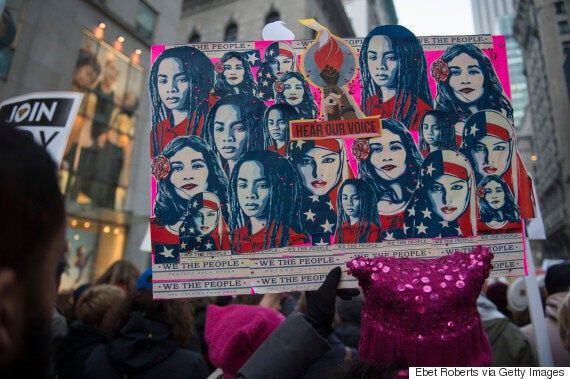 Take, for example, the way the A.C.L.U. sprang to action following Trump's ruling that banned foreigners from entering the States. It was the A.C.L.U.'s swift and compassionate testimony that swayed a judge to prevent the deportation of arrivals at America's international airports. It was the rapid work of the International Refugee Assistance Program that prepared petitions for people who were denied entry.
Take the activists--who are just regular women, men, and children--who stood en masse at American airports with signs reading, "We are all immigrants" and "Our Jewish family stands with Muslim refugees."
And take the millions of women and men around the world who, on January 21st, took to the streets for women's rights, raising their pussy hats and their poster boards in outrage. Following January's Global Gag Rule, the Dutch government quickly announced an international safe abortion fund to fill the $600 million gap. Roughly 20 countries immediately issued support of this plan.
Often, progress takes generations. But sometimes, as we see now, it can take seconds.
This is what happens when people are pushed to the wall, when unprecedented crisis leads to an unprecedented response. Most importantly, this is what happens when not just one movement but hundreds of movements -- for environmental rights, for human rights, for racial justice, Indigenous rights, reproductive rights, and many more -- come together as a tremendous, progressive force.
This is the greatest demonstration of global solidarity I have experienced in my lifetime. We have before us a powerful and singular opportunity. As a confluence of movements, we must remain outraged by the human rights violations before us. We must speak of nothing else.
We stand on the shoulders of millions who have mobilized around inequality and injustice for decades.
And we must be energized by the fact that disruptive moments in the extreme can also accelerate progress. Necessity is the mother of invention. The gang rapes in India and the attempted assassination of a schoolgirl in Pakistan are but two examples of how shockwaves of very ugly moments create enough outrage to pave the way to progress.
To be clear, this is not a Pollyannaish plea to find the silver lining in terrible times. We cannot ignore the fact that the American President's hateful rhetoric has manifested upon the backs of the most marginalized people: women of colour, transgender folks, immigrants, and Muslims. Indeed, people slaughtered while praying in a mosque or refugees trapped in a foreign airport -- this is a reality I cannot abide.
That is why I take heart that the ugliest of moments has unleashed something bigger than itself: something rare and something to be seized. This International Women's Day, we have before us the power that comes only from a confluence of movements. We stand on the shoulders of millions who have mobilized around inequality and injustice for decades. This disruption is my generation's unique opportunity to take the human rights movement swiftly forward. The intersectionality of our many movements is the quantum leap.
Follow HuffPost Canada Blogs on Facebook