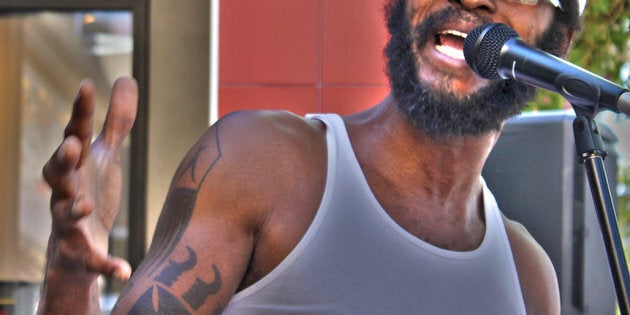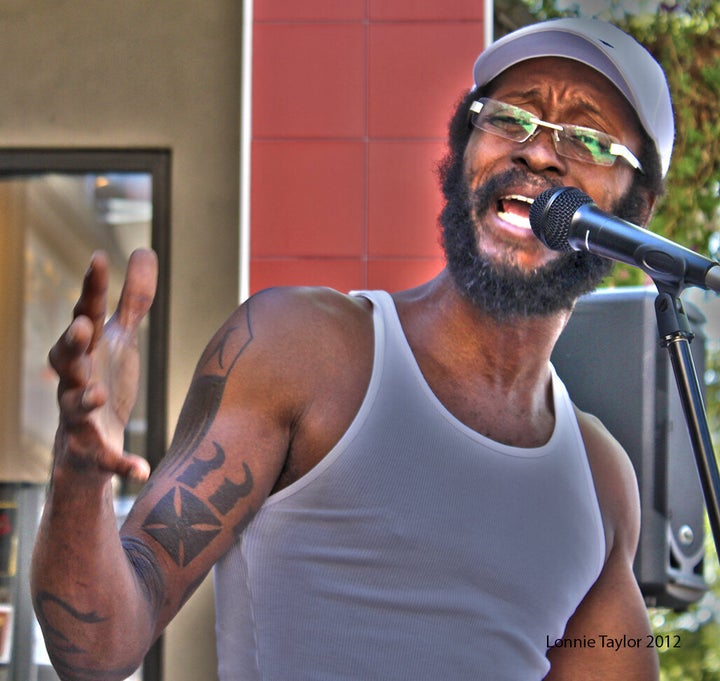 I first met Wakefield last year during the first People's Poetry Festival. He struck me as a larger than life character with a magnetic energy which compelled people to listen to every word he spoke. In discussions with him he revealed that he had come from Toronto, firstly for love, and secondly for the opportunity to connect with a new audience. He is like a pioneer of sorts in the world of spoken word and has been largely welcomed into its circles in Calgary.
When I reconnected with him this year I had burning questions about his life and his art.The following is that conversation.
Why did you move to Calgary? I know that your primary reason was for a relationship. I am interested in why you did it for your art.
The poetry scene was already hustling and bustling in Toronto and nowhere near as such here in Calgary. I knew without a doubt that I would be able to change that, and I have.
Would you encourage others to move to Calgary from Toronto or other parts of eastern Canada?
I would encourage anyone anywhere to move anywhere they want to. But as the coined phrase goes, "when in Rome, do as the Romans do". That is not to say, lose yourself, your identity, simply blend in and become invisible. But the way people live in Calgary is in many ways starkly different than how people live in Toronto which is where I'm originally from. I learned very quickly that you cannot live, "Toronto" in Calgary. I tried to tell that to an acquaintance four years ago when she came out to be a teacher. I warned her that some of her big city habits and aspects of her big city mentality simply would not fly here in Calgary. Within half a year she lost two or three teaching positions and moved back to Toronto. Go where you want, travel the road, fly the skies but be aware of how, "the other half lives".
Would you inspire other spoken word artists to move to Calgary?
I would inspire them to change their whole life game, not just the poetic side and move anywhere they want to. Too many people live and unfortunately die in the same town in which they were born and call themselves well rounded individuals. Well, if you have the opportunity, the wanderlust, the itching to go out of your comfort zone, then go where you want to go. And remember, Canada is quite the land mass. Lots of room, heaps of cultural pockets, diamond mines of artistic communities - just go out there and find them.
How have you become bigger in Calgary?
Roughly eight million residents in Toronto. Roughly one million residents in Calgary. Right there my popularity has grown eight times. There is a huge contingent of visible minorities in Toronto. Not as many here in Calgary. There are even fewer black poet/spoken word artists in Calgary than there will ever be in Toronto and the surrounding Greater Toronto Area. It's a much smaller pond, therefore I'm a much bigger fish and my influence poetically can permeate in so many ways, in so many places in Calgary.
Tell me more about your involvement in the spoken word scene. How are you known? Do people also know you as a rapper?
My involvement in the spoken word scene is to do as much as I can, as often as I can. I have to do a lot of single parenting, so a lot of times I simply cannot make it out to participate in events or witness others. However, anything that I can do, that I can see, I make sure to get out there, see it and do it. Some people do think of me as a rapper and I have shown on my debut CD that I can rap, and I rap well. However, I'm a poet/spoken word artist. Those who believe that I'm up on stage rapping simply aren't listening carefully. I'm influenced by rap and hip-hop, I have an undeniable flow, but it's poetry.
Are there other local spoken word artists that you identify with? Who inspires you?
There are no other poets like me. I have worked very hard to make sure that is so. I have never wanted to be or sound like any other poet, therefore I feel the same about any other poet sounding or being like me. I want to and need to stand out. I have performed at several of the Calgary International Spoken Word Festivals and I have captained three of the six poetry slam teams that came out of Calgary under management by Sheri-D Wilson, including the inaugural team, but I have moved away from slamming for the last few years to do more poetic, "me work". There are poets in Calgary that I definitely enjoy hearing and seeing, but I cannot honestly say that I identify with any of them. The first poet to inspire me is legend from New York City, Saul Williams.
If you could pick a venue for one of your spoken word performances where would it be?
I have never really given thought to a venue that I would love to perform in. Years ago the Nuyorican Poets Cafe in New York was on my radar. Big names like Saul Williams, Mums the Schemer, Beau Sia, Jessica Care Moore, Taylor Mali and other greats had already blessed the microphone there with their presence and I wanted to be able to say I had played there. So in 2000 I got myself together and on my birthday, August 2nd. There I was in the Nuyorican Poets Cafe. A highlight of my career for sure, but I cannot say that there is any venue that I have a hankering to play. I have found that over time, if I keep doing what I'm doing, unexpected venues come looking for me.
It's about time. In the past six years even I have been able to see the city change in so many different ways. Alberta is what I call, "the home of inter-provincial immigration". I've seen every license plate from each province and territories as well as countless U.S. vehicles. More and more people everyday are coming to Calgary if not to live, at least check it out and why it's becoming such a spot on the Canadian map. Poetically and artistically, I believe I've done my share of influencing Calgary and I hope to do a lot more.