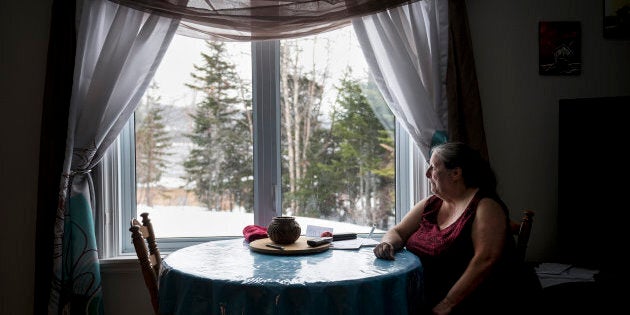 NUNATSIAVUT, N.L. – Deidre Marie Michelin was scared for her life, and so she did what most people do when they need protection. She called the police.
But 25 years ago in the remote Labrador village of Rigolet, an Inuit community cut off from the rest of the world by a vast sea of spruce trees and salt water, calling the police did not usually mean help was coming, at least not immediately. The nearest police officer was in Happy Valley-Goose Bay, about a six-hour snowmobile ride away.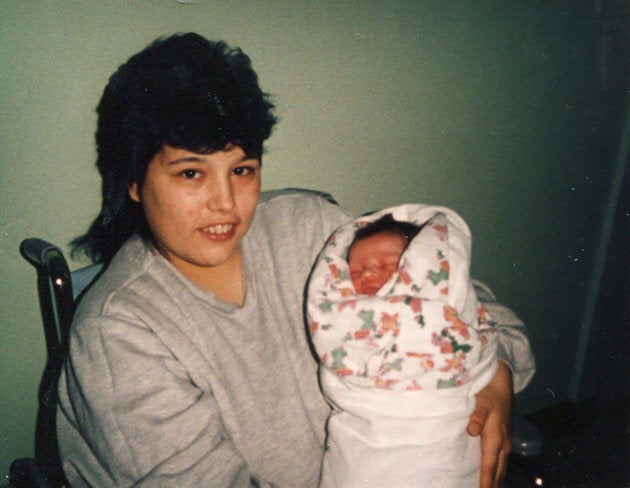 By the time the Royal Canadian Mounted Police could dispatch a plane, Michelin's partner, Jobe Wolfrey, was long done shooting. The couple's four children were in their beds when they heard the gunshots. Their father had killed their mother before turning the gun on himself.
Michelin's murder became a catalyst to bring the RCMP to Rigolet, a former trading post where domestic violence was once a dark secret families kept to themselves. In 2006, 13 years after the young mother was killed, the Canadian national police force finally opened a two-person detachment in the village of 310 people.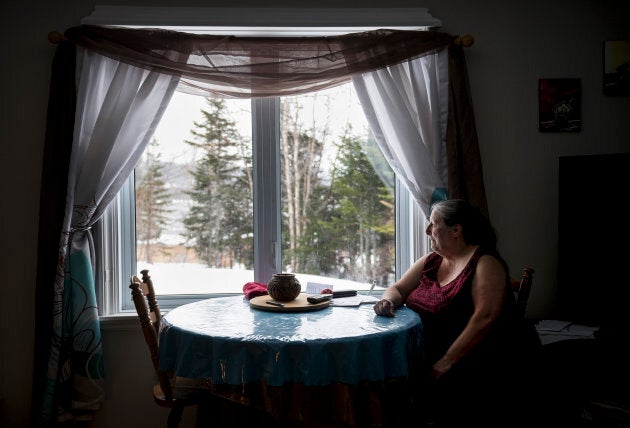 "I got really angry that my daughter, and a lot of other women here, didn't have what so many Canadians take for granted. And that's protection and safety in our own community," said Michelin's mother, Charlotte Wolfrey, who lobbied for years to establish a local police presence.
Michelin's case turned her family into activists, pushing to improve things in a part of Canada where isolation, alcoholism and a lack of services often means women suffer from higher rates of violent crimes and have fewer options to escape. While things have improved in Rigolet, they say the unique challenges women face when it comes to domestic abuse in Canada's remote Inuit communities are far from resolved.
The isolation of Canada's Inuit lands compounds the challenges in a place where policing is sparse and there's a historical distrust of government. Many Inuit families say they're still marked by painful memories of residential schools. If a victim of domestic violence wants to press charges, the case can take years to be resolved. Temporary courts are flown into Labrador's Inuit villages only a few times a year, a process that adds significant delays to the justice system.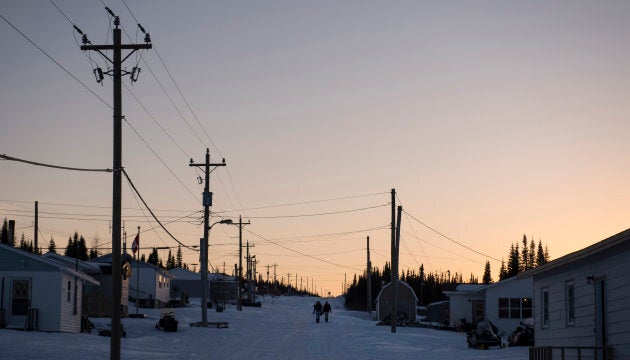 While there is little Inuit-specific crime data available, rates of domestic violence are much higher in the vast territory where most of the country's 50,000 Inuit live compared to the Canadian average. More than half the victims of all violent crimes reported here are young women, according to Statistics Canada.
"There's a lot of stuff still happening behind closed doors," said Michelin's sister Desiree Wolfrey, executive director of the Kirkina House women's shelter in Rigolet.
The shelter has become a safe place for the village's women to talk about the abuse they're seeing at home, said Wolfrey, who was eight years old when her sister was killed. She wonders if her shelter could have saved Deidre's life had it existed then.
Until a few months ago, Kirkina House only had enough funding to be open part-time, meaning women seeking shelter there were often sent home on the weekends, back to the partners they were fleeing.
Funding continues to be an issue for many Inuit-run women's shelters, she said. Because these communities aren't federally funded native reserves, they sometimes struggle to keep their doors open. Of the 53 Inuit communities in Canada's Far North, only about 15 have women's shelters, meaning many women have to leave their families and their villages if they want protection.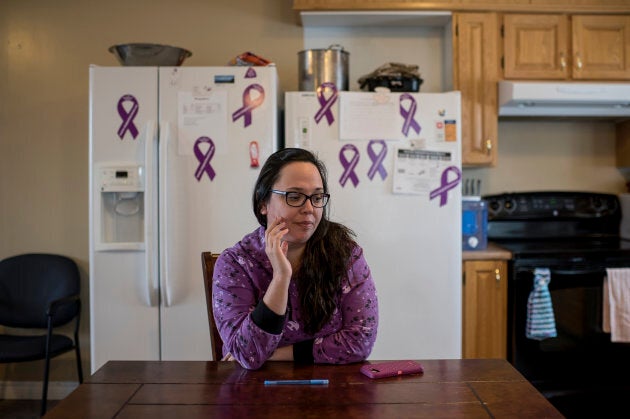 In Rigolet, built on a hill near the sea where the buzzsaw of snowmobiles punctuates the winter, it's getting harder for victims to leave. There are no roads connecting the community to other towns, and because of climate change there are longer periods when snowmobile trails over the sea ice aren't safe. Most can't afford the $400 plane ticket to fly to Goose Bay, about a 45-minute flight away.
When the village's store runs out of beer, a commodity delivered once a year by boat, Desiree Wolfrey knows without asking that people have switched to hard liquor. She sees it in the faces of the women who show up at her door.
"We go through periods of time when you can't get out, when you feel stuck. More alcohol and drugs are consumed at times like that, and we get a lot of problems," she said. "Before Christmas is one of those times when you can't leave town. It's no good for boats, and you can't go anywhere because is the ice is no good. That's when we see increases in violence."
Far out of sight of the global #MeToo movement, Charlotte and Desiree Wolfrey are among a handful of Inuit activists fighting to improve things for women in coastal Labrador. They're the latest in a long history of Inuit women who've learned how to look after themselves in a rugged, remote land where many families were still nomadic until the government forced settlement into coastal communities in the 1960s.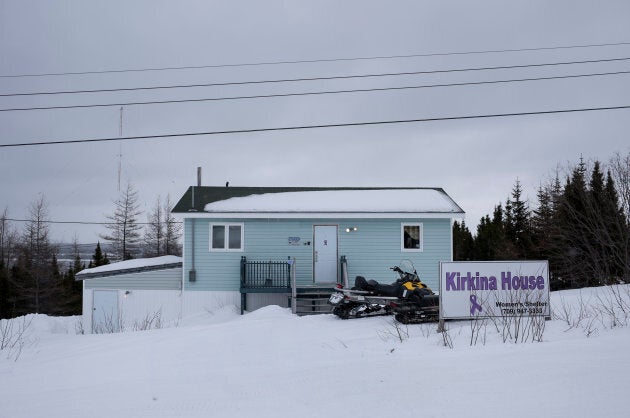 Rigolet's women's shelter, a vinyl-sided blue bungalow with space for eight, is named after Kirkina Mucko, a local midwife and nurse who lost both her legs to frostbite as a toddler in the late 1890s. Her father had to amputate her limbs with an axe, according to local legend. A black and white picture of Mucko hangs on the shelter's wall.
"Inuit women are strong and resilient, and we can get through pretty much anything," Desiree said, looking at the photo of her distant relative.
Justice system still problematic
Before Kirkina House opened, a pair of local nurses often took victims of domestic violence into their own homes, putting themselves at risk of retaliation, and causing increased tensions in a community where family lines intersect everything, Wolfrey said.
The presence of the RCMP and her shelter are deterrents against domestic violence, she said. But the justice system is still problematic for women who live in remote Labrador villages like hers. Because there are no full-time courts in these coastal communities, judges and lawyers flying in for trials are frequently delayed by winter storms and scheduling problems. Community centres and churches are turned into temporary halls of justice, with lawyers meeting their clients in bathrooms and months' worth of court business packed into a few days of hearings.
"There's inconsistencies in the justice system here. Indigenous people just have a lower standard of service," Desiree said.
Because of these obstacles, it can take years before a domestic abuse case is resolved in some parts of Labrador, compared to months in larger Canadian centres. Lawyers complain that Labrador's court system — tasked with bringing justice to a vast, sparsely populated area — is bad for both victims and their abusers, who sometimes have to wait years for sentencing to access alcoholism counselling or other programs that could end the cycle of violence.
Inuit women are strong and resilient, and we can get through pretty much anything. Desiree Wolfrey
The prospect of enduring a marathon journey through Labrador's legal system means some Inuit women simply don't bother pressing charges. Police typically send accused men home on a promise not to contact the victim — a problem in the region's tiny villages, since they have ample opportunity and time to reconcile with their spouse before their case is heard by a judge.
"You're not talking about not seeing your wife for a month. You're talking about not seeing your wife for a year or more. That can certainly play on people," said Cpl. Mike McKee, one of two RCMP officers posted in Rigolet.
Policing is different here, he said. The RCMP patrol most of the year by snowmobile, and when someone needs to be arrested, there have been times when McKee has thrown the suspect on the back of a wooden sled, known locally as a cometik, and laid on top while his partner pulls them to their detachment about the size of portable trailer.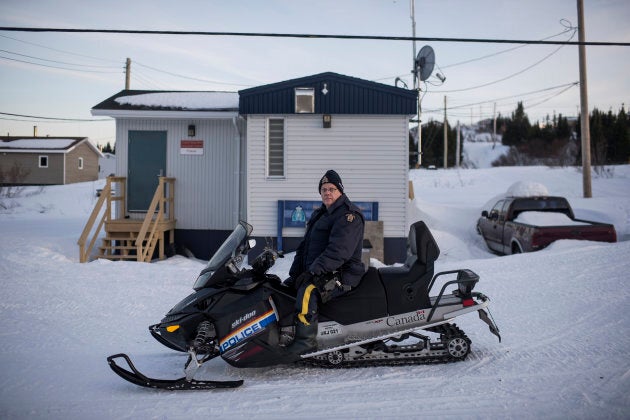 The police are still working to make inroads in a place where's there's a lingering instinct among some to solve problems internally, he said. To break down some of those barriers, McKee has tried to weave himself into village life, playing weekly card games at the seniors' hall and organizing pumpkin carving contests. But mistrust of government officials still remains.
"We've had occasions where charges were laid, and from the very beginning the victim was putting up roadblocks, and eventually the charges were dropped. There's a lot of that 'What happens in the house stays in the house' thing," McKee said.
"There's things that we don't hear about, because sometimes people won't come to us because they don't want it out there."
Other women are afraid to report family violence because they're worried social workers will remove their children from their care, and their community, Charlotte Wolfrey said. Local children who go into foster care are often sent to far-off communities in other parts of Labrador, where they're cared for by non-Inuit families. For some, moving children out of their Inuit homes is reminiscent of the old residential school system still painfully recalled by older generations, she said.
There's a lot of that 'What happens in the house stays in the house' thing.Cpl. Mike McKee
Compounding problems, Wolfrey argues, are alternative healing circles intended to take offenders' Indigenous heritage into account. While she agrees with alternative justice in principle, in practice she argues it means abusers are often getting more lenient sentences sometimes doled out by relatives from their small community.
"It took women so long to get domestic violence declared a crime. Now they're getting a slap on the wrist," she Wolfrey, who later married a relative of her son-in-law years after the killing. "The problem is at some point, everybody in a small town is related."
Wolfrey knows intimately what victims go through. She was beaten at the hands of her first husband, and saw the black eyes and bruises on Michelin, too. She knew there were problems, but her daughter tried to hide it. Michelin was planning to leave her partner when she was killed, she said.
"Years ago, some Inuit men believed it was their right to beat their wife. Some of that attitude is still around," she said. "People are still afraid to speak out. Family violence is almost seen as nobody else's business."
She agrees things are better now that the RCMP are in town, better than when villagers rarely saw police, and learned how to solve emergencies on their own. Many women simply stayed with abusive partners because there was no other place to go, Wolfrey said. Others would walk their communities' roads at night until their partner's drinking binge ended, she said. Restraining orders made little sense in a community where there was one to enforce them.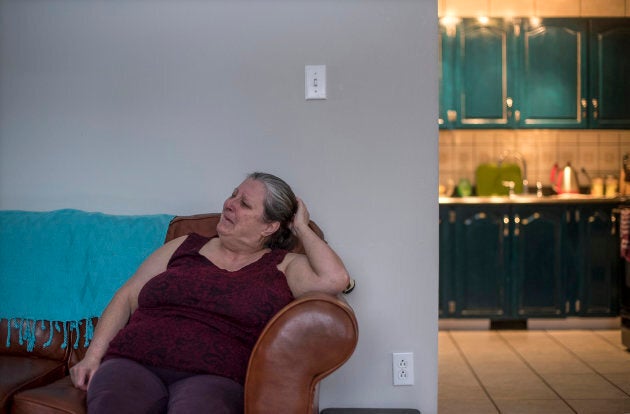 "Before the police came, if you reported a crime they might come once every three months to deal with it. By then, everything would have blown over, and you were back with your partner. That's how life was here," she said.
"If you needed them immediately, they'd have to find a pilot, find a plane. In order to set all that up, it was a minimum of four or five hours before the police could get here."
When Michelin was killed, her mother was determined to change all that. Wolfrey and others lobbied for years to bring the RCMP to the village, showing up at every meeting attended by government bureaucrats whether the gathering anything to do with policing or not.
Wolfrey would gather groups of victims together and tell visiting officials their own horrific stories of abuse. Often those meetings were held in secret, since many of the women were afraid theirs partners would find out they'd talked, she said.
The fight to bring the RCMP to town consumed her life, she admits.
"I'd show up at fisheries meetings and say 'We need the police in Rigolet.' Any place a federal official was going to be, I'd show up and talk about my daughter dying. I said this wasn't right, and we need to make it right," she said. "After my daughter was killed, I was a mother on a mission. It was all I thought about... But I think getting all the women to tell those horrific stories helped, because that really said 'We've got a problem here.'"
Any place a federal official was going to be, I'd show up and talk about my daughter dying.Charlotte Wolfrey
It's taken years for Wolfrey to move past the anger she felt over her daughter's murder, and the feeling that it could have been prevented. She's still visibly shaken by the loss of Michelin, who she remembers as a fun-loving, athletic mother who once moved a swing set into her bedroom so her children could play indoors in the winter.
As she continues to push to improve the lives of more Inuit women, Wolfrey knows other Labrador communities haven't been so fortunate.
"We've fared well in Rigolet, to have what we have," she said. "But that only came through some long, hard fighting."
Popular in the Community