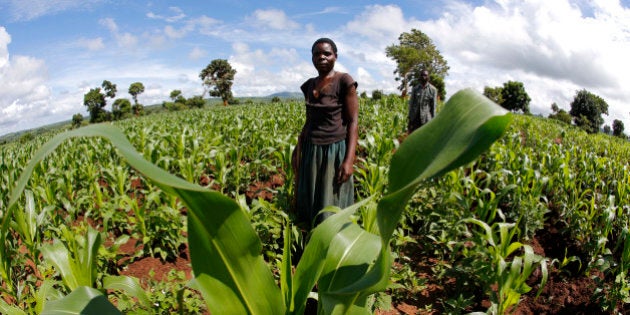 What does investing in women have to do with reducing post-harvest losses? Everything!
A report released in 2015 shows that out of every 100 tonnes of maize produced, up to 25 are lost before they reach the consumer's plate. For fresh produce, this loss can double: up to 43 per cent of fruit and 56 per cent of vegetables produced are lost.
About 80 per cent of this food loss happens during harvesting and storage. And studies across most African countries show that women provide the majority of the labour for harvesting and storage. This is where investing in women can make a difference.
Take the case of fish drying -- a method to help preserve the fish for the markets by removing water from the food. Most of the people who do this in Malawi and other places across Africa are women, and they rely on the sun to dry fish. But in Malawi, the main fishing season coincides with the rainy season, so women have to constantly keep a watch on the fish, removing it from the beds when it rains and returning it when the rain stops. As a result, they cannot engage in other economic activities. A lot of the fish rots in drying beds.
Another case is threshing of beans. Due to a lack of mechanization, the task of removing the beans from their pods is a tedious one, often carried out by women and children. Dry harvested beans are laid on the ground and 'beaten' with sticks. A lot of the beans get mixed up in the soil and can only be recovered through a tedious process of separating the beans from the soil, one grain at a time. Again, this is done by women and children.
But as the first Africa post-harvest congress was held last week in Nairobi, the good news is that we can invest in innovations to reduce food loss while at the same time reducing women's drudgery in harvesting, storage and processing. Here are some ways we can invest in supporting women to reduce post-harvest loss:
•Develop new solutions that free up women to do other work, while also reducing losses. For example, in Malawi, researchers have developed an improved solar tent drier that reduces the time needed to dry fish, while at the same time protecting the fish from contaminants such as flies and dust. Working with women cooperatives, women can either own these solar tent driers, or use them on a 'rent to dry basis' from other entrepreneurs in their villages.
•Invest in women's businesses and give them access to finance so they can add value and preserve what they produce. Although women sometimes provide up to 100 per cent of the labour for the production and harvesting of food, their businesses often remain small and in the margins -- and they often don't have the tools or means to preserve the food for sale. Investing in women owned businesses can reduce post-harvest loss, enable them earn income and create employment opportunities for other women. In a study in Malawi, women fish processors that had accessed credit to invest in better fish processing controlled 80 per cent of fish trading in five of the sites where the study was carried out.
•Improve market linkages to ensure women have a buyer to whom to sell their produce. For example, in Kenya and Uganda, researchers and a private sector company are adding value to beans by developing precooked bean products that cook in 10-15 minutes, providing women smallholder bean producers with a ready market for their beans.
The Africa post-harvest conference has brought together organizations and individuals that have been working to reduce post-harvest food losses in the region at a time when more than 20 million people in Africa are facing food insecurity -- and some, outright starvation.
Investing in women as food producers, processors and traders can reduce food loss, ensuring access to much needed food for those in need while also giving women the economic means to support themselves, their families and communities.
Jemimah Njuki manages a portfolio of agriculture and food security, and women's empowerment projects at Canada's International Development Research Centre (IDRC).
The views expressed are those of the authors and do not necessarily reflect the views of CCIC or its members.
Follow HuffPost Canada Blogs on Facebook